I received a copy of this book for free in return for my review. I was not required to give a positive review. All opinions are my own!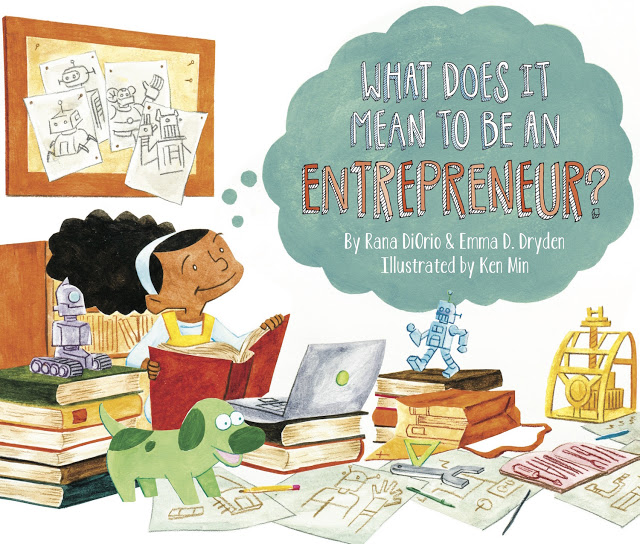 If your kids are anything like mine, they are constantly being creative. My kids absolutely love to come up with new ideas, whether it is a new recipe, or a new way of doing something.


This past summer Emma heard the word "entrepreneur" and wanted to know what it meant. Matt and I described it to her as coming up with her own business. She was immediately on board. Of course I knew there was more to it than that, but I wasn't exactly sure how to explain it to her.


When I had the opportunity to read What Does it Mean to be an Entrepreneur? I knew that it would be the perfect book to explain to my 7 and 5 year old children what an entrepreneur is.


They really enjoyed the story of Rae figuring out a solution to an ice-cream and doggie mishap!


I loved that the book showed how creative thinking can find a solution to a problem, and it got my kids thinking about other ways they may be able to help.


About the book:
When Rae witnesses an ice cream-and-doggie
mishap, she's inspired to create a big-scale solution to help get dogs clean.
Rae draws on her determination, resilience, and courage until she—and everyone
else in her community—learns just what it means to be an entrepreneur. Book six
in the award-winning What Does It Mean To Be …?® series, What Does It Mean To
Be An Entrepreneur?
Overall, this was a great, colorful book, which definitely appealed to my children. I think that any child would enjoy learning more about what it means to be an entrepreneur. It certainly got my kids thinking about what problems they can find solutions to!
Author Bio:
Rana DiOrio has written her way through life–as a student, a
lawyer, an investment banker,
a private equity investor, and now as an author
and publisher of children's media. Her interests include practicing yoga,
reading non-fiction and children's literature, dreaming, effecting
positive change, and, of course, being global, green, present, and safe. She
lives in San Francisco, California with her three Little Pickles.
Emma D. Dryden lives in the
home in which she grew up in New York City, where she was raised by
entrepreneurs. Her father was a self-employed actor and her mother a self-employed
writer/researcher. A longtime children's book editor and publisher, Emma
spent over twenty years working at a large publishing company before
starting her own children's book editorial and publishing consultancy
firm, drydenbks LLC, in 2010. Books Emma has edited have won numerous
awards, she's an Advisory Board member of the Society of Children's Book
Writers & Illustrators, and she speaks extensively on the art and craft
of writing for children. Her blog, "Our Stories, Ourselves", explores the
connections between the human experience and the writing experience, and
What Does It Mean To Be An Entrepreneur? is her debut picture book.