I love cooking and eating, and I especially love looking at pictures of food! If you love food as much as I do, please add your food pictures/recipes/food related posts to the linky below. All you have to do is link back to this blog post from your blog. I look forward to seeing what everyone else is eating this week!



This past week we got out first eggs from the easter egger chickens that we have. You can sort of see in the pictures that one is a lighter green and one is a darker green. I was hoping for a green and a blue, but I will take two greens 🙂 And the most common question I get about these eggs is whether they are colored on the inside as well. No, they are not, they are regular eggs, taste like regular eggs, but they are pretty!
With the addition of the easter eggers laying we get between 6 and 8 eggs/day. We have given away some eggs, but mainly we use all these eggs. Crazy, right? I never knew we would eat so many eggs. My kids love egg on english muffins, and so they eat that for breakfast regularly. And then I inevitably make some type of egg dish for dinner a couple times per week. So what we are left with are not many eggs to sell, unfortunately.
This week it was frittata. Although, it isn't called a frittata in my house anymore. For some reason when I made one last year, Emma was not pleased about it. So in order to get her excited, I instead called them oven eggs. Now, it is her favorite meal, and the name just kind of stuck.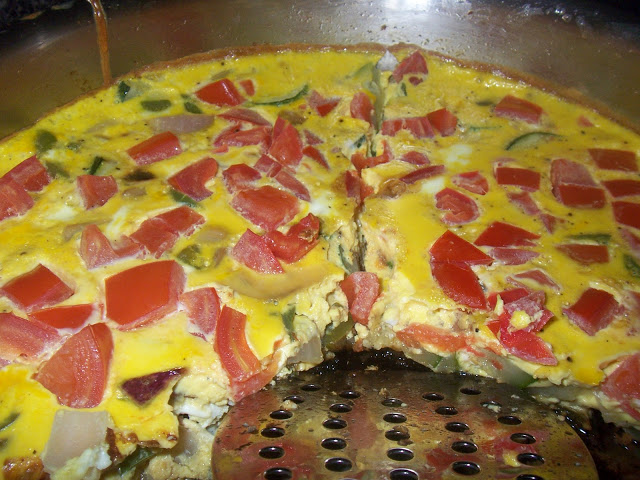 Oven Eggs
2 medium zucchinis
1 red onion
3 medium green peppers
2 tomatoes
12 eggs
3/4 cup milk
salt and pepper to taste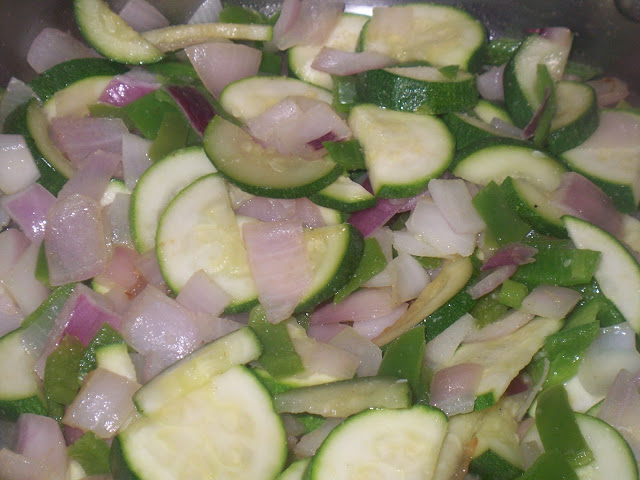 Preheat oven to 400 degrees
Halve and slice zucchinis, chop red onion and green peppers. Add to a large oven-proof fry pan with sides. Saute in a little oil (or butter) until soft.
Whisk eggs and milk together, pour over veggie mixture and let the eggs set around the edges. While the edges are setting add in your chopped tomatoes on the top.
Transfer the fry pan to the oven and bake until a knife comes out clean.
This made a lot, and fed us for two days, but I would rather have more than not enough 🙂 You can easily add cheese to this dish right before you put it in the oven. I didn't happen to have any cheese to use today, and my daughter prefers her eggs without cheese. And we will use whatever veggies are available for this dish, sometimes it is just onions and garlic, sometimes we add potatoes and peas. Whatever works for you!
Now, onto the linky! What are you all eating this week? I'm looking forward to finding out!
I'm linking up at the Barn Hop