what i am harvesting from my garden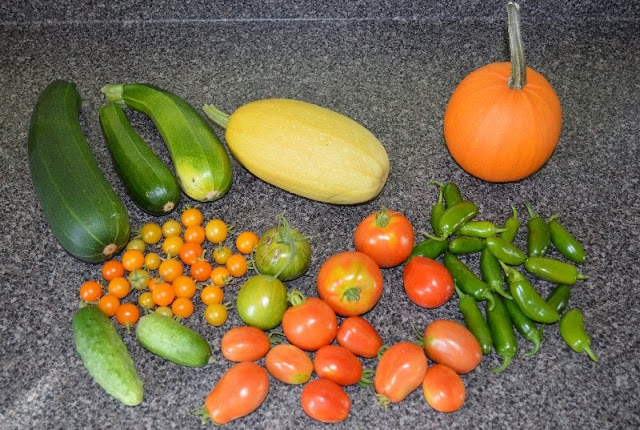 The garden is really producing now! I have to make sure that I get out there every day, otherwise my cucumbers get too big, and my zucchinis get a little out of control as well! Typically each day I am getting zucchini, cucumbers, cherry tomatoes, paste and slicing tomatoes and jalapenos. I am still getting a ton of green peppers as well, but I didn't happen to pick any today. The other thing I have a lot of is kale. Tons and tons of kale. I love it though! I had been trying to conserve it by using it only for smoothies or green juice every day, but I think I am going to start making kale chips with it as well.
I was very excited to pick my first spaghetti squash and pie pumpkin. It definitely seemed too early to be picking pumpkins, but this baby looked absolutely ready. Orange orange orange, and I did the thumbnail press to see if the skin was still too tender. It seemed to pass the test! I have a bunch of other pie pumpkins growing, all in various colors from green to semi-orange.
This week I plan to start canning tomatoes. I have ordered my normal 100 lbs from the local produce store. I think I am going to concentrate on crushed tomatoes this year. It seems to be the thing that we use the most, besides salsa. I also want to make some salsa, but I probably won't get to make nearly as much as we need. Honestly, I don't know if I could ever can enough salsa to last for an entire year! It seems like we go through it so quickly!
I still have cabbage to pick, and I think I will be picking some of that this week. The early cabbage is still pretty small, but it has developed into beautiful little heads, so I think it is about ready. My red and green storage cabbage is still working on turning to heads, so I know that will be a bit longer, but it all looks great.
Overall I am really happy with how everything is developing. I absolutely love going out to the garden every day to pick stuff for our salads or to incorporate into dinner. I have a lot of plans for next year as well, and am already thinking about how many more garlic cloves I need to plant for next year!
What are you harvesting from your garden this week? Have you planted a fall garden?


Linking up with the Homestead Barn Hop and Clever Chicks