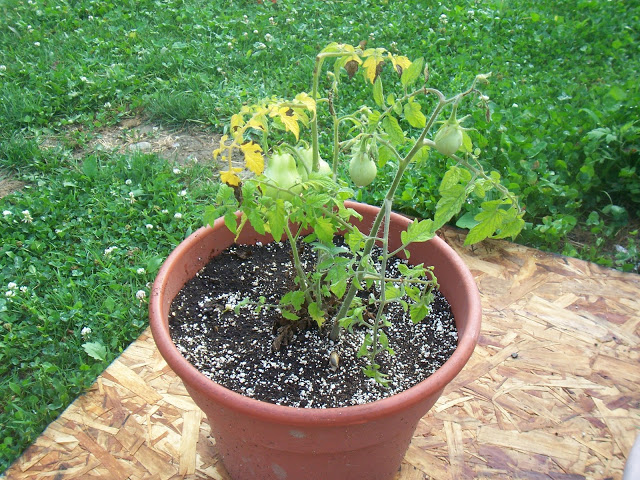 I have been asking myself that lately. What happens if you can't grow anything? I think back to what people had to go through back in the day, before all the technology and resources that we have today, and I can't imagine it. What if I couldn't grow any tomatoes this year (I can't by the way), what would I do? If I had no winter squash (I don't) what would I do? Well, back then, I guess I would have to rely on whatever I could have grown, maybe sacrifice a milk cow, maybe try and figure out something to trade with a neighbor (who may be twenty miles – or more – away). It would have been difficult.
Luckily, we have a few more options these days. And I am extremely thankful for that. We have had a dismal year on vegetables in my garden. Granted, I haven't been gardening as though our livelihood depended on it, but I'm not sure it would have made a difference. I wasn't able to grow any lettuce, my winter squash/summer squash/cucumbers were all killed by pests. My tomatoes were all stunted by extreme amounts of rain in June. It has been a hard year. Luckily I do have a few things that have done well, mainly carrots, peppers and jalapenos.
What should you do if your year has been as bad as mine?
Look for a co-op to buy from:


You may not have a co-op in your area, but you also might! We just recently got one in my area. It is an amazing thing for our little city. We are able to go online each week and look at all the products available, order what we want, and then pick it up the next Friday. The order window is only open for a couple of days, and we do certainly pay a premium for the ability to order online and pick up fresh produce a week later. For instance this week I was able to order 20 pounds of organic peaches and 3 pounds of green beans (among other things), which is about all I can probably manage in a day. I am going to take the time to turn the peaches into salsa and BBQ sauce, freeze the green beans, and it will be one less thing I need to worry about, and I will be putting something away for the winter.
Go to a Farmers' Market:


It seems like farmers' markets are definitely on the rise. I know that they aren't available in all areas, but, if you look, you might be surprised at what you find. You can go to the website Local Harvest and find out if there is one in your area. If not, perhaps you have seen a farm stand on your way to work, or on a Sunday drive through the country. You can talk to these farmers and buy extra from them in order to preserve for the winter, often at a discount. It is a great way to meet the people that grow your food, and know the practices that they keep in regards to their farms. Plus, it is also a great place to meet like minded people! And they may have ideas on where you can buy some extra cucumbers to turn into pickles.
Buy a winter and/or summer CSA share:


A CSA share is a great way to make sure you have a source of food in the summer, as well as the winter. We have been getting a winter pantry CSA for the past several years. It is one of the best things for us. We don't have a root cellar, and I am not sure I could figure out how to preserve food other than canning or freezing – hopefully at some point I will figure it out, but it hasn't happened yet. This way, we are able to go to a great farm every other week during the winter to pick up a large batch of root veggies/frozen veggies/canned goods; it really is a great setup!
We didn't have a summer CSA share this year, and I am regretting it every week that I go and spend more than I would have paying up front for our farm fresh veggies. But, if you are lucky enough to have a summer CSA, they often will give you extra produce when it is available. Yes, we would frequently get several zucchini and have the option of picking up extra from the "free" baskets. Grating these and throwing them in the freezer in 2 cup portions is great for preparing most zucchini bread recipes, or to easily throw in a stir fry or soup.
What are some ways that you are able to preserve food for the winter when your garden fails? Or maybe your failures are not as large as mine. If not, what is your secret? Do you have a certain trick for meeting a high demand of preservation if you haven't planted enough of a specific vegetable?
I am linking up with the Barn Hop and Rural Thursday