It's Wednesday again! Already! It seems like the weeks just fly by. Of course, that is nothing new around here, but the addition of the warm sunny weather makes us want to get outside. Then, before we know it, it is rest time, then time to get ready for dinner and a walk!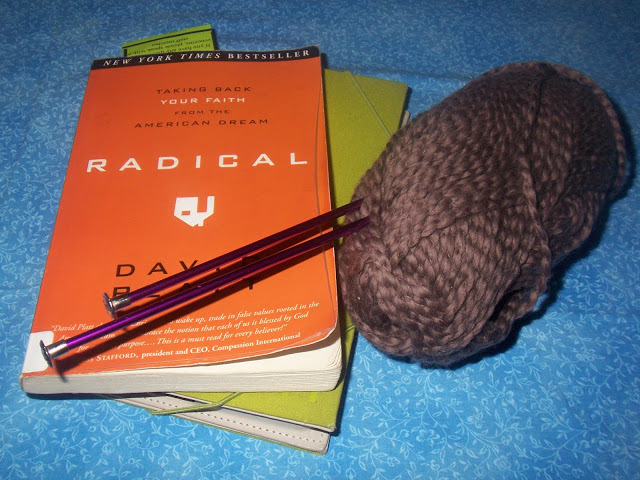 Needless to say, not an awful lot of knitting has been done over the past week. I am still diligently working on my kitchen rags. I am sure I will continue to knit them until I run out of extra yarn. Since I am not using a pattern it makes it the easiest project to bring outside with me while the kids are playing, or if I have some free moments to knit a couple rows. I am hoping to start knitting one of those adorable vests that I have seen on oh so many cute babes in the past several weeks with this lovely brown organic cotton. It is so soft in my hands!
As far as reading goes, I have jumped onto the Fifty Shades bandwagon. My goodness it isn't for the faint of heart! I guess that I need to read about books before I get involved in a story. I have to say, I had heard the hype, but I didn't pay attention to what was being said about why there was hype. Now I know!
And in a completely different realm, I just started reading Radical, which I saw someone reading last week in the yarn along. I am only through the first chapter, but I like what the author seems to be setting up about how we need to fully give our lives over to God.
Joining in with Ginny and her yarn along today! Can't wait to see what everyone else is knitting and reading! And be sure to come back tomorrow for a review and a lovely giveaway from DaySpring!