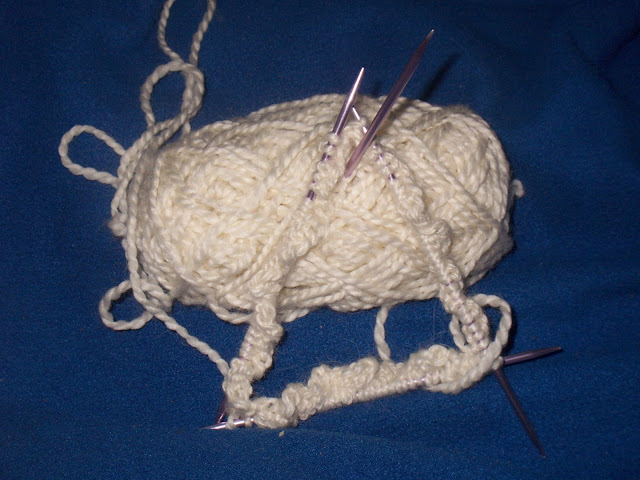 I have been looking at this beautiful off-white alpaca yarn for two years. Every time I go to the store, I see it, and it calls to me. I have wanted to use it to make Emma a hat, but haven't done it. Last year I even broke down and bought the yarn, and still looked at it lovingly in my basket. I don't know what was holding me back from knitting an almost white hat for my very active 4 year old (did my sarcasm come through there?), but I finally decided to start it. She may not wear this hat all the time for outdoor play, but it will be very cute on her, and that is what really matters to me right now!
As far as reading goes, well I am still on my fluffy romance kick. I don't know what draws me in to these insane love stories. But, they suck me in every time. Girl meets boy, boy is damaged in some crazy way, boy softens because of girl, and then they get married. Every.single.time. Perhaps I am just looking to these stories as faith in humanity with all the craziness that is going on in the world. Or maybe I am so burnt out from reading so much non-fiction over the past several years that I cracked.
After the garden disaster this year, I think maybe I need to start looking into gardening books for people with black thumbs. I have always had good results, but these past two years haven't been so great. I am sure it is that I am trying to do too much, and getting my hopes up too high. Maybe next year I will start smaller, or maybe be more organized. Or perhaps getting chickens at around the same time I was supposed to be doing the garden was a mistake!
I think that I need to get some new yarn and new books though. I haven't been very motivated for knitting or finding a good book recently. There is always the library, but after so many countless hours spent at Barnes and Noble, I realize the dewey decimal system is not for me. I need to see the book covers to be drawn to even pick up the book. Perhaps I need to make a trip to Barnes and Noble, and then make a list of books to request from the library. That seems like a good idea 🙂 And I am tired of looking at the same scraps of yarn in my stash. I need to make a little blanket out of the scraps and then finally allow myself a shopping trip!
I am linking up at the yarn along. Looking forward to finding some inspiration this week! Bring it on guys!