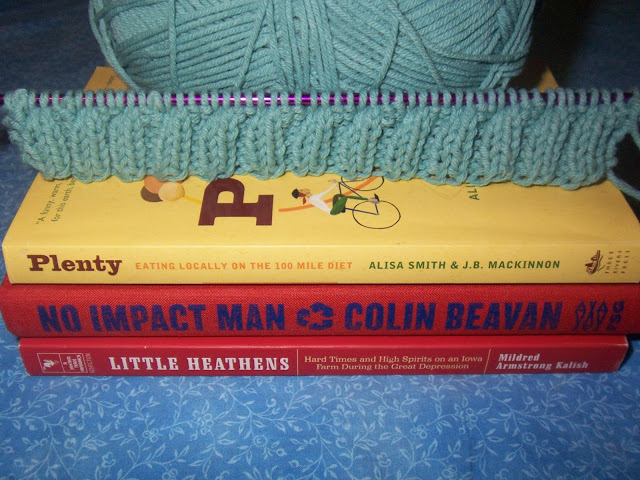 After finishing the shawl last week, I immediately wanted to cast on for another shawl. But, instead I took some time and finished the wristlets I have been working on for my mother for a couple years 🙂 I finished those last weekend, and then realized I needed something else to do. Before I could knit something new, I had to go to the yarn shop. When I got to the yarn shop I found this lovely super soft cotton yarn in a beautiful sea foam color, and realized that my daughter was destined to have a spring pullover for her birthday. As you can see, I have made incredible progress on those first 8 rows. Goodness, it took a lot out of me 😉
I am still reading the three books I started last week. I am especially enjoying Plenty: Eating Locally on the 100-Mile Diet considering I have been thinking about local foods and how to sustain a plant based diet locally where I live in Maine. Really interesting reading! I also just picked up the four volumes of The Story of the World to start reading to the kids. So far, I absolutely love them. The stories are not too long, and are incredibly interesting – to my kids and to me!
What are you knitting and reading this week?
Joining in with Ginny and Tami!