Last week I was so happy to read about other people thinking about Christmas knitting! And then over at Simple Kids, Kara Fleck talked about how she wanted to get started on the handmades for her kids for Christmas. I thought I was good to go, Christmas, here we come! Then I sat down to make my lists…and nothing happened. Not one blasted idea came to mind.
Of course, I have the hats that I do every year. I always plan on those being a Christmas gift…and they are, I even wrap them up to open on Christmas morning. Although, they typically have been wearing said hats for about 6 weeks before Christmas…hmmm. But, after that, I am at a total loss.
Typically around this time I have a whole host of ideas, and a folder full of Christmas planning, but not this year. And I'm not sure why. I think last Christmas I was completely burned out. I tried hard to make everyone's presents instead of buying. It gave me a lot of stress I probably didn't need, but I really do enjoy giving handmade gifts!
So, what now? Well, I need some ideas. And I am hoping to find some today at the Holiday Kids Gift Craft-along. And also of course from the yarn along today! I would love some suggestions for kids gifts, as well as what you give to extended family during the holiday season.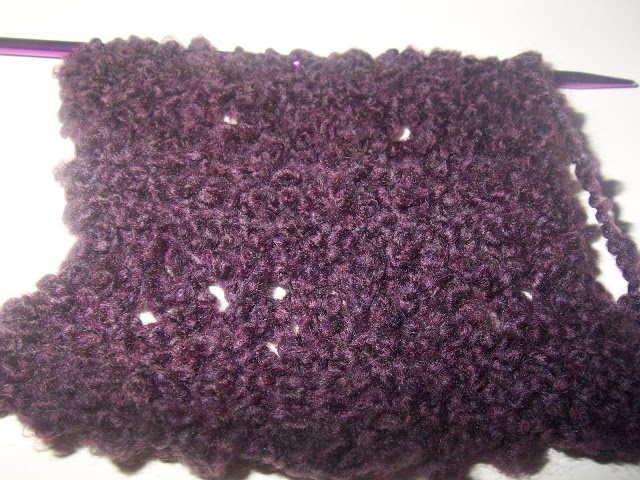 As far as what I am knitting. I am still knitting a scarf for my mother's helper. I got quite a ways in last week using the yarn that I originally selected, just to spot a different yarn that I wanted to use instead…so I started it over again. Still a dark purple, but this is more textured, and I thought it would be a nice yarn to use for a scarf. I'm actually thinking that I will use this same type of yarn for a hat for Emma. It is really soft, and she loves purple – which is why I think I have so much purple in my stash of yarn!
And on the reading front? I have been reading a lot of romance novels of late. Some that I have enjoyed recently are Gabriel's Inferno, Gabriel's Rapture, and Slammed. I think that I am just trying to find stuff with a nice and neat happy ending, especially with all the news that I listen to and read throughout the week. Sometimes I think that I should just shut the news off entirely, be completely oblivious to what is going on outside my own little world…but my constant need for information always seems to sneak back in.
Well, I think I have covered enough topics in one post! My never-ending stream of consciousness! Of course, linking up with the yarn along!