Zucchini Noodles with Fresh Pasta Sauce
One of my favorite vegetables in the summer is
zucchini. I know, most people are so
sick of zucchini and try to give it away as the summer goes on. I am not one of those people. I think maybe because I haven't had much luck
growing zucchini in the past. My mom
would always tell me that I only needed one or two zucchini plants. Unfortunately, I have squash bugs and
cucumber beetles that enjoy eating my plants.
I'm hoping that the fact that we didn't plant a garden this year, all
those bugs decide to move on to someone else's garden.
Even though I am not growing zucchini, it is still readily
available at the farmers' market and at our co-op. With this fresh summer veggie there are so
many recipes. One that I started eating
in the past couple years is zucchini as pasta.
Now, I do not have one of those cool spiralizers, so instead
I spend the time to thinly slice the zucchini into long strips like
spaghetti. Then I place the "noodles" in
a bowl and sprinkle with a little sea salt to soften them up. At this point they can be treated just like
pasta and put in your favorite pasta dish.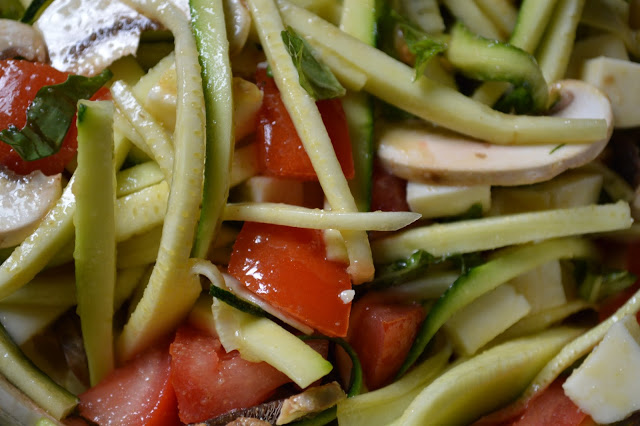 My absolute favorite way to eat pasta is with a fresh raw
tomato sauce. I chop a couple tomatoes,
some mushrooms, mozzarella, garlic and basil and toss it with some olive oil
and salt, and serve it over pasta.
With the abundance of zucchini right now, I decided to
replace the regular pasta with zucchini noodles. It is so delicious I can't even explain how
delicious it is. It is fresh and doesn't
make you feel like you have eaten too much with all the pasta that I usually
consume with this dish.
What is your favorite
way to eat zucchini? Do you have a tried
and true recipe you would like to share?