It seems like such an easy thing, saying no. However, I think that saying no is probably
one of the hardest things to say today.
There is always someone that needs help, help baking for an
activity at your child's school, a party to go to, a committee that needs more
members; but when you are saying yes to these activities, you have to say no to
something.


I think that often we can get caught up in the trap of
saying yes to everything but ourselves.
For me, and I think this is true for a lot of moms, we put
ourselves last. We want to make sure
that our children have a parent that is reliable for all those extra
activities, but it can sometimes come at the expense of our own personal
self-care.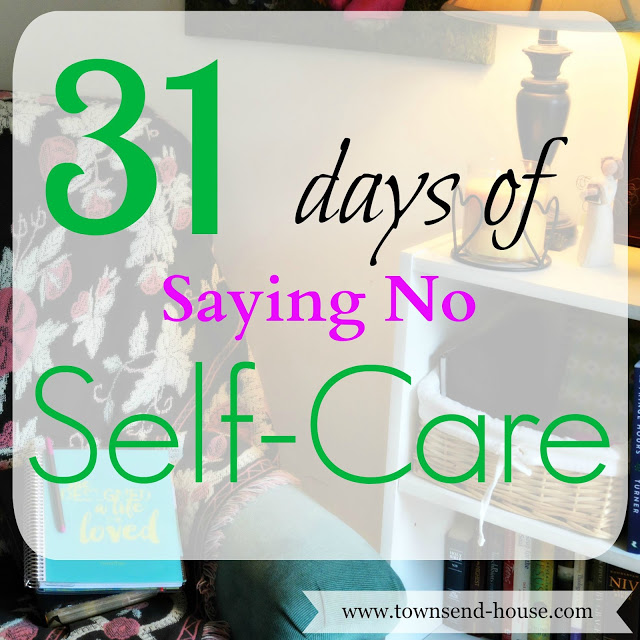 Don't misunderstand me; I am not saying that you should
always say no. Instead I want you to
evaluate what you are really saying no to.
Do you ever feel like if you don't step in and volunteer, it
will all fall apart?
I realized at a young age that it is better to "just do it
myself" rather than let someone else take control. There is less disappointment that way, at
least in my experience. A group project
that always seemed to fall completely on my shoulders, or something set up in
not the way I would want it done – it was easier to do it myself.
However, when we take all that responsibility, our self-care
and overall health can suffer.
At some point you have to say no to something, and do you
want it to be your health, or to another fundraiser at work or school?
I want to reiterate, I am not saying "say no to everything,"
but perhaps it would be good to write down everything that you are involved in,
and see which are your passions and which you feel are obligations.
I would challenge you to really think about the
obligations. Are there some things that
perhaps someone else could do?
I think a lot of us feel like if we say no, we are letting
someone down, or they will never be able to find someone else to do whatever it
is that needs to be done. But, in my
experience, saying no is quite freeing.
It allows you to then be more passionate about the things you are saying
yes to.
What if we stripped all of the stuff that isn't necessary
from our lives? How freeing would that
be? Would you have more time for
self-care, more time for family? Would
this allow you to say yes to something that you have really wanted to do, but
couldn't manage to "find the time?"


You don't want to let people down; I don't want to let
people down. But, sometimes, when we say
yes because we don't want to offend or make someone else's life a little more
complicated, we end up negatively affecting our own life.
I would suggest making a list of all your commitments. Obviously there are some that are non-negotiable
(you are still going to bring your kids to school, you are still going to work,
and you are still going to do the dishes), but perhaps there are some
commitments that you really could remove.

Are you passionate about healthy food in your child's
classroom? Then don't give up making
healthy snacks to bring in! But, if you
don't have a lot of time, perhaps try buying something healthy instead of
making it from scratch. What about
baking for a bake sale? Do you love
baking, and does it bring you joy?
Great, do it. If you really do
not like baking and it stresses you out, pass on that task and someone else
will do it.
I think that we often feel if we say no, no one else will do
it. But, that isn't true at all. We need to start speaking up and saying no to
what does not energize us, and letting someone else handle some of that.
Trust me, it is hard to say no, but it is also incredibly
freeing.
If you can let go of some of that self-made guilt for saying
no, you will be happier. It will be hard
at first, but taking that first step to saying no is going to help your
self-care so much more than a massage!
Is there one activity
that you could say no to today? What is
stopping you?