{31 Days} Back to Basics Day 23
This month I am participating
in the nester's {31 Days} challenge. My topic for the month is Back to
Basics. If you would like to follow along
youcan find all of my posts here
.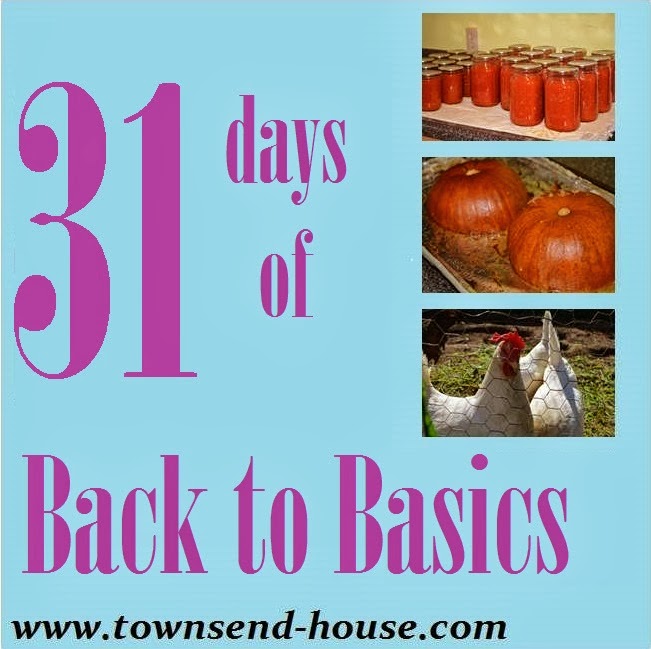 I have talked a lot this month about what I am doing to get
back to basics, but I have not talked a lot about why.
When I started this journey it was because of being pregnant
with my first child. I am pretty sure
that my life did a 180 degree turn at that point. What had been important to me before no
longer seemed important, and the things that I could care less about all of a
sudden were at the forefront of my mind.
I think that would be what a lot of parents say though, you just think
of life differently.
After my oldest was born, I realized that working was not going
to work out for me anymore; I had no desire to be away from my daughter, and
was willing to risk the financial consequences.
I certainly didn't start out my maternity leave expecting to quit my
job, but that was the reality at the end of 12 weeks. All of a sudden we needed to make a lot of
changes quickly in order to get our finances in order. Cooking food from scratch, making my own
laundry soap and cleaning products, turning from paper to cloth; these were all
changes I could immediately make to help keep our monthly costs down. These were the initial reasons.
As I moved along in my journey to more self-sufficiency and
greener living, I started to think more about the environmental impact our
choices make. I knew that it was better
for the environment, and for my kids, if we threw away less trash. I knew that buying food that traveled such a
long distance, and was not actually in season was not good for anyone. Every day that fresh food travels, it loses
nutritional value. Not to mention the
possibility of contamination; which is evident with all the recalls that we
seem to encounter now.
I was probably the least environmentally aware person when I
started all of these changes, making them purely for financial reasons, or the
amount of chemicals found in products.
As I educated myself, I knew that there were a lot of environmental
benefits for the changes that I was making, and I started to really feel that
it was my responsibility to do it. As a
Christian, I was given the task to be a good steward to God's creation, and I
started to ask myself whether what I was doing was being a good steward, or if
I was doing what was easy for me. It was
kind of a hard pill to swallow realizing that maybe I wasn't the most
responsible with regards to our resources.
It is still a struggle.
This was a big reason for me deciding to write about "back to basics"
for these 31 days. I wanted to remind
myself why I was doing what I was doing, and how it is benefiting us, no matter
how time consuming or difficult or against the mainstream it may be. Will I be able to make every change and be
completely perfect? Absolutely not! And if I thought that I could, I would be
lying to myself. Instead, I pick the
changes that are easiest for me and my family to implement, and start there.
What makes you want to change aspects of your life? Do you like change?