One of the things that I love about homeschooling is that
you can really do school anywhere.
However, I love to look at the wonderful homeschool rooms on pinterest and
frequently look there for inspiration. I
am blessed in having a large house, which I have talked about before. We are able to have a dedicated play/school
room and a craft room, which I absolutely love.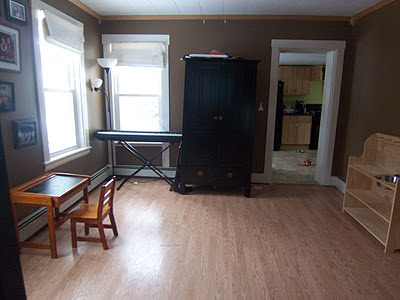 I know that most people might think that because we put the
play room and school room together, it doesn't really count as a dedicated
space, but because my kiddos are 3 ½ and 17 months…I think it definitely
does. I am sure that once they get
older, the room will be more school and less play. At that point I think I would prefer to move
the toys into their room, with just a few toys out at a time…I may be dreaming
of course! And actually, in this picture the toy box is missing 🙂 We are in the process of going through the toys to weed out what we no longer need, and to separate some for their room.
Since the
curriculum
I use is mainly based on reading, we end up
doing a lot of schooling in our living room on the couch. Don't get me wrong, I love that we have a
school room, but since there isn't a lot of desk work, we do not use it for all
of our schooling. I tend to read to the
kids in the morning in the living room while they play, or more often Jack is
playing while Emma is sitting with me in the chair.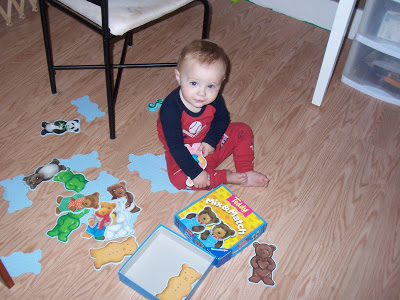 We keep all of our school stuff in one armoire in the school
room. It helps to keep everything tidy,
well at least it looks tidy when I shut the door to the armoire. 🙂 Clearly I need to reorganize! It helps to have all the school books and
workbooks all in one place. I don't have
to worry about finding things on our bookshelves, and it is a special place for
books, that we only use at certain times during the day. Obviously the kids are able to
choose any books for night time stories, but more often than not we have
"school books," "free time books," and "nighttime books."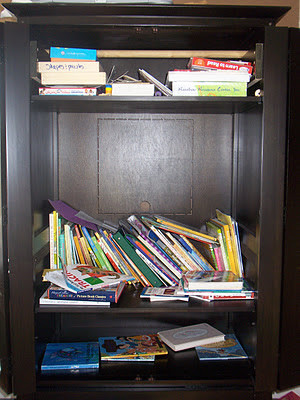 I would love to see where you all spend school time, or if
your kids go to school, where your kids do their homework. If you have any ideas of things that should
be in my school room, please let me know!
Are all of your books separated into different categories of time, or is
any book up for grabs at any time?