When you begin to think about homeschool curriculum it can
be a daunting task, especially when you are first starting out.
This will be our first year reporting to the state for
homeschooling, and for me that has become a little nerve-racking.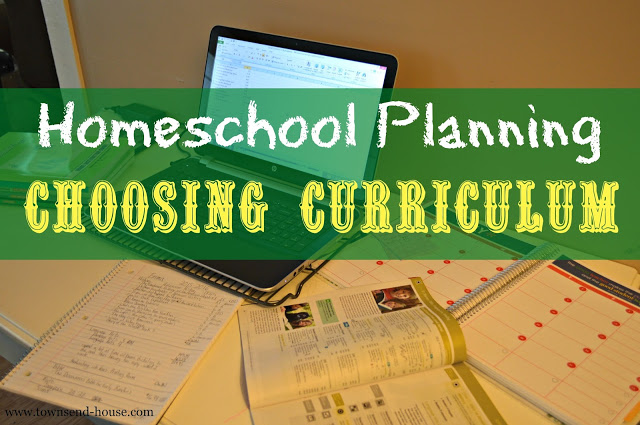 How do I know that what I am teaching is being
absorbed? How do I make the decision on
what should be taught, and what can be skipped over. How do I make sure that we are fitting it all
in?
These are questions
that I am constantly asking myself.
For the past several years we have bought the boxed
curriculum from Sonlight. We absolutely
love it. I love all the great books that
come with the cores, and I love that there are teacher's plans included. Who wouldn't like to just open up lesson
plans and start teaching?
Actually me, I am not
so good at following the included lesson plans.
This year I knew I would be taking a different approach to
our homeschooling. First of all, we have
the portfolios that we need to think about.
But, then there is also the fact that we school all year, so the
included lesson plans don't quite work for us – I am constantly modifying the
first few weeks we start a new core, and then I throw the plans completely out
the window.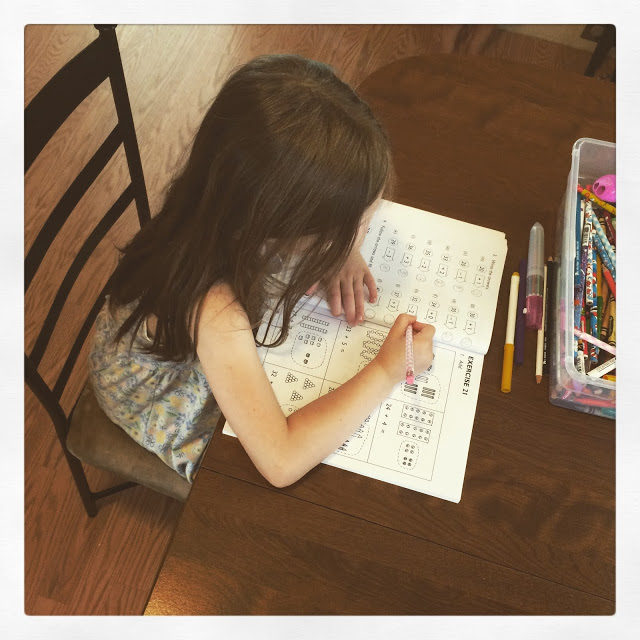 The last bit that I needed to think about was whether or not
Emma was ready for the next core. She is
on the young end of the cores every year, in fact she has been a year earlier
than what is recommended. I know that
she can handle the content that we have done, and she has excelled at it, but
moving into Core D at seven wasn't going to work.
So what do you do when
you have a bit of a gap year? You make
it up for yourself!
The first place I started was the Sonlight catalog. Even though I knew that a lot of Core D would
not work for her this year, I knew that I wanted to start out with early
American History. I love that Sonlight
focuses on history, and then builds around whatever part of history the child
will be studying.
The book lists that Sonlight has available are amazing. I was able to figure out which books would be
appropriate for her, as well as what would be way over her head, or not really
applicable to what we will be doing this year.
I have to point out
that there are some amazing resources as far as homeschool curriculum.
If you are looking for book lists, I would suggest checking
out Sonlight
of course, but also Ambleside Online has entire curriculum lists and plans
available for free. Another great
resource is CBD. You can find just
about any kind of homeschool curriculum on that website. I also love the Simple Homeschool blog.
I think that when you
are making up your own path, it can be confusing, and scary! What if I miss something?
It took a lot of thought and prayer in order for me to come
to some decisions on homeschool curriculum this year. And that is my biggest piece of advice. Pray.
Make lists. Think about what you
want your children to know at the end of the year. It is an incredible undertaking, and I think
that is why I am so happy with having resources like Sonlight available. I know that they have gone through a lot of
research already, and because I have used them in the past I can trust a lot of
what they say regarding good quality books.
If you are struggling with finding things like math and
language arts programs, you can find assessments and samples of most of the
major curriculum choices. Download
samples, and look at them all to figure out what might work best for your
child.
Remember, you know your child best. If the child is a little older, ask them for
help. What would they like to study, how
do they feel like they learn information best.
Is it through reading? Is it
through projects? Is it through
video? There are so many different
options available to us now, whether we are homeschooling, using public school
resources, have our child in private school, or something else entirely.
Another place that I
look every year when evaluating the kids' needs for school is our local public
school.
We are lucky that the public school puts out what the kids
will be learning throughout the year. I
am able to go online and download all of that information, so I know the scope
and sequence they are using to teach. I
might not have all the information that they are using, but at least I know
about what Emma's public school grade will be learning.
That isn't to say that I use the public school curriculum
choices, or even follow their scope of learning for the year. But, I do like to know that we have touched
on things that the kids of the same age are learning in the community.
I think that I have come to some decisions with regard to
what we will be doing next year, which is a good thing since we school year
round, and are wrapping up the past year now!
I have a lot of book orders to place, and some new math
books to buy, but I am excited about the new year! Now to finish up the old year so we can keep
going!
How do you choose
curriculum for your homeschool? Do you
look to the public school resources, get a boxed curriculum, or make up your
own?