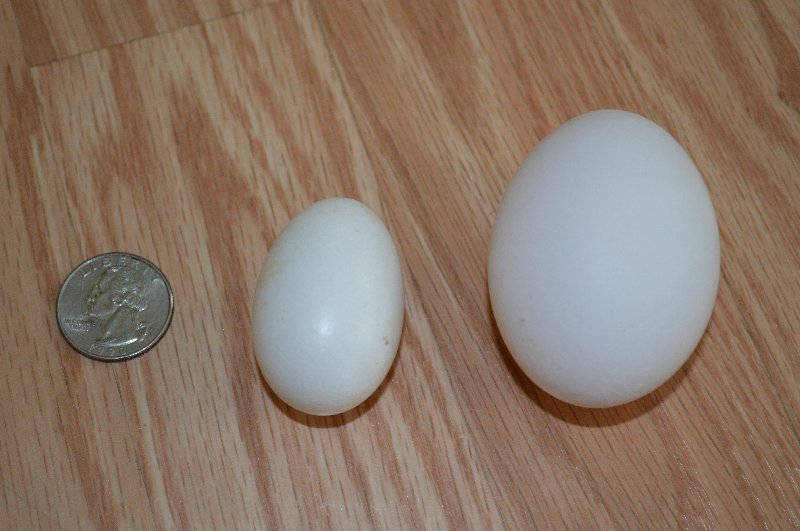 Our chickens all seem to lay very large eggs. I mean, the first eggs that we got last year from our hens were small, but since those first couple of eggs, we have always gotten very large eggs. Imagine my surprise when I went to collect eggs last week and found a teeny tiny egg. I wasn't sure what to think! We have some neighbors that recently got chickens as well – did one of them come into our chicken coop and lay an egg? No, definitely not! And when I cracked it open, no yolk was inside.
I had to of course go to my trusty friend google to see what might be going on. Apparently these tiny, yolkless eggs are sometimes called witch or fairy eggs. Typically this happens to hens who have just started laying, but can also happen to older hens who may have had a disturbance recently.
I haven't really noticed anything abnormal happening with our chickens lately, so I am attributing it to us having to put down another chicken. We had another araucana with a prolapsed vent. The other chickens had been pecking her before I had a chance to let them out in the morning, so I had to separate the immediately. It was sad to have to let another one go, but it is the life of an urban farmer I guess!
I'm not sure if losing a hen from the flock caused one of my other hens to lay this tiny egg, but since this one egg, all have been normal size. It could have been a fluke. Everyone seems to be back to normal now, but kind of a funny week in chicken keeping!
Linking up at Clever Chicks, Homestead Barn Hop, From the Farm, The Creative Home & Garden