2020-2021 Simplified Teacher Planner Review
One of my favorite parts of spring is that it is a new planner season. Especially with everything going on right now. However, this year I decided that I wanted to do a few more reviews from different companies that create planners. As homeschoolers, it is important that you keep track of lessons, and what your kids are learning. Now let's take a look at the 2020-2021 Simplified Teacher Planner from Emily Ley and how it can be used as a homeschooler.
The first thing to note about the 2020-2021 Simplified Teacher Planner is that it is NOT a homeschool planner. Instead, it is a teacher planner, marketed specifically to teachers. So that means that there will be pages that may not be applicable to homeschoolers. That is OK, we will take a look at them and see how they can be repurposed for homeschoolers.
2020-2021 Simplified Teacher Planner: Packaging
The 2020-2021 Simplified Teacher Planner comes in a beautiful robin's egg blue box. The box is incredibly sturdy and it has a pretty gold border around it. The box would be great to keep the planner in at the end of the year or also repurposed for storing other items.
When you open the box the planner is wrapped in bubble wrap as well as a clear plastic pouch. They take seriously the protection of the planner! But, this is nice to know since sometimes during shipping planners can become a bit deformed, or scratched and marked.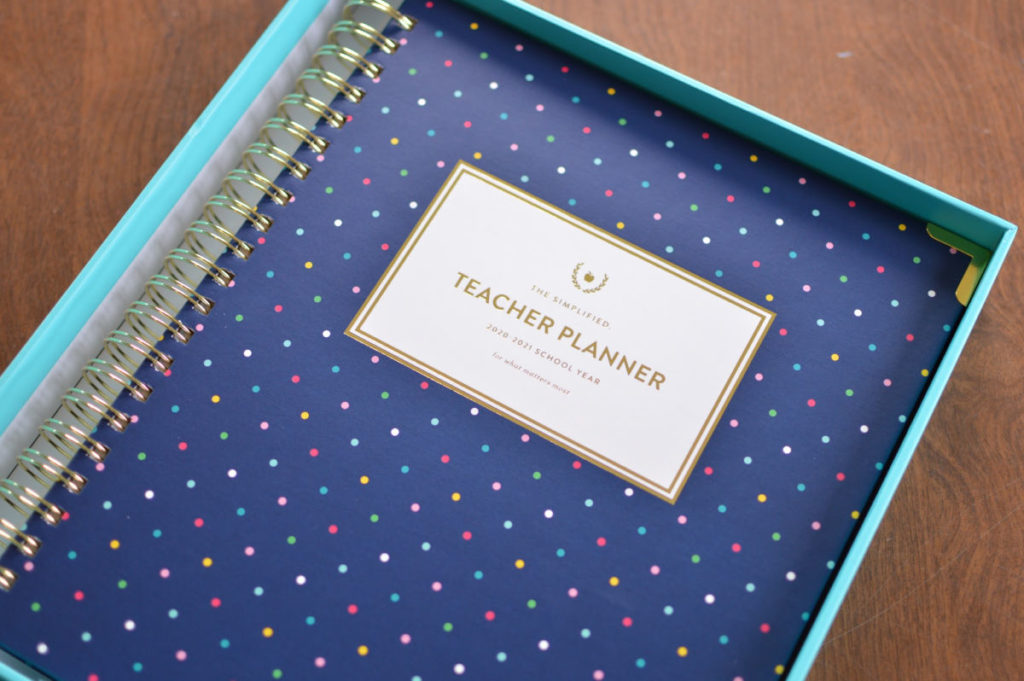 Once you get it out of the packaging, you will see that it has a hardcover which Emily Ley has named Navy Happy Dot. It has gold corner reinforcements and is bound with a gold wire-O binding.
I typically prefer a coil-bound planner because I find that it is easier for the pages to turn, but the pages seem to turn just fine with this wire-O binding.
Opening up the 2020-2021 Simplified Teacher Planner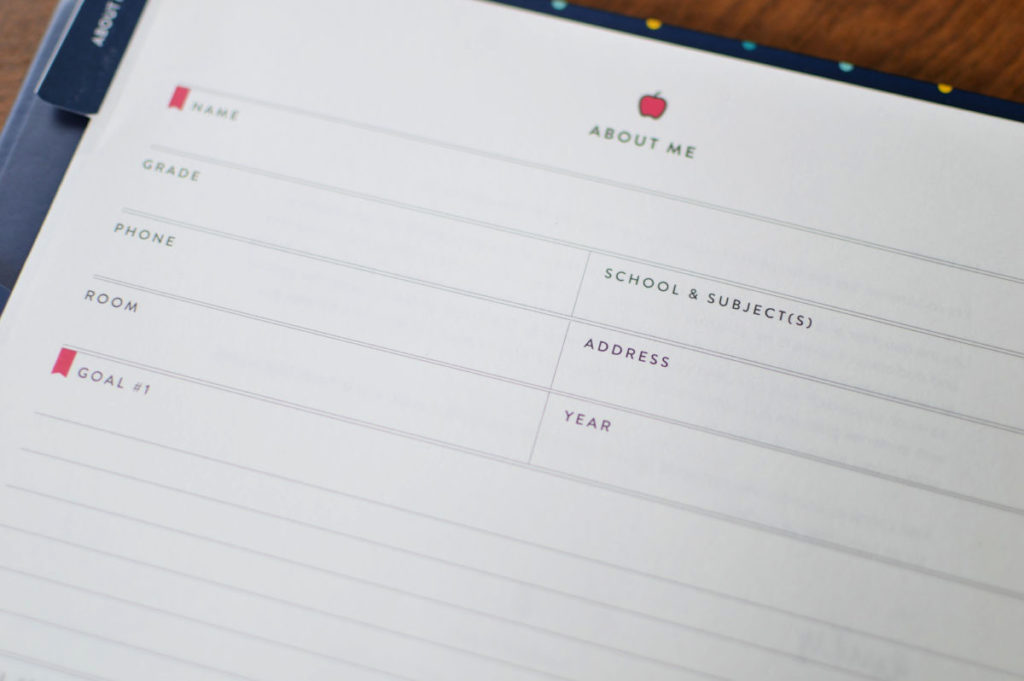 When you open the teacher planner, you will see a pocked immediately on the inside front cover. It does fit a normal sheet of 8.5×11 paper in it. However, it is very difficult to get paper in. I finally put one sheet in individually and then put some other sheets in. I fit about 5 sheets in without too much trouble.
The main issue with the pocket is that it is glued to the cover. So this means that there is a bit of a lip from the back of the pocket that makes getting paper in and out difficult.
This post includes affiliate links. If you click on one of these links and make a subsequent purchase I may receive a commission. Read Disclosure.
You then get to the front page where you can write your name. The tabs are laminated nicely, and the paper is nice and smooth. Although, it is not quite as heavy as the Erin Condren Teacher Lesson Planner paper. The colors are subdued and it is very simple – perfect for not distracting from the purpose of the planner.
2020-2021 Simplified Teacher Planner: Beginning Pages
You then will move into the About Me section. This section has a place for goals, as well as additional resources and passwords that you may want to list and keep handy for different resources that you use throughout the year.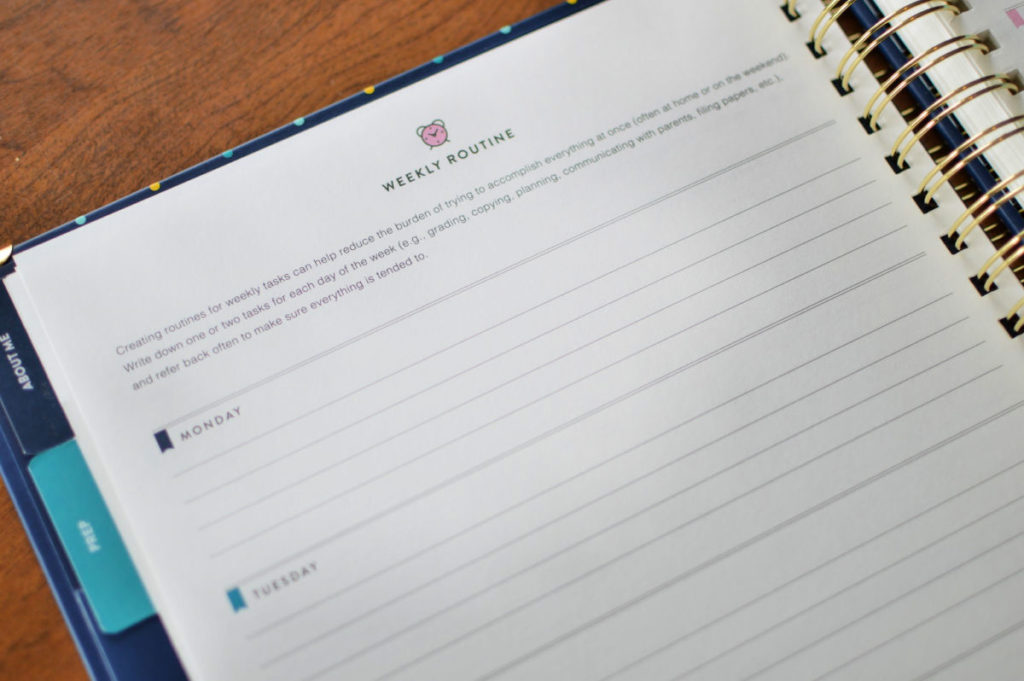 I like that there are places to write goals specific to your homeschool year right at the beginning of the planner. It allows you to set your intention for the homeschool year ahead.
Then you will move into the Prep pages. I think that this is probably my favorite section. I love my Cultivate What Matters PowerSheets Goal Planner because of all the amazing prep work at the beginning of the goal planner. Seeing something similar Simplified Teacher Planner is awesome.
It has a section for looking back and looking ahead, as well as a place to write out a weekly and daily routine. As a homeschooler, I do these things anyway, but to have it all in one place in the Teacher Planner itself is great. I think it ties in nicely to the About Me section where you write down 3 goals for the year.
2020-2021 Simplified Teacher Planner: "Class" section
The next section is the "class" section. There are 6 2-page spreads that are for "student info" including student name, parent name, and phone number. In order to repurpose these pages, I would use them as a reading log and for homeschooling resources, you are using throughout the year. It is easy to replace the current headings with stickers to create my own.
I love that there are 6 2-page spreads because we go through a lot of books. Especially in the early elementary years when we are reading a lot of very short books – having extra space to list them all out is a nice benefit to this planner.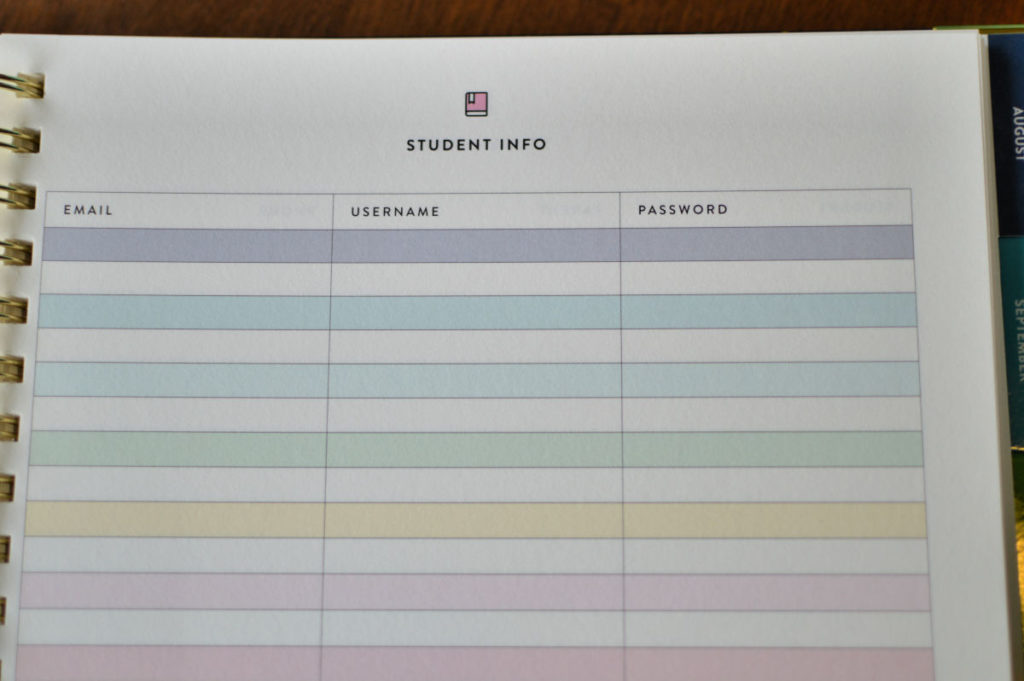 I could see these being used as book logs for books my kids have read as well as the books that I read to them, in addition to the books that are used for specific subjects. Lot's of record-keeping options with these pages!
Grab your FREE Daily Habit Tracker Printable by entering your e-mail Below!
Then you will move into a page for values & procedures. Procedures probably aren't necessary for your homeschool, but having values and your homeschool vision or mission statement here would be beneficial. On the opposite page, there is space for a vision board that is called "education inspiration." I think having a vision board for your homeschool year is an amazing opportunity to set your intentions for the coming year and to help keep you motivated during the difficult parts of the year.
The final two pages of this section are substitute info and emergency info. These could easily be repurposed for notes pages, or information for your spouse if they will be doing some of the teaching at different parts of the year, or for particular subjects.
2020-2021 Simplified Teacher Planner: Checklist Pages
Next, we come to the Checklist Pages. There are 6 2-page spreads of checklist pages. There isn't an option to add more checklist pages. I love using checklist pages as habit trackers for my kids. Having 6 2-page spreads would allow each of my kids to have two of these spreads to keep track of their year.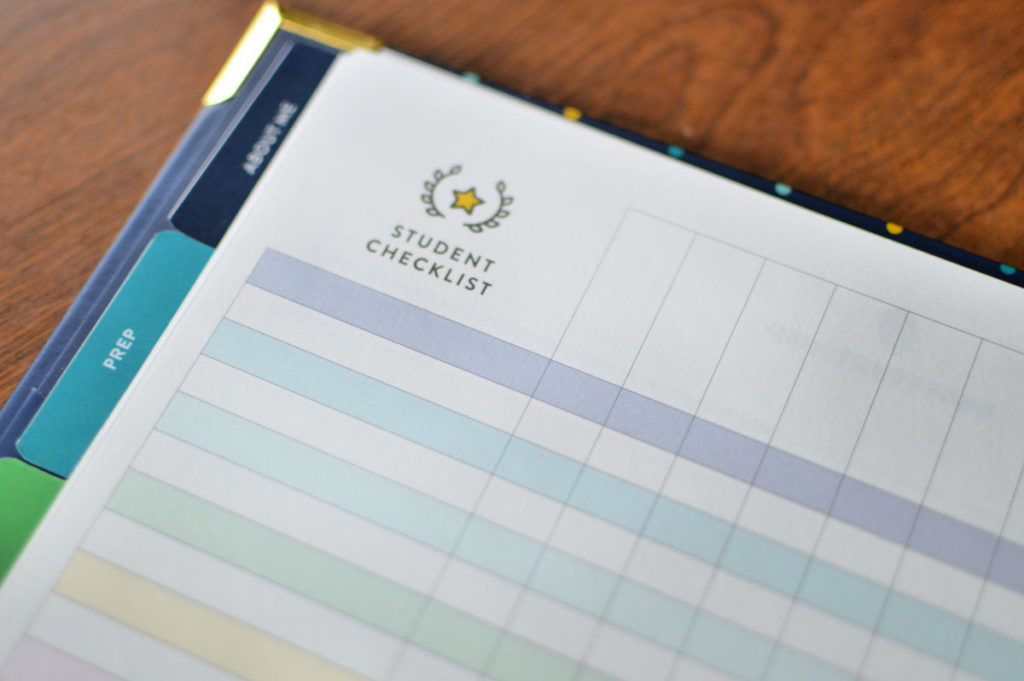 In the past, I have listed out all of the subjects, character qualities, chores, etc. across the top and then each spread would be one month of habits. This gives me a good idea of how we are doing at the end of the month and if there is a place where we need to focus more attention in the coming month. However, with only having 2 2-page spreads for each of my children, I might need to come up with a different use for these pages.
2020-2021 Simplified Teacher Planner: Calendar Pages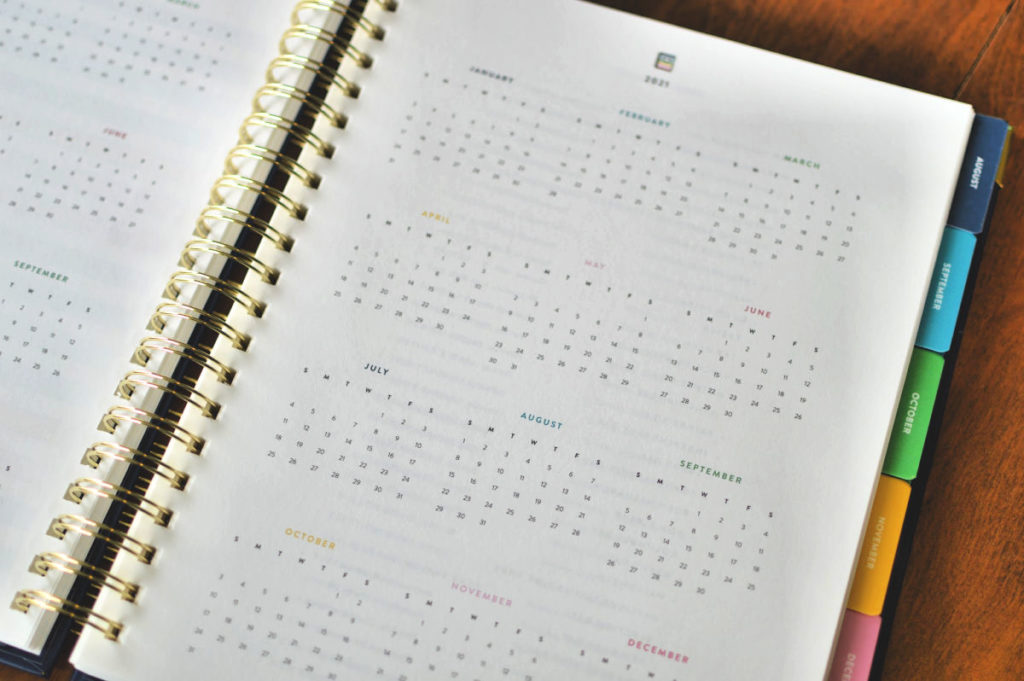 The next section in the 2020-2021 Simplified Teacher Planner is the calendar section. First, you have a 2020 and 2021 yearly overview. They give you all 12 months of each year, which is really nice. I use these pages to plan out our year using different color-coding dot stickers.
During my homeschool planning time, I will map out what I expect our year to look like. This includes expected vacation time from homeschool, different days off, my teacher planning days/weeks, as well as days that I plan to have "conferences" with each of my kids.
This is followed by a list of all the holidays for 2020 and 2021.
After that, the next spread is a School Year Overview and a Daily Overview. I love that the first box starts with August – the month this planner starts with. In addition, it is nice to be able to have all of the months listed in order of what the teacher planner is giving you. Some other academic layout planners start with January, which never made sense to me since academic planners typically start in July or August.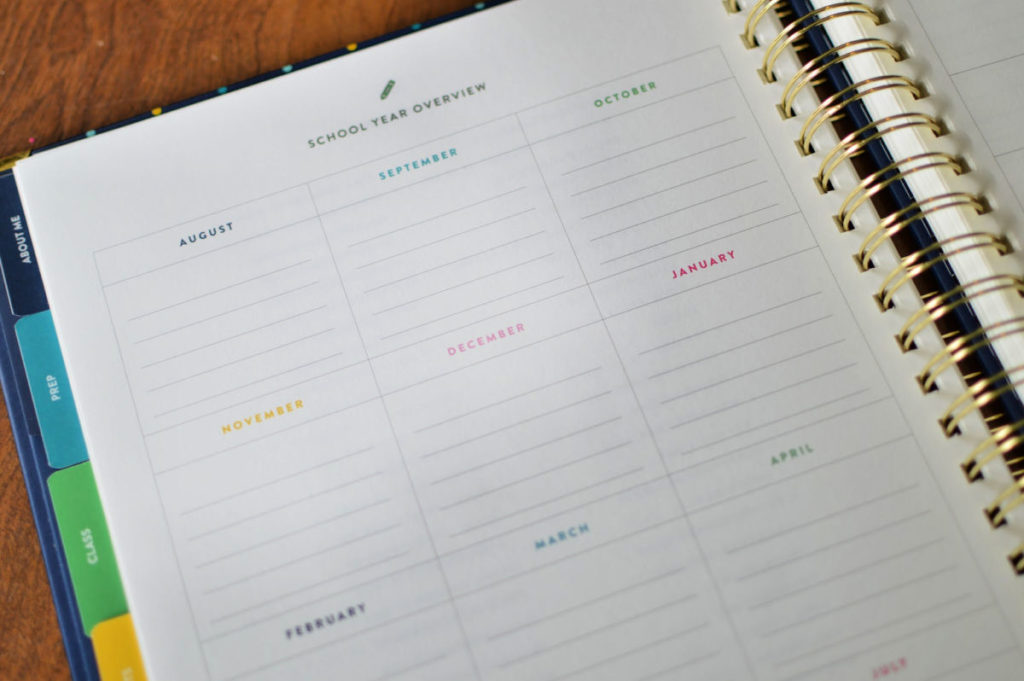 2020-2021 Simplified Teacher Planner: Notes Pages
The 2020-2021 Simplified Teacher Planner has 6 2-page spreads of lined notes pages. And then it also has 6 2-page spreads of graph paper. This would allow you to have one lined page, and one graph page for each month of the year.
There is a little colored flag at the top of each of these pages that denotes the color of the monthly tab. This helps you keep all of your information together for each month.
Personally, I would prefer these notes pages to be in front of the monthly calendar so that I am not doing so much flipping back and forth. But, I do like that there are all these notes pages for pre-planning for the month.
2020-2021 Simplified Teacher Planner: Planning Pages
Finally, we come to the meat of the planner, which is the monthly calendar pages and the weekly planning pages. Each monthly calendar has the holidays listed out on their specific days. It gives you space for notes as well as a mini-calendar up at the top that shows the previous month and next month. I love that feature. I always like to see what the month ahead is like.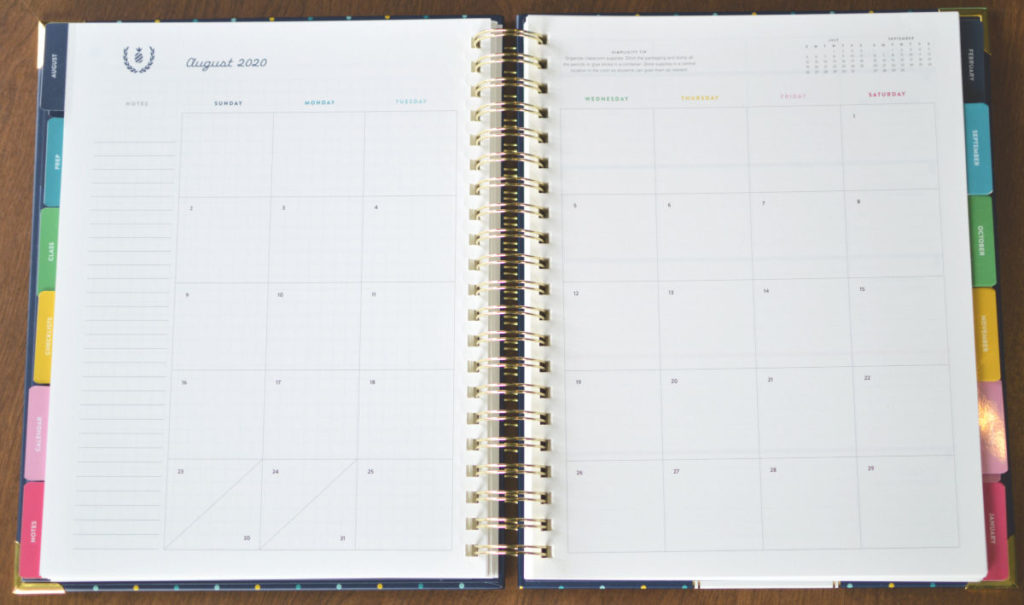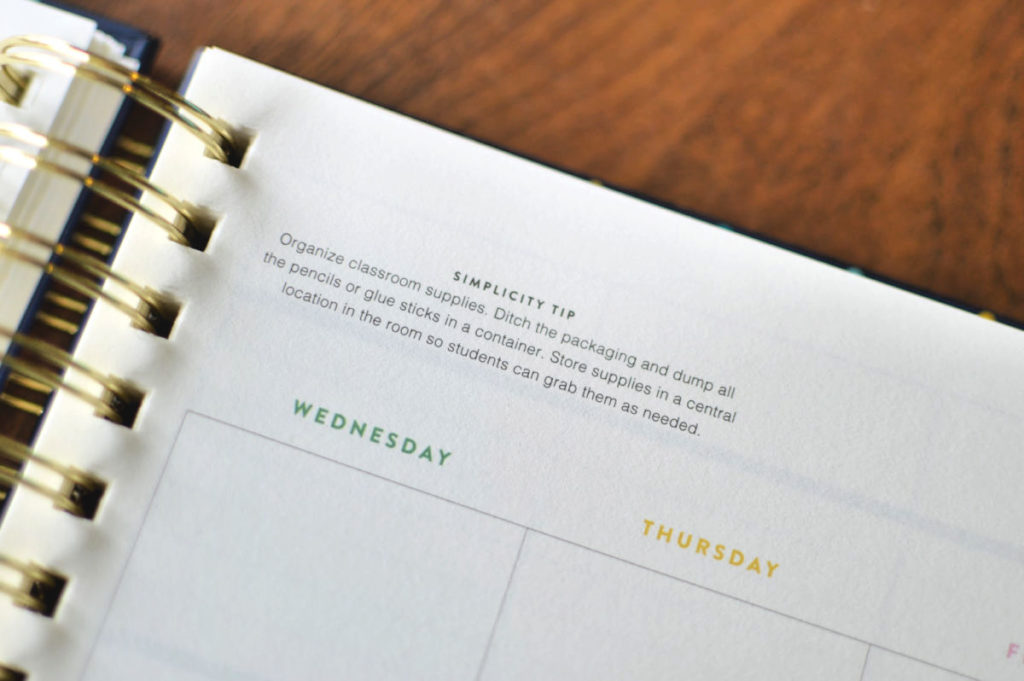 The monthly calendar is where I would put everything kid related. This includes outside activities/classes, as well as any appointments the kids have, sports and music practices etc. I also put a little check on each day that we "do school" during the month. In my state, Maine, we need to complete 175 days of school each year, so having the days checked off monthly is a nice way for me to keep track of our attendance record.
Weekly Planning Pages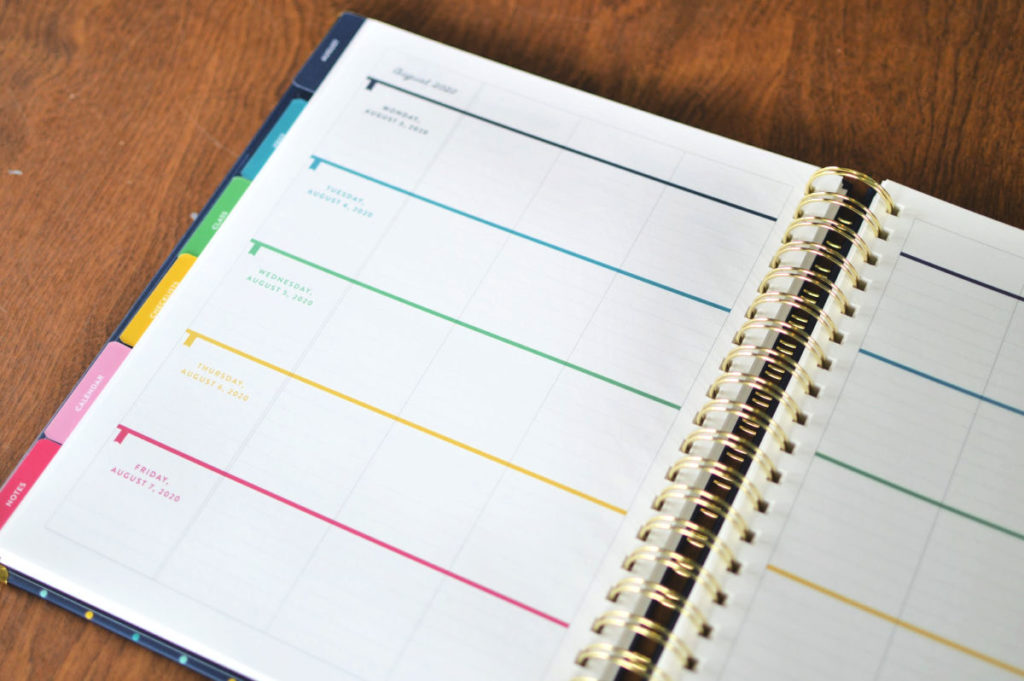 Then you move into the weekly planning pages. The 2020-2021 Simplified Teacher Planner has the days of the week, Monday through Friday, listed down the left-hand side of the page. These are dated, which is nice. Across the top, there are 6 columns that you can either use for subjects or for names of your kids. There are a lot of options for these columns.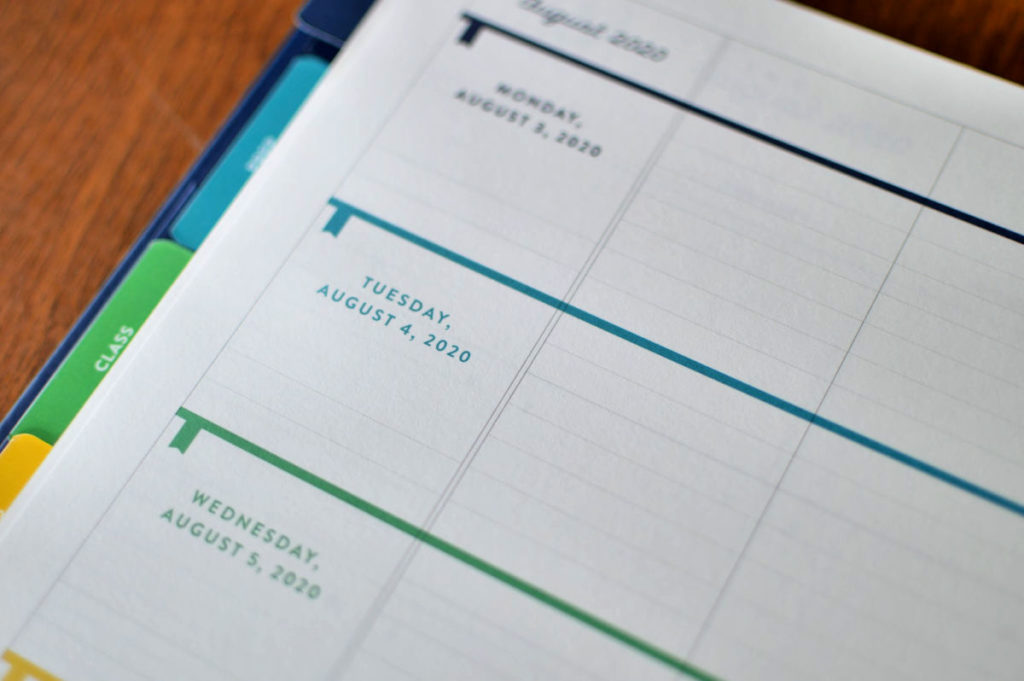 After that, the final column is a notes column, or it could easily be used as a 7th subject/kid column.
Each day is designated a different color. The boxes are all lightly lined which helps for those of us that are a bit messy with writing! I love how simple and streamlined these pages are.
There are dated weekly pages for the entire year, which is wonderful since so many homeschoolers are year-round homeschoolers. Having all the space you need to plan a wonderful homeschool year.
Stickers!
One of the best parts about the 2020-2021 Simplified Teacher Planner are the sticker pages in the back. There are 5 pages of beautiful stickers with gold accents. A perfect addition to your planning pages to add a bit of fun. There are functional stickers as well as plain old fun stickers.
These stickers alone make me want to keep and use this planner!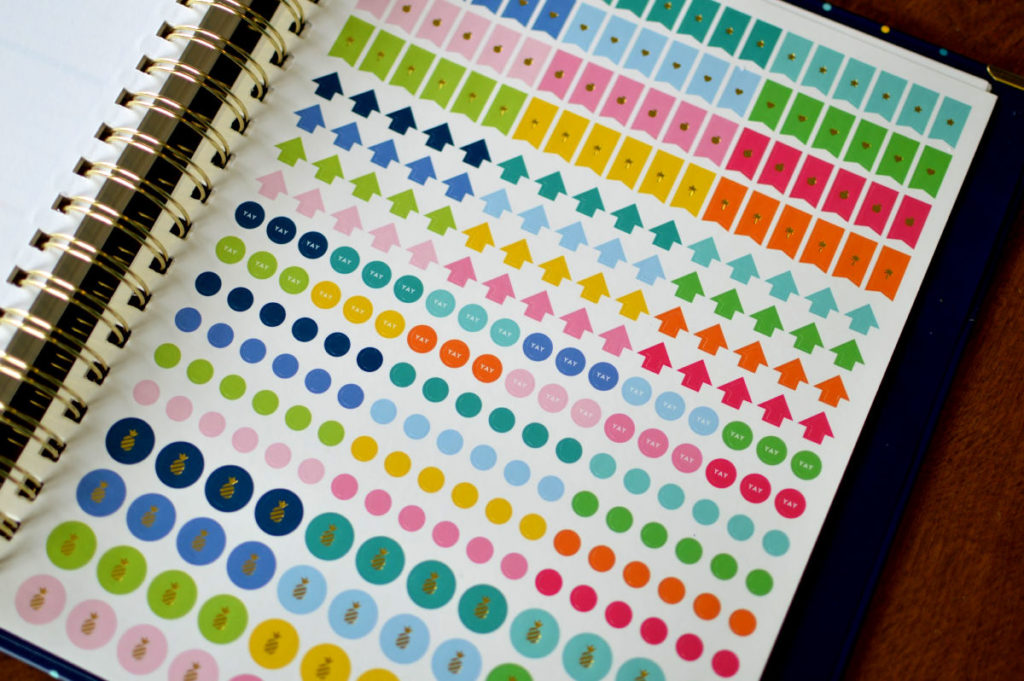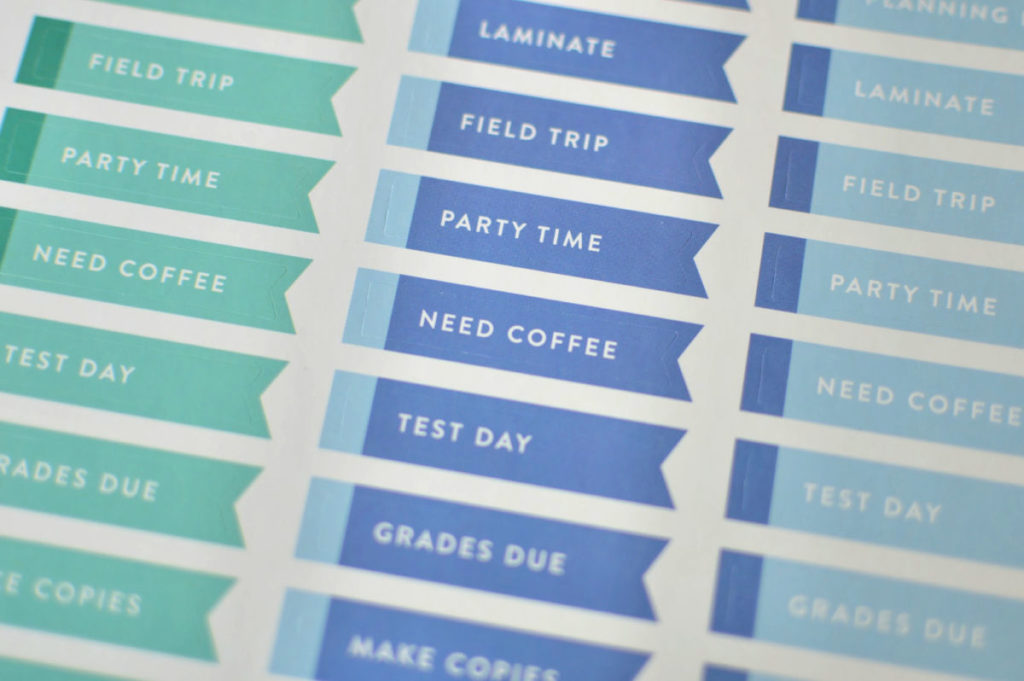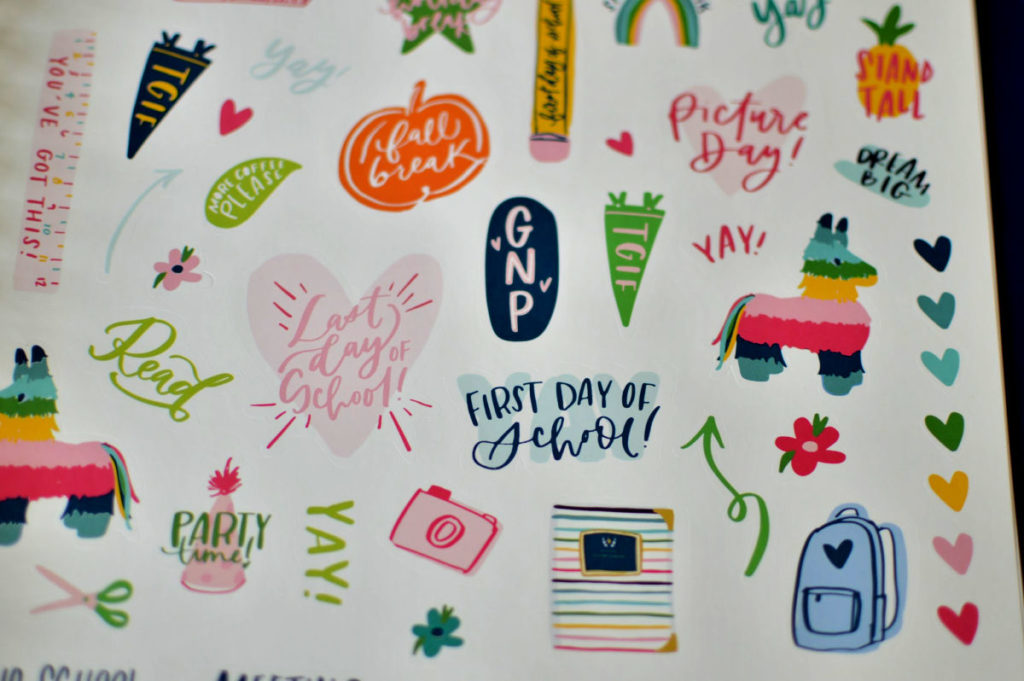 The Bottom Line
Overall, this is a beautiful planner. Therefore, I think that it could easily be used as a homeschool planner. This is the second year that they have had a teacher planner, and I believe they made a lot of updates to this planner, especially with the binding and being able to fold the planner over on itself.
I love how simple the weekly layouts are. This is very versatile for however, you choose to set up your homeschool plans for the week. For instance, the planning pages at the beginning are something that I am going to incorporate into my homeschool planning for this year as well. I enjoy looking back and looking ahead to see what did work and what didn't. That is something I actually try to do yearly as well as monthly.
My biggest struggle with this planner is that it starts in August. Because I run our homeschool year July-June, having an August start date will not work for me. However, if this planner did start in July, I would most definitely try it out for my homeschool planning this year.
However, if you start your homeschool year in August, or start tracking your days in August, this will be a perfect planner for you!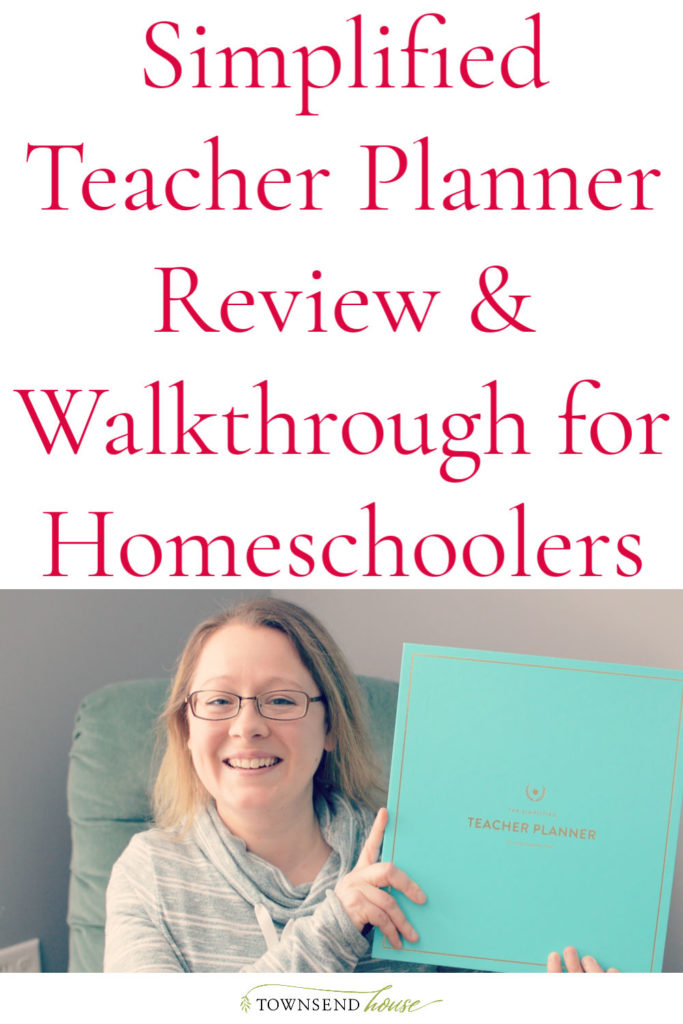 2020-2021 Simplified Teacher Planner Giveaway
Because the start date is not where I would need it for our homeschool year, I will be giving away the new Simplified Teacher Planner to one of my readers. Now, if you are interested in trying out this planner, just enter using the rafflecopter below!
a Rafflecopter giveaway