In order to cultivate simplicity in your home & homeschool. you need to set goals. Today I am going to share with you the 2020 PowerSheets. The PowerSheets have been a lifesaver for me and goal setting. It is a tool that you will want to use as you get ready for a new year, personally, professionally, and most definitely as a homeschooler.
This post includes affiliate links. If you click on one of these links and make a subsequent purchase I may receive a commission. Read Disclosure.
The 2020 PowerSheets Goal Planner is going to be your number one tool for creating a life you love for the year 2020! This is the 6th year I will be using Lara Casey's PowerSheets. I first heard about Lara Casey through her book Make it Happen. It was one of three books that I read back in 2015 that made a huge difference in my everyday. If you are curious the other two books were Own Your Life and The Best Yes.
Goal Setting is something that I love to do. I love to write goals. The problem? I am not as good at the follow-through. Also, it is easy for me to list every single thing that I want to change in my life, and expect that it will just happen. Guess what? It doesn't work like that!
The 2020 PowerSheets are going to help turn those dreams into reality.
The 6-Month PowerSheets Goal Planner is now available! Click below to get yours now!
2020 PowerSheets Changes
There are a lot of changes to the 2020 PowerSheets this year – and they are awesome! The first change is that there is now a hardcover! There are 4 cover options to choose from – teal linen, pink linen, confetti, and blooms. They are all gorgeous covers! I chose the teal linen cover. If you are having trouble deciding which cover choice to get, there is a handy color theory that was put together and you can see below.
The covers are sturdy, and can also be folded back on themselves.
Inside the cover is a new pocket. Each interior has a complementary pattern. The teal linen has a blooms pocket, which is perfect because I was having a hard time deciding between blooms and teal linen. The corners are gold plated in order to protect the cover when you carry around the PowerSheets – which I do…a lot.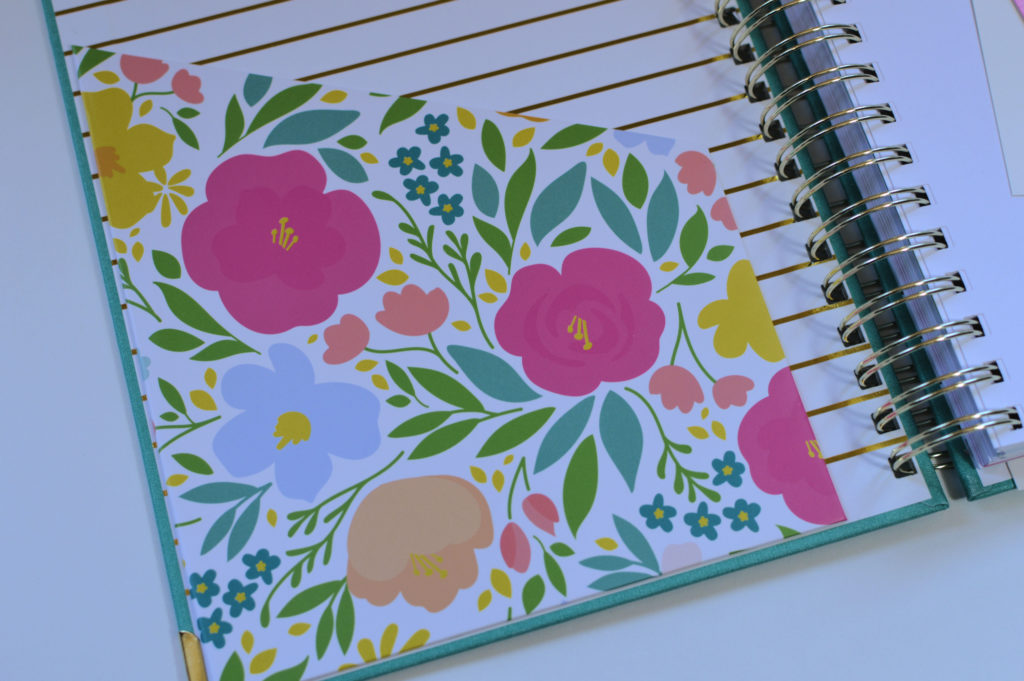 Another big change is the coil. The coil is gold now instead of the plastic.
And finally, the 2020 PowerSheets now include a monthly calendar as part of their monthly tabs. This is going to be perfect to set dates for certain goals to be completed, as well as dates you want action steps to be completed by. I will not be using this as my only planner. I have too many things going on on a daily and weekly basis. However, if you are primarily concerned with a monthly calendar view, and don't have a lot of appointments, etc. you might be able to use this as your all-in-one planner.
2020 PowerSheets Interior
The 2020 PowerSheets still come with a sheet of beautiful stickers. They are right at the front of the planner. It also still has the laminated tabs, which make flipping around the planner very easy.
I went through every page of the 2020 PowerSheets to see the changes within the goal planner itself. It seems as though there were a lot of changes. First, to make room for the monthly calendar. Then to remove some of the questions that the monthly calendar replaces. But, also, the order of things has changed a bit.
The font is bigger, which is a nice bonus. Last year the number one complaint I heard was that the font was too small to read. I agreed with that complaint when I first got my PowerSheets last year. But, as the year went on, the size of the font didn't really bother me at all. Apparently I got used to it! It is nice that it is a little larger this year though.
The Prep Work
The main reason that I originally wanted to get my own set of PowerSheets several years ago was the prep work. It is amazing what comes out of the prep work for me each year. I go in with some goals I think are already concrete goals. Then I find out they are not the ones I need to focus on in the new year.
You need to do the prep work. You probably will want to spread it out. It is a lot of deep questions, a lot of self-reflection. Now is the time to put a planning retreat on the calendar for yourself. It is OK to put yourself on your calendar. As a matter of fact, I would say that it is one of the most important things you can do for yourself as a form of self-care.
There are 18 pages of prep work. Everything from getting to know who you are as an individual, to vision boards, and big ideas for goals for the new year. It is all worthwhile to go through. Lara Casey does an amazing job of giving you ideas and instructions on exactly how to go about doing the prep work. Not only that, she has an entire week dedicated to the prep work at the beginning of December!
Join 5000+ homeschool mamas and get encouragement delivered right to your inbox. We want to help you Cultivate Simplicity in your Home & Homeschool. Sign up below!
Your 2020 Goals
After the prep work, you move to the goals section of your 2020 PowerSheets. This is where you are going to list out your goals for the year. Then you go through each goal and create an action plan.
Your action plan doesn't necessarily have to be for the entire year. However, it is a great place to start. What are the mini-goals and small starting steps that you need to work on in order to make progress on that goal?
Another big change is the number of goals. Instead of 10, there are now 8.
After you have written your goals and action plans there is a yearly overview. Then you will move into the monthly sections.

The Monthly Sections
Each month follows the same outline. The Prepare Well page, your monthly calendar spread, the Make What Matters Happen this Month spread and your Tending List. The final section is your Month in Review. This you do at the end of the month to gauge your progress.
These monthly sections have changed quite a bit to make room for the monthly calendar. There is less space to concentrate on your worries and stressors, and more space to make positive change as you move towards your goals. I think this is a really great change.
When you are immediately faced with what is stressing you out right now, that can be a bit negative. Especially when looking at a new month on the calendar. I think this is a great change.
January also has a section on "top tending tips" to get your year off right – something to refer to as you go throughout the year.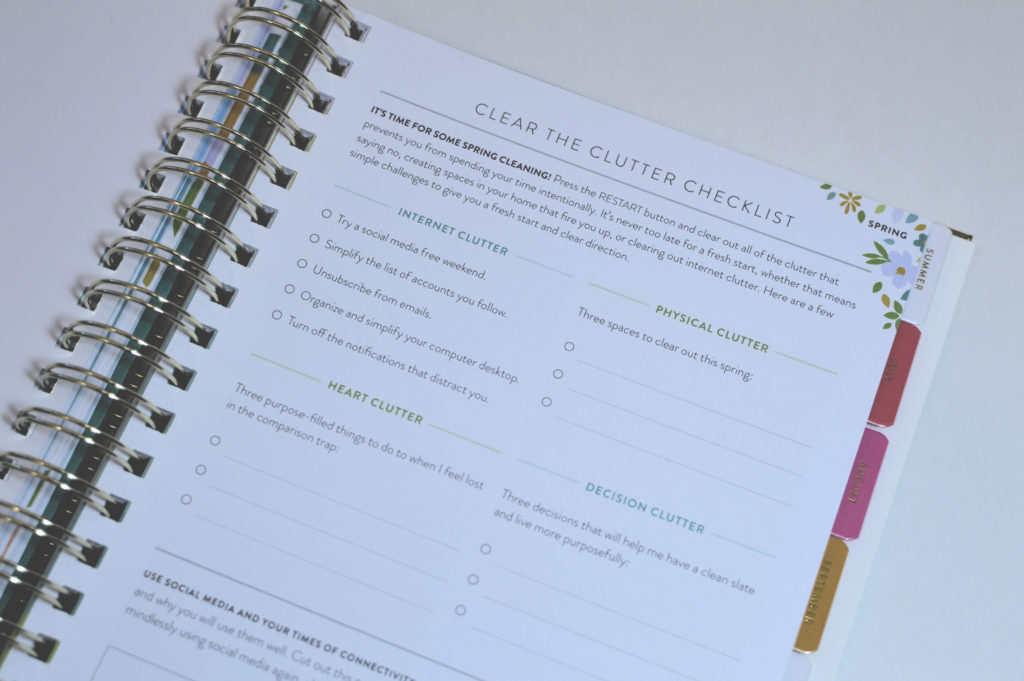 Seasonal Refresh
One thing I love about the PowerSheets is the seasonal refresh sections. Each season focuses on something different:
Spring: Clear the Clutter
Summer: Have a Fruitful Summer
Fall: Savoring Cultivates Contentment
You will notice that there isn't a "Winter" season on that list. The reason being that your prep work at the end of the year is your "seasonal refresh."
Each seasonal refresh gives you the opportunity to do a goal refresh in the 8 different areas that Lara Casey identifies throughout the PowerSheets:
Health
Friends
Spouse/Significant Other
Family
Finances
Spiritual + Personal Growth
Work
Recreation
You get to give yourself a grade on how you think you are doing, and why.
Then you can choose a new word for the next three months or some type of inspiration that is going to help you. After that, you will move into the goal refresh. If you have completed some of your goals, this is the time to make some new ones. Or maybe you realized that some of your goals aren't working, or your situation has changed. All of these reasons work for changing up your goals. Just because you started with 8 goals, doesn't mean you can only work on those 8 goals throughout the year.
The Bottom Line
The 2020 PowerSheets are awesome. I love all of the changes that were made. Sometimes, when a product you use and love makes a lot of changes, you worry about the final product. There is not one change that I do not like in this year's PowerSheets.
If you are ready to start a new year with a purpose and make some dramatic steps towards your goals – you should definitely look into this goal planner. Of course, you could use a notebook, and write out your own goals. But, the process of the PowerSheets really works. It keeps you accountable.
Have you used PowerSheets before? Are you planning on buying them this year? What cover do you have your eye on? Let me know in the comments below!