It is time for the 2021-2022 Erin Condren Teacher Lesson Planner launch! This is my 7th year using an ECTLP for homeschool planning, and I am excited to share all the wonderful new products and design options with you.
As we go through the new 2021-2022 Erin Condren Teacher Lesson Planner, you will see that the layout is very similar to last year. However, there are so many more design options this year!
There are also a bunch of amazing new accessories to go along with the planner, one in particular I think you will love!
2021-2022 Erin Condren Teacher Lesson Planner – Design Choices
This post includes affiliate links. If you click on one of these links and make a subsequent purchase I may receive a commission. Read Disclosure.
One of the things that people time and time again ask for are more design choices. This year, the team at EC did not disappoint. There are three different coiled versions. There are two softbound versions. And finally there is one binder version for the 2021-2022 Erin Condren Teacher Planner.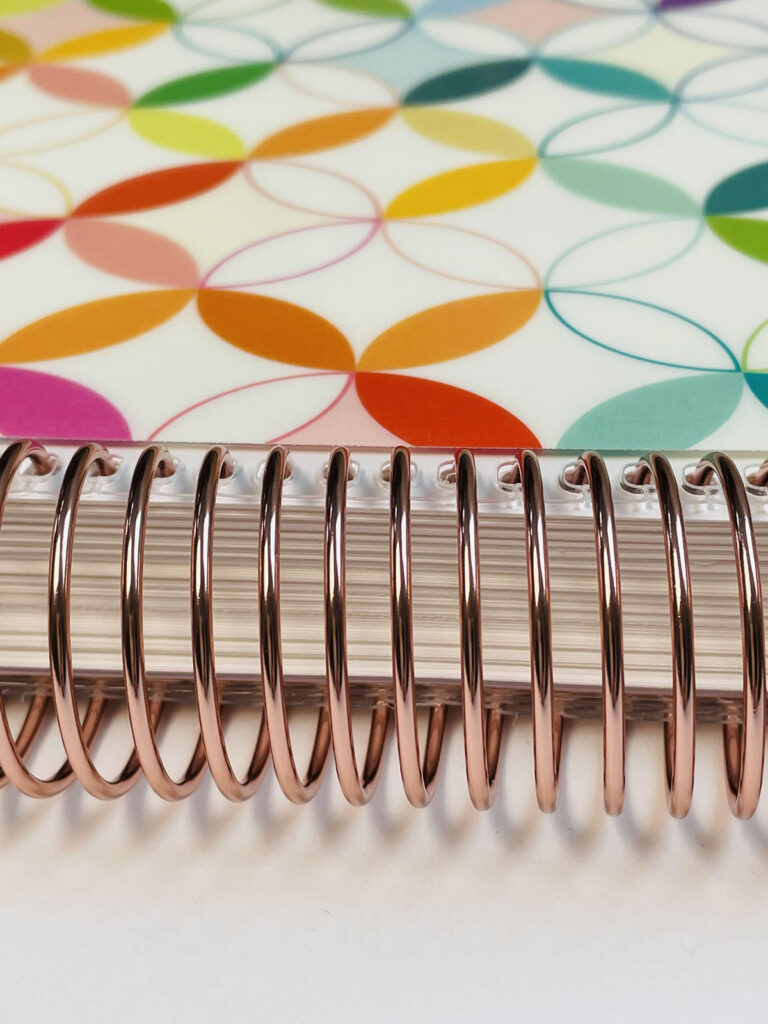 Coiled Version
The coiled version of the ECTLP is the classic design. It is 8.5×11 and has everything that you would typically expect in the teacher planner. You have the option of adding additional checklist pages (up to 28 total pages). You also have the option to add more page protectors (up to 3 total page protectors).
There is a choice of a July, August, or September start date. I always have mine start with July because our homeschool year is run July-June every year. This is one of the reasons I keep coming back to Erin Condren. Other teacher planners and homeschool planners I have seen often have an August starting month with no other options available.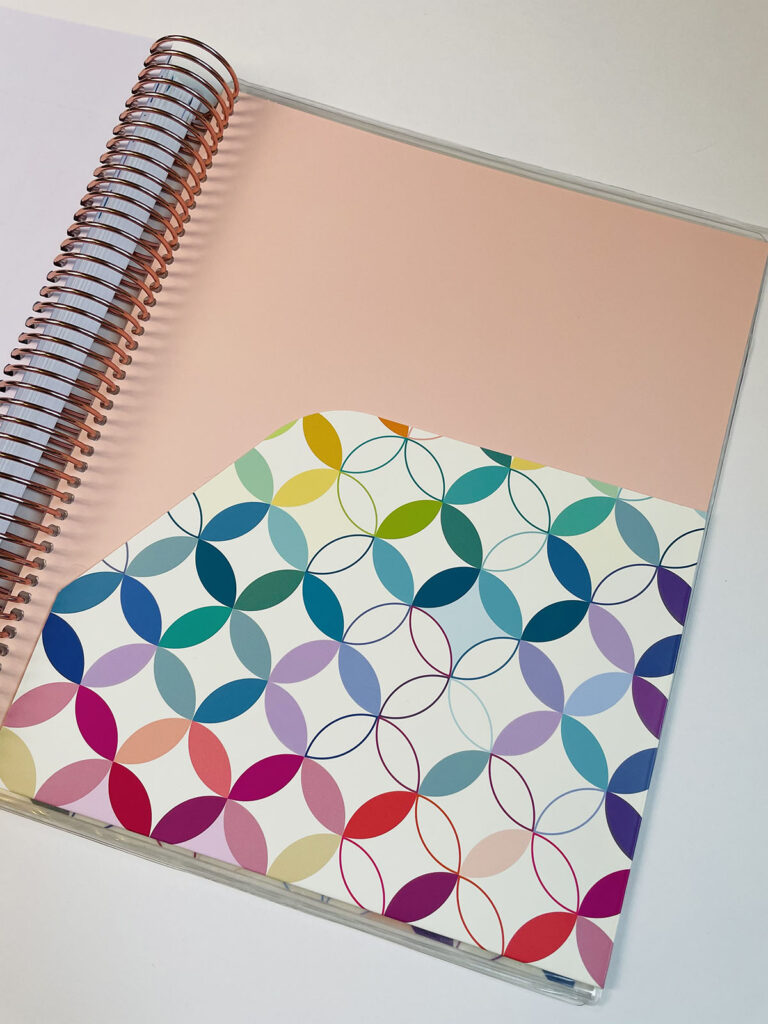 There are three design options for the coiled version of the planner:
Focused which comes in 3 vegan leather cover options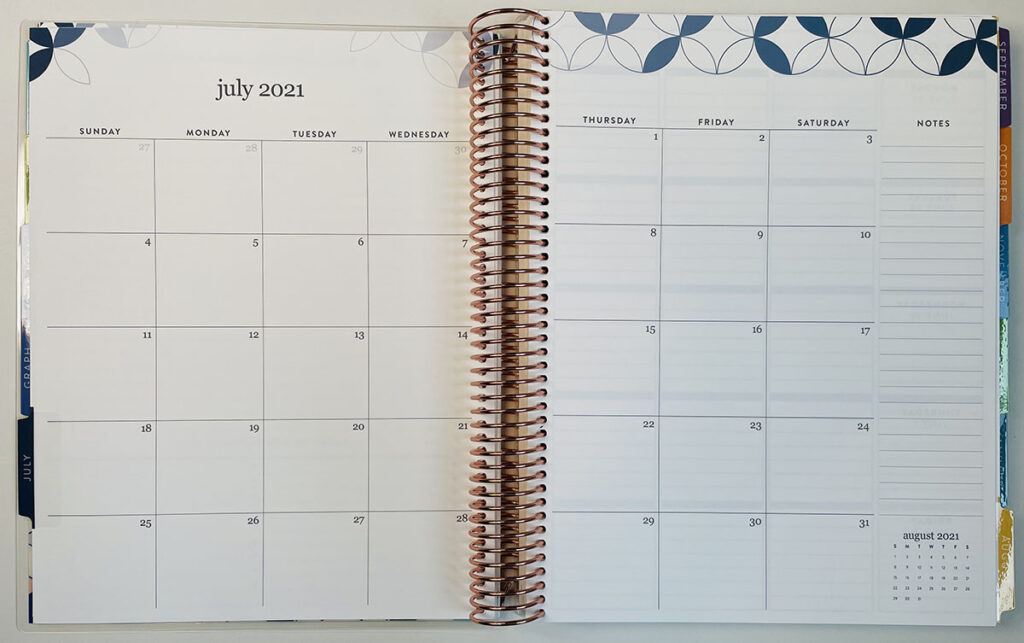 With the focused layout, you will see that there are only 2 coil options (platinum and gold). For the other two coiled planners you have the 4 coil color options: platinum, gold, rose gold, and black. Also with the focused planner you are not able to add checklist pages or sheet protectors. The focused version does not come with stickers or a folder in the back either. It is a very clean version of the ECTLP.
Softbound Version
There are two options for the Softbound Teacher Lesson Planner this year. This is an 8×10 planner, so quite a bit smaller than the coiled version. It does not have the option to add checklist pages or sheet protectors. It also does not come with a pocket or stickers.
The first is the focused softbound which is similar to last year. It has a camel vegan leather cover and is super sleek and clean on the inside. It is a beautiful planner. And if I didn't have 3 kids to be planning for each week, this would be my choice!
The other version is the layers colorful. This design is similar to the layers Life Planner from last year. It is so pretty! If you wanted to have a softbound teacher lesson planner, but also wanted something that is colorful, this is a great option.
2021-2022 Erin Condren Teacher Planner – Binder Version
The final version of the 2021-2022 Erin Condren Teacher Planner is the binder version. Last year was the first year that Erin Condren came out with a binder version for the teacher lesson planner. It is a standard 3-ring binder, which allows you to add and remove pages as you need to.
This year there is one option for design choice and it is Mid Century Circles. It is a beautiful binder, and if you are looking to add more pages to your planner, this is a perfect option. Your only start date choice for the binder option is July.
New Accessories
What is a planner launch without new accessories? There are some amazing options for new accessories this year, and I am going to touch on a few of them.
First up is the Teacher Record Book. This is a 7×9 coiled book with 12 2-page graph paper spreads, 52 2-page checklist spreads, and 12 2-page lined paper spreads. This would be perfect for planning from behind or using for habit trackers in your homeschool.
Next there is a beautiful clipfolio. My kids and I use these when we are out and about. It is perfect for taking notes, or for a nature walk. You can get either lined pages or productivity pages for the inside of the clipfolio.
They have also come out with edition 5 of the Too Cool For School Sticker Book. I don't use a ton of stickers in my teacher planner, but the stickers in this book are so functional, and what I tend to gravitate towards when I am planning for our homeschool.
Then we have the blush accordion pouch. This is perfect for keeping track of pens/crayons/markers etc. Or it can be used for other practical purposes like makeup travel kit or even hair accessories for your kids.
The last accessory I want to share with you is the MCC Stylized Sticky Notes. These are great for pre-planning, or making a note when you don't necessarily want it to stay in your planner. I get these every year. They clip right onto the coil of your planner, and are also so pretty with the MCC design this year!
Which teacher planner design are you most excited about this year? Accessory? Let me know in the comments below!