As we move into the end of September, I decided it might be
fun to do a day in the life post. I
always enjoy seeing these types of posts from other bloggers and vloggers, so I
thought I would do one. Let's get
started!
5am – I always strive to wake up before my kids. I know that my day runs 100 times smoother if
I do. I was on my game last night and
set the coffee pot up to brew so it would be ready and waiting for me this
morning. A little tip, if you have that
option, and you like coffee in the morning, set it so it is completely finished
brewing when you come down to the kitchen.
I set mine for 4:45, so by the time I drag myself downstairs, it is
ready and waiting for me.
I take the opportunity to brush my teeth and wash my face
quickly. Then I grab my coffee, my Bible
and journal, and sit down to have my quiet time.
I am still a part of a wonderful morning study group through
HelloMornings. If you aren't involved in this type of
accountability group, I highly recommend it.
It definitely helps me to know that there are several other ladies up
early and discussing our Bible study and general life together.
I also take this time to go over my plan for the day. I look through my Erin Condren Life Planner
to see what I have on the docket for the day, as well as put in anything that I
can think of that I need to do. I also
go over what I need to do for school for the day.
6am – Lucy woke up!
Actually she woke up crying which is not typical for her. I think perhaps she was cold because it was
only 45 degrees out this morning and we had the windows open. She woke up pretty much as soon as I opened
my laptop to work on writing…it's funny how that seems to happen!
7:15am – The kids are up and ready to eat. I can't believe they slept so late! Emma is usually up by 6am every day! I think the field hockey on Sunday evenings must
be wearing her out, yay! However, Emma
is immediately starving, and I haven't gotten a lot of writing done because
Miss Lucy has been a bit crabby this morning.
I have to get breakfast for Emma – she needs to
eat immediately when she wakes up. It is
oatmeal. I make it every day for the
kids, oatmeal with whole milk and frozen blueberries and strawberries with a
drizzle of maple syrup. The kids love
it, and I am happy they are getting something nutritious for breakfast.
7:30am – I go to use the elliptical. I get 30 minutes in. This is new and needs to stay a regular part
of my routine.
8:30am – I get a shower (yes!) and then come out to find
that Lucy has made a mess in her diaper…and it is all over the pack and
play. Lots of cleanup before school
starts.
9:03am – the kids sit down for school. Jack finishes his math and reading and copy
work super fast, so he is off playing.
Emma does her devotion and Bible reading, and is spending the next
however long on her math lesson. She
gets distracted a lot, and with Jack playing and Lucy jumping in the
exersaucer, it doesn't take much!
During the time the kids are working on school, I am working
on getting my blog post and video up – my first PopSugar Must Have Subscription Box unboxing. I'm also trying to
find that cup of coffee I thought I poured for myself earlier…apparently I didn't
pour it…or it has disappeared into the abyss.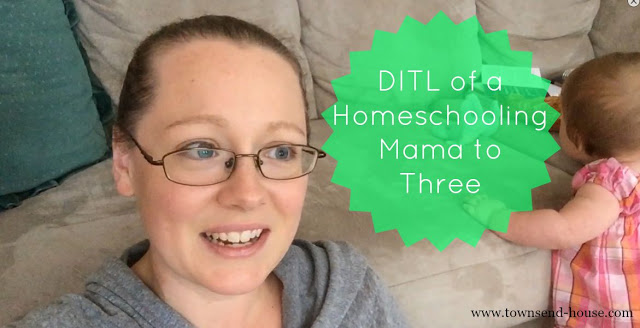 11:30am – Lucy fell asleep so I am moving her upstairs to
take a nap. I come back down to do some
reading with the kids. We are reading a
book called The Candymakers, which the kids are really enjoying, and I am
as well. We also read a book called Apples
for our apple unit. The kids need to
come up with some facts to put in their apple project books.
12:30pm – The kids are done with school and are now playing
outside in "Kidonia." They watched an
episode of Arthur where the kids created a land where there were no chores and
no adults called Kidonia, and so now my kids created something similar outside
under our big tree. I'm taking this
moment to try and get a few things picked up around the house, and get some
dishes done.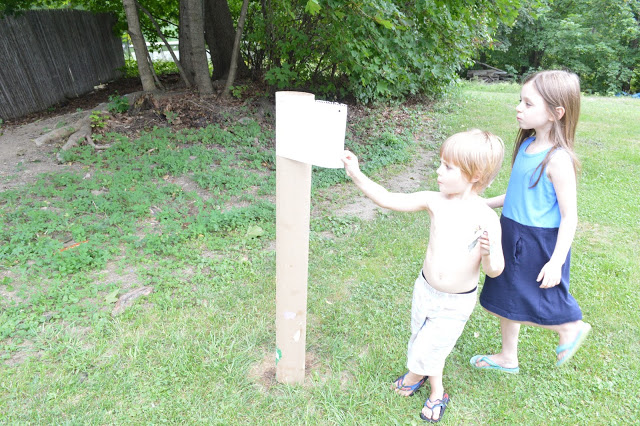 1:30pm – I'm making lunch now because the kids didn't want
to eat earlier – we are having tuna sandwiches.
For the rest of the afternoon the kids are mainly playing
outside and I am working inside on chores and cleaning up as well as starting
dinner. I didn't have to make dinner
today because the kids decided they didn't want to eat their sandwiches when I
made them, so they were able to have those for dinner and Matt and I had
leftover soup.
8pm – All the kids are in bed and I am exhausted! It is a long and full day every day, but it
is definitely enjoyable. Now Matt and I
will sit down and chat and flip through the channels. Matt tried to get me to watch the season
premiere of Doctor Who, but since I refuse to ever watch that show, we end up
watching HGTV and wondering how the people afford a $500k+ mortgage…
That was my day. I
hope you had fun! Most of my days are
the same; we spend most of the morning on school and then most of the afternoon
playing while I clean up around the house.
It might not seem very exciting, but I enjoy it. When I am out running errands, it tends to
throw off most of the day, so I try to wait until Matt is home to get out and
run errands, or do them on the weekends.
What does your typical
day look like?