Sour Cream Pound Cake Featuring Hood Sour Cream
This post was sponsored by Hood as part of an Influencer Activation for Influence Central and all opinions expressed in my post are my own.
One of my favorite parts of summer is that it is berry season in Maine. When there are berries, I immediately think of a pound cake recipe my mom always made for us. All across the state, we are able to start picking strawberries, then raspberries, and blueberries. All of these berries are the perfect topping to this sour cream pound cake recipe. Add a little whipped cream, and you have the best shortcake you have ever tasted!
This pound cake recipe is a little different than most that I have seen. It has one secret ingredient – Hood Sour Cream. Hood Sour Cream is made with high-quality ingredients so I am happy to use it in our home for baking or for our everyday meals each week. I know I am serving my family the best.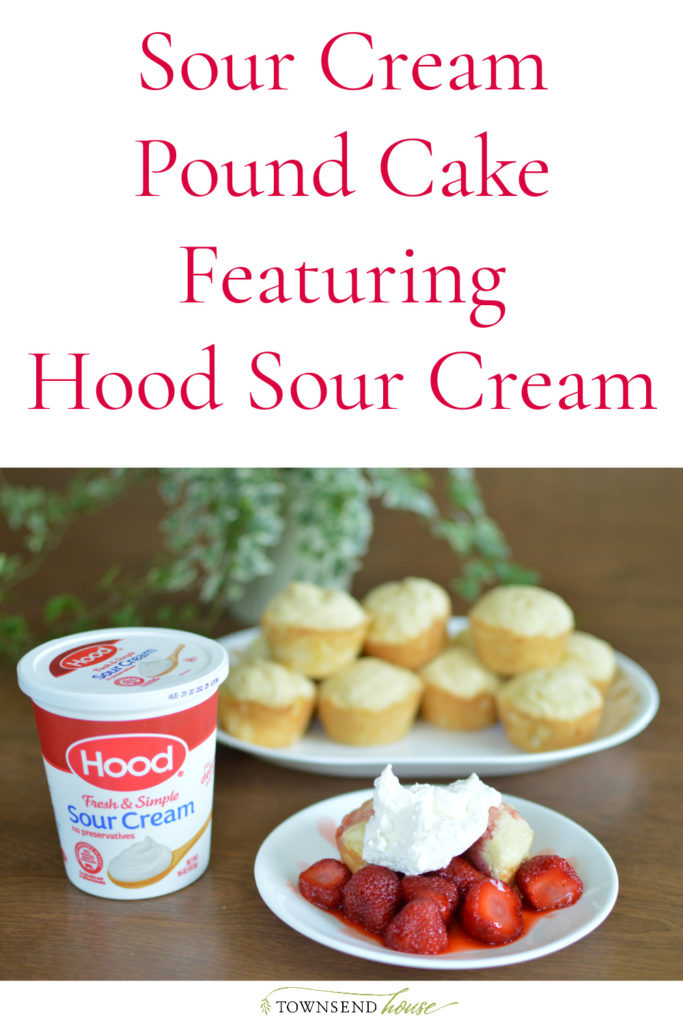 Growing up, my brother and I would look forward to this recipe every year. It was not something we had often, but when we did we were all excited about it. I love to be able to share recipes and other traditions with my kids, and watch the same excitement in their eyes.
Sour Cream Pound Cake Recipe
This pound cake recipe was something that was always made around the holidays. If you make it in mini-loaf pans, it is an awesome gift for your office or neighbors. In fact, I have been making it for the office where my husband works for years. However, I thought that if I made this recipe in muffin form instead, it would make a perfect quick strawberry shortcake. It did not disappoint!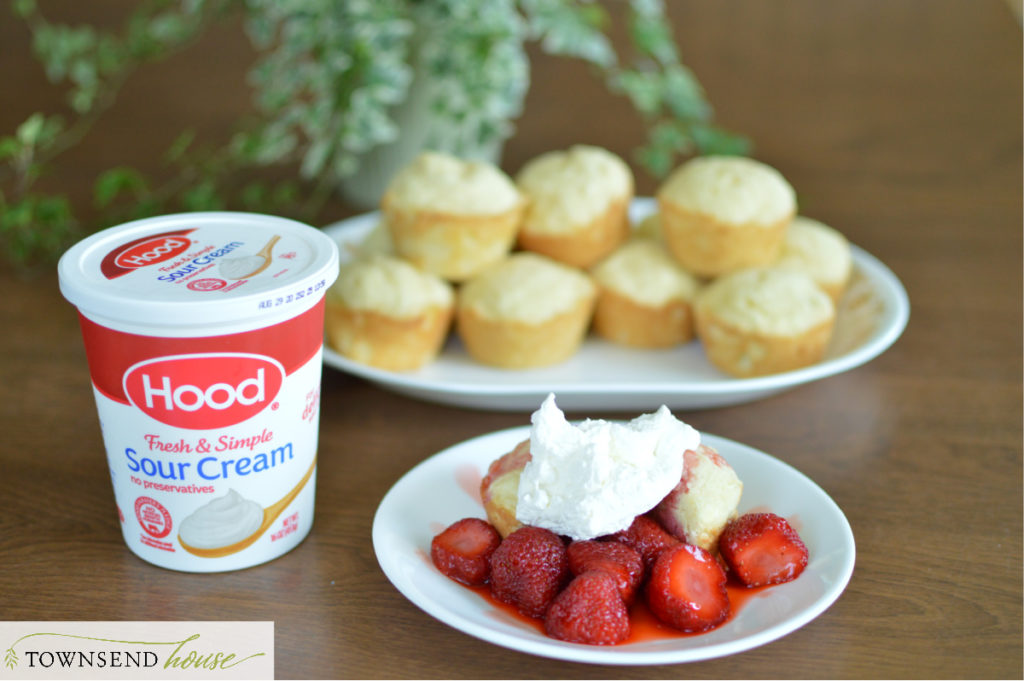 The fact that Hood Sour Cream uses real Hood milk and cream from farmers who pledge not to use artificial growth hormones (rBST) is really important to my family. I am confident that this is the best ingredient to use for this recipe.
When my mom first shared the recipe with me and it featured Hood Sour Cream, I was surprised – I always think of using sour cream in a savory way. However, the sour cream gives the pound cake an amazing flavor.
Sour Cream Pound Cake
Sour Cream Pound Cake is perfect for your summer strawberry shortcake needs, or to have as a gift any time of the year.
Ingredients
1/2

lb

butter

You MUST use real butter

2 1/2

cups

sugar

6

eggs

3

cups

flour

1/4

tsp

baking soda

1

cup

Hood Sour Cream

1

tsp

vanilla
Instructions
cream butter and sugar well

add Hood Sour Cream and vanilla

add flour and baking soda

for cupcakes bake for 22-25 minutes, for loaves bake for 1 hour 15 minutes, or until a toothpick comes out clean
Recipe Notes
You can make this recipe in 3 8×4 pans, 2 9×5 pans plus some cupcakes, or about 2 dozen cupcakes. This recipe is also delicious if you add chocolate chips – fold in some chocolate chips after you have combined all of the other ingredients.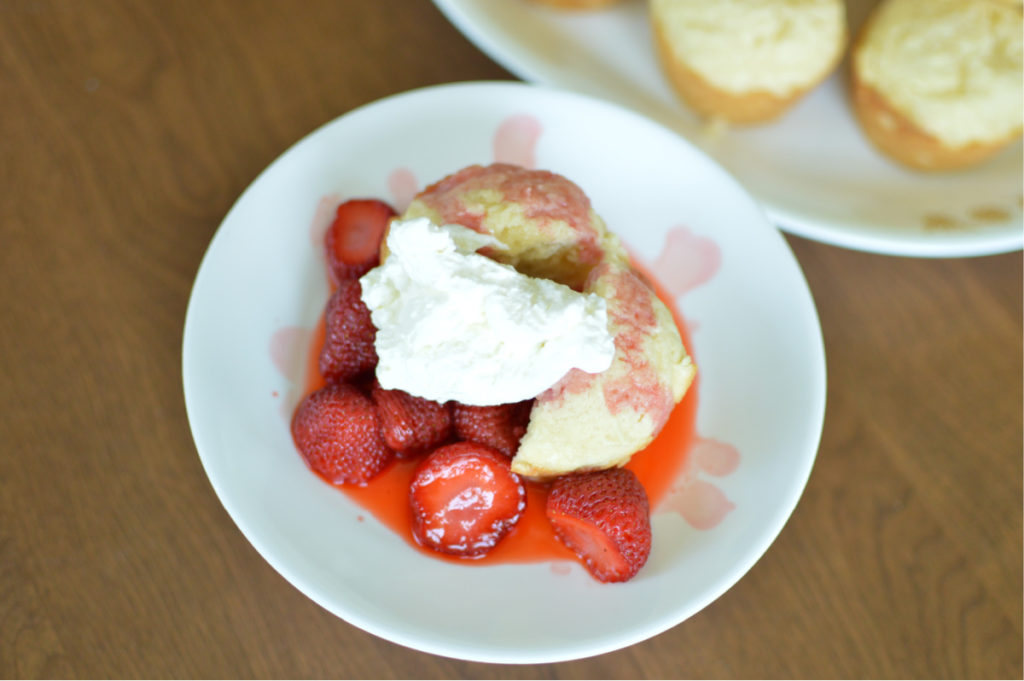 To make this pound cake recipe into an amazing strawberry shortcake, all you need to do is sprinkle some sugar over frozen strawberries (or freshly picked ones!). Let the strawberries macerate on the counter for a little while until there is a lot of liquid. Grab some Hood Heavy Cream and whip up for whipped cream. Take your sour cream pound cake cupcake (or slice off a piece of the pound cake loaf) and then top with strawberries and whipped cream. The perfect summertime dessert!
Hood Sour Cream in our Everyday Meals
Hood Sour Cream isn't only for your summertime baking needs. In fact, we use it every week when we have bean burritos. When my kids were young, there were few things I could get them to eat. For some reason, they loved bean and veggie burritos, but they would ONLY eat them if I added Hood Sour Cream to them.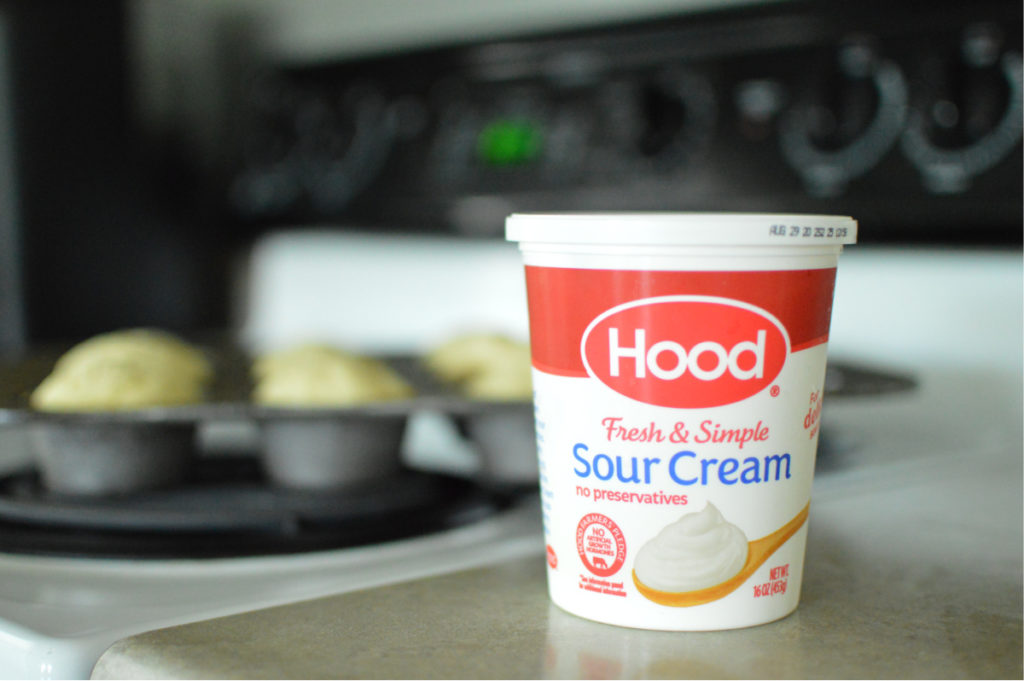 To this day my kids refuse to eat any sort of burrito, taco, or chili bowl without it.
I was so happy when they came out with the Hood Sour Cream Squeeze. It is an easy to use squeeze bottle. This makes it supremely easy for my kids to all add their own Hood Sour Cream to their meals without making a mess. Anything that cuts down on the mess is a win in my book.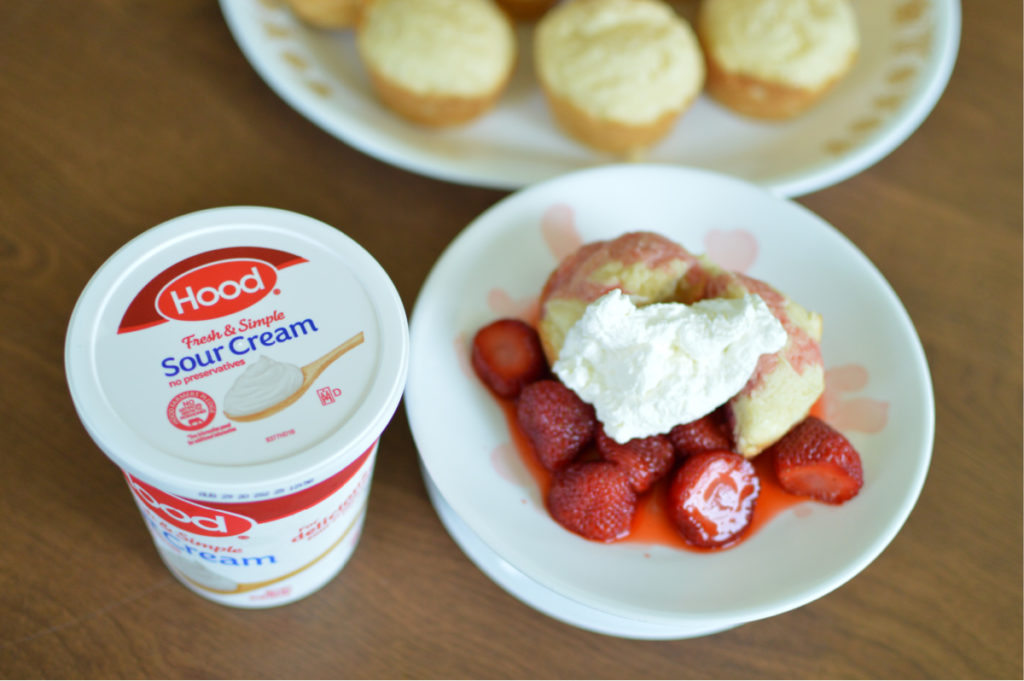 To Learn More
To find more amazing and delicious recipes go to hood.com/recipes. You can also follow them across social media below:
What is your favorite way to use Hood Sour Cream in your family?