One of the reasons that my husband and I have for homeschooling is to have the greatest influence on their lives. You want to incorporate family Bible study into your homeschool day. Sending your kids to school seems to counteract that influence. By homeschooling, your convictions and values are the main influence, not the public school, not even a private school. We are Christians, and because of that, family Bible study is an integral part of our homeschool day. It is an integral part of our day in general, but we also use it as one of our homeschool subjects.
There are two parts to facilitating the building of faith in our children that we are going to talk about today. The first part is to create a space and time for our children to see that they should be taking the initiative when it comes to studying the Bible. Then the second part is to incorporate Bible into your homeschool day.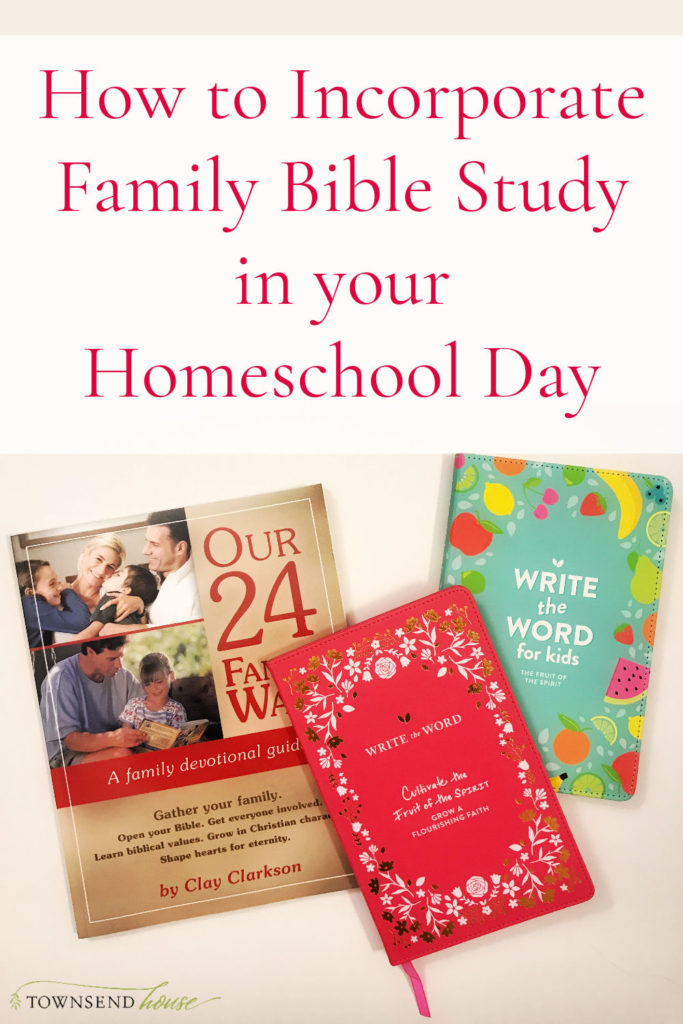 Individual Devotional Time
The first way that you incorporate Bible into your homeschool day is to include an individual devotional time. I have found that the best time to have quiet time for myself is first thing in the morning. Because of that, I try to show my kids that is the best time as well. If they give God the first part of their day, it sets them up for success. This does not mean that they can't have a quiet time at a different time of day. In fact, a lot of people I know will have quiet time in the evening.
Because my kids are still young, I want to make sure that they are creating the habit. It is easiest to incorporate Bible into your homeschool day, and then it starts to become a habit.
Before the homeschool day begins, it is time to have quiet time. This means that my kids get out their devotionals, and they read whatever falls under that day. Before they were able to reliably read on their own, we would have this devotional time together. The key is to sit down together. Do it together.
This post includes affiliate links. If you click on one of these links and make a subsequent purchase I may receive a commission. Read Disclosure.
Devotional Resources for Kids
We have used several different devotionals over the years for our kids. And you can choose what best fits for your family. Some of our favorites are listed below:
What we are using this Year
This year our family Bible will be two parts. The first part is the family devotional Our 24 Family Ways by Clay and Sally Clarkson. I recently found out about this family devotional through another book by Clay and Sally Clarkson called The Lifegiving Parent. If you haven't read that book, you should stop what you are doing and get it now – it is on sale for $1.99 for the kindle right now.
In addition to the family devotional, we will be working on writing out scripture. I have used the Write the Word journals from Lara Casey at Cultivate what Matters for a couple of years now. It might actually be longer! I love that there is a place to write out what you are thankful for, write out scripture, and then a place to journal. Journaling is a great way to process life for me. In fact, I have been keeping some sort of journal since I was in 5th grade. This just happens to include scripture writing as well. It is a perfect way to start your day.
I was so excited to see that this year there is a kids' companion Write the Word Journal. My kids have the first edition of the Write the Word Journal for Kids. However, there wasn't one that would really match up with what I was doing in my own Write the Word. This year, we are both using a Write the Word Journal on the Fruit of the Spirit. What a wonderful way to sit down and center our day together on what is most important!
My kids were especially excited about the new stickers that are in the back of the kids' version.
Do you include Bible in your Homeschool day? What are you using this year?