7th-Grade Curriculum Choices: 2020-2021
It is that time of year! When I reveal the curriculum choices for my kids for the 2020-2021 school year. First up we will be doing 7th-grade curriculum choices. If Emma were in public school, she would be going into the 7th grade next year. However, that does not mean that every resource we use lines up with that grade level. That is the nature of homeschooling, you can teach the child rather than fit the child in a particular grade level just because of their age.
This is going to be a bit of a different year because Emma is moving into the upper-middle grades. She is becoming more independent in her studies, and I am happy about that. However, she still does need my help.
We are mainly a literature-based eclectic homeschooling family. I create my own lesson plans based on many different books and resources. I am not afraid to drop books that we don't enjoy, or pivot our learning because we have found a topic that we want to deep dive on.
7th-Grade Curriculum Choices: Where we Start
Every year I start in the same place, with one of the packages from Sonlight. Sonlight is a Christian literature-based homeschool curriculum company. I have been purchasing their materials since before Emma was two – yes, I was that mom.
Every year when I plan out a new year of homeschool, I would sit down and map out through high school for each of my kids. Of course it changes each year a little bit, and no, you don't need to map out your child's entire schooling career each year. But, I am a planner, and I like to see what is ahead.
I love to look through curriculum resources and see what might work for my kids, and for me. It gives me direction, and helps me understand where we are going to end up. This year was no different.
7th-Grade Curriculum Choices: The Basics
Our 7th-grade curriculum choices start with Sonlight's Core 100 History/Bible/Literature curriculum. Core 100 is American History. When I started homeschooling Emma, this particular program was geared towards ages 12-16 and grades 7-11. I knew when Emma was younger that we would most likely use this for her 7th grade year. This was mainly because we started so early with all of the programs, so she has always been on the younger side of the age spectrum.
However, this year, they changed the age range and grade levels for Core 100 to ages 13-15 and grades 8-10.
We will still use this as the base of Emma's 7th-grade curriculum choices because it was where we had planned to be originally, but also because it lines up with my other two kids as well. All of the kids will be in American History this year, and this will make it easier on my brain.
What is Core 100?
This post includes affiliate links. If you click on one of these links and make a subsequent purchase I may receive a commission. Read Disclosure.
Core 100 is going to be an American History and American Historical Literature program. This is the first program that includes both a parent's guide, as well as a student guide. The student guide has the same schedule and notes as the parent's guide, but does not include answers to all of the questions in the guide.
The spine of the curriculum is Joy Hakim's A History of US. It also includes 17 other history books about different times, events, and specific people in American History. That is a robust amount of reading, even for my book-loving family. This is the first program from Sonlight that expects the student to do all of the reading. However, I do not expect Emma to read 54 books this year for only history, Bible, and literature. She will get through a lot of them on her own, but I plan to do most of the history reading with her.
The discussions that come out of the books that we read are the most important part to me. And because of that, I like to be involved with the reading. As she gets into the higher levels, she will take on more of this reading on her own, but for this year, as a bridge, I will be taking on the bulk of the history reading with her.
The other books that we will be reading for History this year are: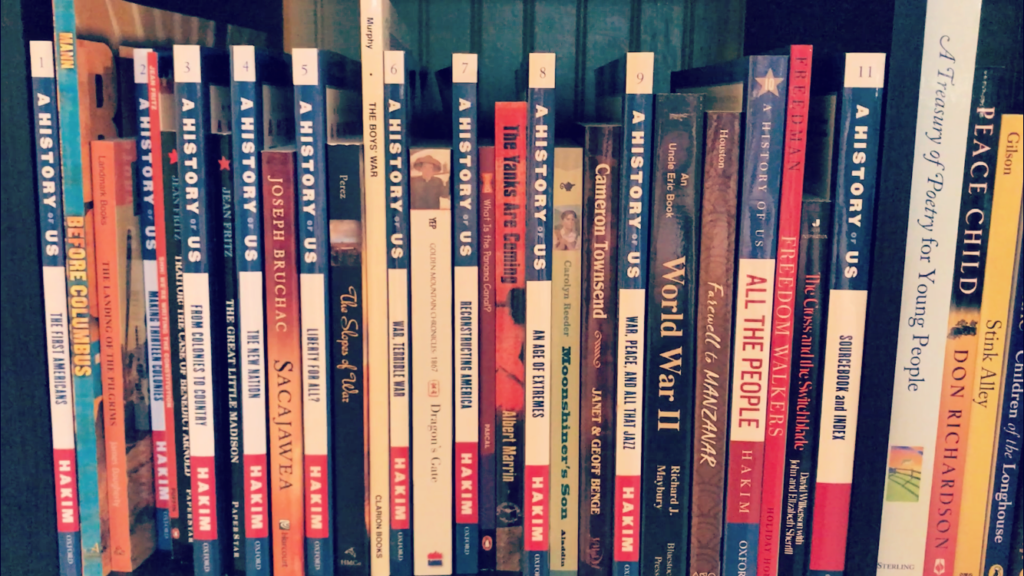 English & Language Arts
Core 100 is also American Historical Literature. It includes all the books that she will be reading throughout the year, as well as a full language arts program. There are 26 titles for her to read in this program. Again, I do not expect her to read every single one of the books from Sonlight 100. We usually get through almost all of the books each year, but I do allow some leeway if there are books that we just do not like.
For a very long time I thought that if you didn't like a book, you still had to suck it up and read it. And to some extent that is true when it comes to school. However, I have reached a place in life where it is more important to me to be able to learn and enjoy reading at the same time. If a book isn't working, it can sometimes mean that there is very little learning actually happening, and instead you are just forcing your kid to read a book. I don't let her get out of every book, but we do try to adjust when something isn't working.
I will do this by allowing her to listen to the book on audible (you can get 2 free audiobooks by signing up for a free trial through that link) or reading it to her, or just scrapping the book altogether. The real reason we have that option though is because we are reading so many books in a year. So, if she wants to skip 2-3 books, it doesn't diminish our year at all in my opinion.
The literature books that we will be reading this year are: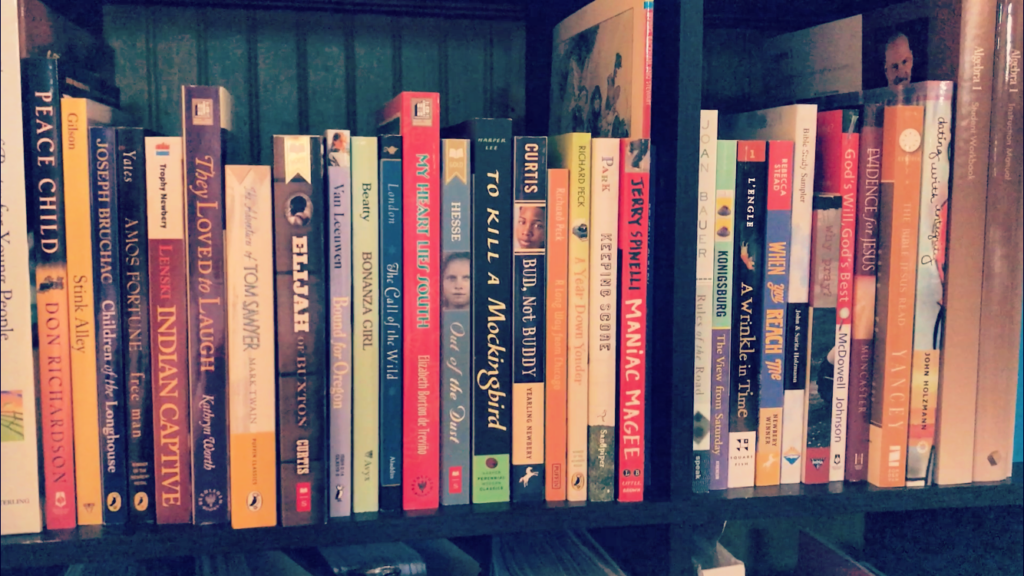 Additional ELA Resources
The other resources we will be using for English & Language Arts are Wordly Wise 3000 book 7 and Analogies 1. We will also be incorporating some elements from Brave Writer, and Julie's book The Brave Learner.
In the past several years I have incorporated Brave Writer Arrows into our ELA as well as writing projects from both Partnership Writing and Faltering Ownership Writing. However, this year they have completely redesigned their Arrows and changed the ages associated with the different levels. That makes it a little more difficult for me to combine my older two kids into one Arrow guide and book per month. So, I'm not quite there with deciding what we are going to do in addition to the Language Arts elements we keep from the Sonlight literature curriculum. I will have a post for that soon and will link it here as soon as I do.
7th-Grade Curriculum Choices: Math
This is an all-around difficult year for me. 7th-grade curriculum choices have not come as easily as every single other year. I think part of it is because Emma is getting older, and then the other part is how she is above grade-level for some subjects. Math is one of those subjects.
We have used and loved Singapore Math since Emma was 4 years old. She doesn't particularly like math, but she has moved through the levels relatively easily. She finished up Singapore 6B back in February of this year. And for the past couple of years we have used a combination of Singapore Math and Teaching Textbooks.
So she has been working on Teaching Textbooks pre-algebra off and on since the beginning of the school year, and then transitioned to only Teaching Textbooks at the end of February. Each year I have the kids do placement tests for math, and she has placed for Algebra 1 now. However, I am planning on having her continue with Teaching Textbooks Pre-Algebra through the summer.
Because Singapore Math ends at 6B (there are additional Singapore Math programs, but they are slightly different), I haven't known where to go next. The recommendation from Sonlight is to go to Math-U-See Algebra 1. I also plan to subscribe to Teaching Textbooks Algebra 1 program. And I'm not entirely sure which I will choose for her at this point. I know that we are moving in the direction of Algebra 1 – but I want to make sure that the program we are using works for her well. I will update you once we are into the programs more. But, for now, she will continue with Teaching Textbooks Pre-Algebra, which she is slated to finish at the end of the summer.
7th-Grade Curriculum Choices: Science
This year for science Emma will be using Apologia Physical Science. Now, I ordered this right before they did a major update for their upper-level science curriculum. We will be using the 2nd edition, however, there is now a 3rd Edition. I'm slightly disappointed getting an older edition when a new edition just came out. But, I think that we can make it work.
If, after I have looked through the program, I realize that we need to get the newer edition, I will return the 2nd edition and then purchase the newer level.
Electives
We do not follow a lot of curriculum for elective classes. This year Emma will be doing the Foundations in Personal Finance online edition from Dave Ramsey. She has also asked about taking Spanish, however, she just asked me about Spanish a couple of days ago, so I have not picked out any sort of curriculum for foreign language. If you have suggestions, please leave them below!
We do not follow a specific art curriculum. Instead, my kids will do little classes as we find them online. As well as YouTube videos. We also have a lot of art appreciation books that we use on occasion.
Music has always been band and chorus for Emma. She sings in a homeschool chorale, and also has been doing band for the past several years. This year will be a bit different for us as far as music goes. You can find out more about that decision here.
If you would like to see a more in-depth look any of the curriculum choices that we have, please leave a comment below!