Year Round Homeschooling – Why do we do it?
If you have been reading here any length of time, you know
we homeschool. Not only do we
homeschool, but we also homeschool all year round.
My sister-in-law asked me if we were taking a break this
summer, and as I thought about it, I realized that we most likely would not
take much of a break over the summer.
Now, I am sure that sounds completely ludicrous to some of you. Why wouldn't you take a break?! Even my husband thinks we should take a bit
of break. Because of that, I thought I
should revisit homeschooling all year, what it looks like for us, and some of
the reasons we may not take a big break during the summer.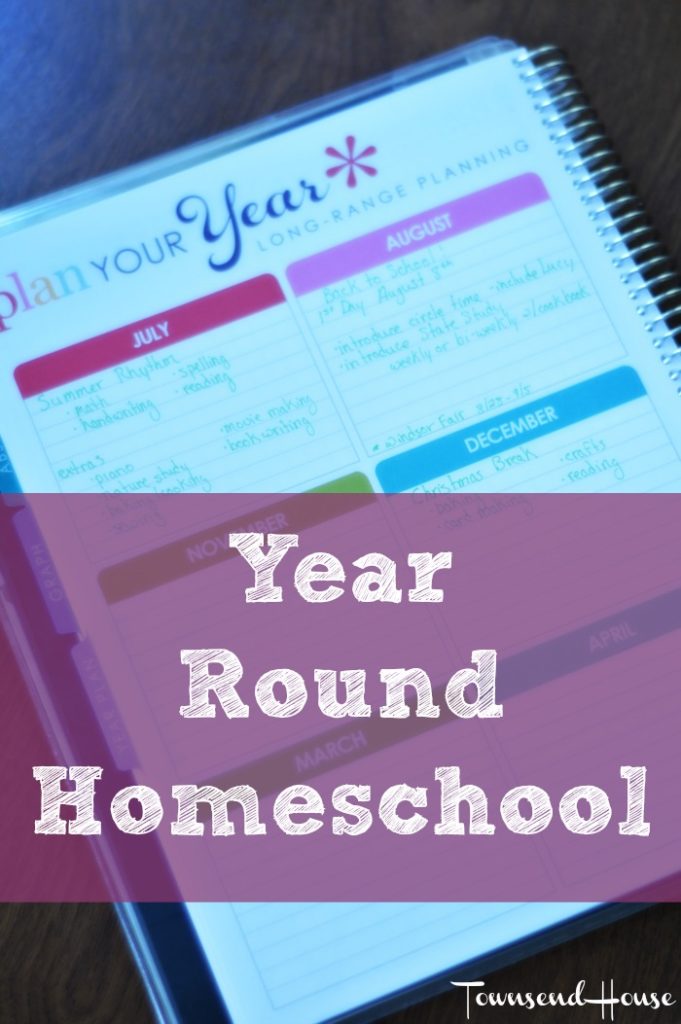 Oh, summer days, how I love you so – you are incredibly
short lived in our state, and we need to enjoy as much vitamin D as
possible.
So why do we school all year? And what does that look like?
Well, the main reason is flexibility.
I have written before how we take off the month of December. That is an extremely busy time of year for
us, between sports practices and games, as well as holiday parties, and church
activities. Changing our rhythm to make
space for these activities between Thanksgiving and New Year's is important to
me. Of course we are still learning
during that time, it just looks a little different than what our school looks
like from August to November and January through April.
When we look at the entire twelve months, instead of September
through the beginning of June, we have a bit more flexibility. When someone is sick, we can take the day
off, and more often it ends up being a week off because everyone in the house
gets sick. We can take off birthdays,
and decide to take a three day weekend on a whim, because I know that we have
plenty of time to make up those 175 days that we need.
Another main reason we like to school all year is so that
there aren't large gaps of time where we stop working on school. When the kids are little, I know that it
makes more sense to continue to work a little here and there on math facts,
reading, spelling etc. so they don't lose it all during a large break.
The final big reason that we homeschool all year long? Well, it looks different at our house than at
public school.
Often, when people hear that we do school all year, they
think of it in the context of public school, where the kids are in school from
8am-3pm. That isn't the case for
us. We are almost always done with
school by lunch time, and we don't start until 9 or a bit later most days.
Yes, that is only a few hours of school each day, but we are
able to accomplish so much in those few hours.
If Emma and Jack are being intentional and diligent with their time, we
fly through school easily. If their
attitudes are less than stellar, it might take a bit longer, but overall, we
can accomplish all I need to in the morning.
What does homeschool in the summer look like for us?
Well, it is a little different than the rest of the
year. We spend a lot more time
outside. They will do their math lesson
first thing, to get it over with, but then reading is on blankets outside,
writing becomes journaling out in nature.
And the biggest part, we spend a lot of time on science. During the rest of the year science tends to
slide a bit, but summer is the perfect time to work on nature studies, be in
the garden, learning about the birds that visit our yard, pick caterpillars off
trees and let them turn into moths. It
is a wonderful time of very relaxed schooling.
When I say we homeschool all year, don't be concerned that
we never take a break. We take lots of
breaks! Our school is probably a lot
different than what you picture when you think of school, but it is what works
for us.
Do you incorporate
learning during the summer in your home?
What does that look like?