Project-Based Homeschooling
Last week I talked a little bit about how I had finished reading Project-Based Homeschooling: Mentoring Self-Directed Learners. I wanted to talk a little bit more about what I took away from the book. Mainly, providing a place for children to go and work on projects at their own speed and with their own ideas.
For a long time I have been fighting against the size of our house. I know, totally a strange problem to have. But, it is one that I have struggled with pretty much since we bought the house 6 years ago. It isn't abnormally large, by American standards, being around 2500 sf, but to me, it seems quite large. With all the square footage came a lot of rooms. Being an old colonial/new englander type home, there really isn't an open concept, just a lot of doorways to more rooms. When we were renting out space, it was fine, but now I have all these extra rooms and I don't know what to do with them!
After I read this book, I realized that even though I have been fighting against the size of the house, I might as well use it to my advantage.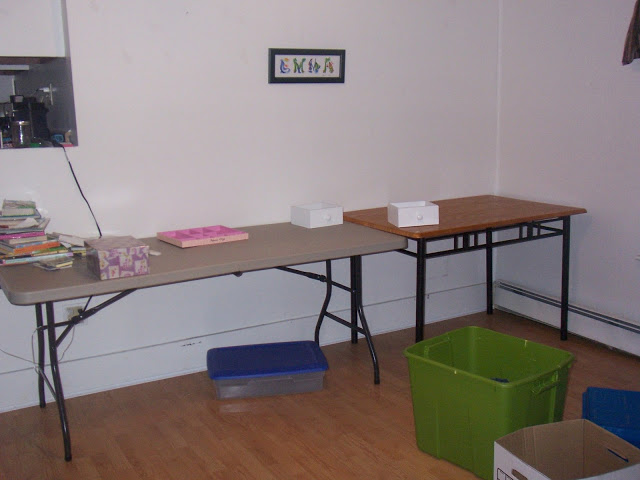 This past weekend we found out that Matt was going to have a long weekend, and because of that, we decided (well I decided) to start moving around the furniture again. Matt actually makes fun of me saying that I can't keep furniture in one place for more than 6 months – that is pretty much a true statement 🙂 I wanted to have a dedicated space for the kids to use. We had a toy room downstairs, but the toys were getting everywhere, and it was starting to drive me batty to have to constantly move the couches to find the toys.
I know a lot of parents don't rearrange their furniture for their kids, but since I feel like we have extra space, it isn't such an issue for me. We moved all of the kids stuff up into what used to be the studio apartment we rented out. It isn't finished. There are books to move, and shelving needs to be put up to hold said books, and it needs to be organized – a lot; but we are moving in the right direction.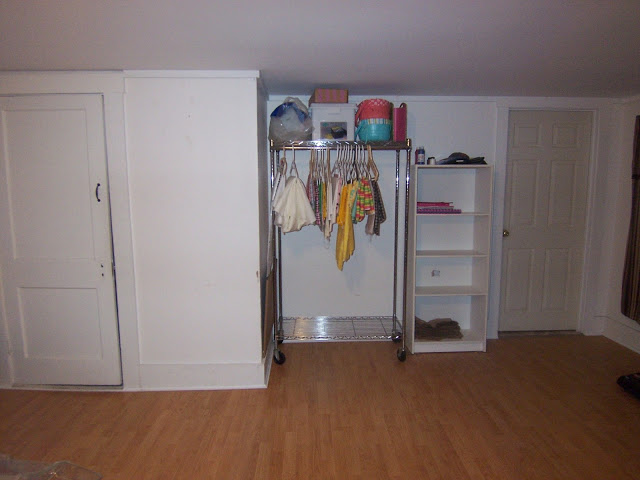 I am excited to have a project/school/craft room for the kids to utilize. I am excited to know that their is a kitchen in that studio that we can have snacks and space to wash paint brushes without carrying them through the house. Having a comfy chair for me to knit in is also a bonus…
One of the big points of the book was to allow kids to let their projects sit out so they can work on them as they feel the need. Now, building a very large cardboard castle in the living room which then gets taken down at night is a little different than building a cardboard castle in a project room that they can leave out and come back to decorate, or add a window or flowers or whatever. I want them to be able to follow an idea through to completion. I think it is a great learning experience; and since my biggest goal for homeschooling is to give my kids the desire to learn, this seems to be a great way to work towards that goal.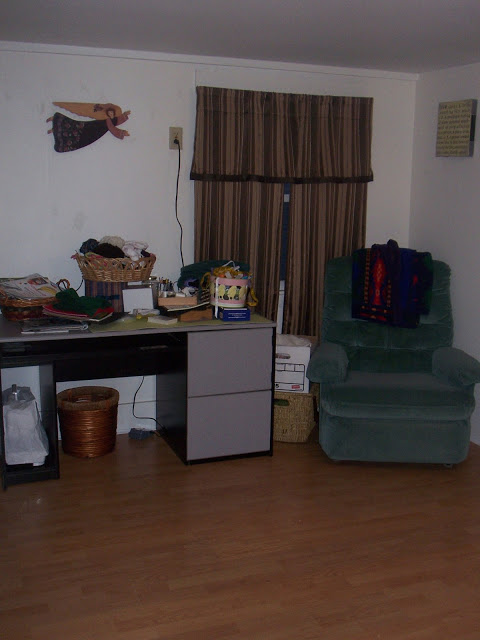 I have to say that this new room is extremely exciting to me. It is something I would have loved having while I was growing up. And the bonus of having the ability to shut the door and walk away is awesome as well. I'm sure that most of our schooling will still take place on the couch in the living room, however, having this new space will probably encourage me to utilize some of the messy science experiments that came with the science curriculum!
Do you have a dedicated project or school space for your children? Do you let them leave their projects out to come back to when they feel like it? Is it something you would like to do, but don't have the space for?


Linking up at Hip Homeschool Hop