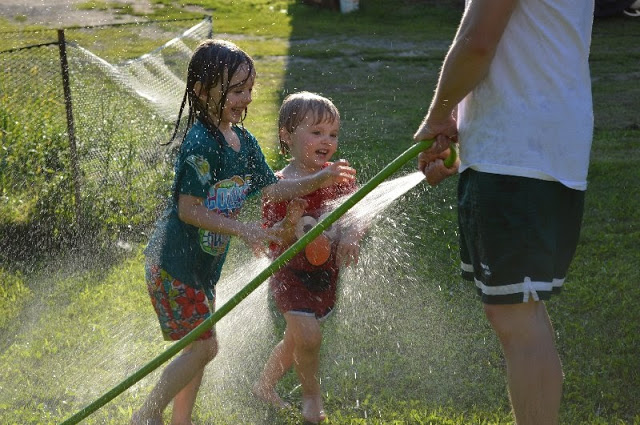 I can't believe that so many people went back to school yesterday! I think that I must live in an alternate reality, because August 19th to me means there are still a couple weeks of summer left! Well, I think maybe all of my southern friends go back to school earlier and get out earlier than us Northern folk. I am still in the mindset of "starting" around Labor Day. We may start next week though.
You may be asking yourself, "I thought they school all year?" And you would be right. We are just finishing up last year's curriculum and will be starting all of our new curriculum in the next several weeks. Emma is ready for new books, I am ready for new books, and Jack is just ready to be included during "math time."
I am still trying to figure out exactly how I will work with a pre-schooler and a kinder at the same time. I realized over this past year that Emma needs a lot of quiet for her math and independent reading, but she also needs me available to help her. Having a little brother who just wants to play with you or "help" you do your work doesn't really work most of the time! I think that the biggest factor is that my kids don't nap anymore, and the morning is the best time to get the work done. But that morning is also the time that they like to play together the most. My plan for right now is to get Jack set up doing something in one room, and hopefully having 15 minute blocks of time to work with Emma.
This year I will be doing a bit more schooling with Jack as well, now that he is 3. He has always been around for the stories, but never really sat still enough to listen. Mainly just running around while Emma and I try to work. I plan to do a letter of the week curriculum with him, which I also used when Emma was his age. Add to that all the wonderful stories from the Sonlight P3/4 curriculum, and we should be good!
The beauty of homeschooling is that we don't need to finish a specific thing each day. But, it also means that we can get derailed easily enough. I think that is the benefit of doing "school" all year though, because if we don't finish something today, we still have many days to come!
Are you gearing up for another school year? Have your kids already started? Do you homeschool all year? How do you school more than one child? – no seriously, I need suggestions 🙂


Linking up at the Hip Homeschool Hop