Self-reflection has been the name of the game since the
beginning of the year. All of the books I have been reading seem to be reinforcing ideas that I
have had in the past, the biggest of which is that we have too much stuff.
After I read some of the statistics in Interrupted I realized
that I have way more than I truly need.
My family has so much, and has been blessed in so many ways! As we go through the normal day to day it can
be easy to grumble and gripe about different situations in our lives, or not
having x to help with y. But, when you
get down to it, we really have more than most people, and need to be thankful
for it.
I don't want you to think I am an ungrateful person, but
when put in the context of what others do not have, it seems incredibly selfish
to have as much as we do. To help you
with my line of thinking here are a couple of interesting facts from Interrupted, p25.
If you make
thirty-five thousand dollars annually, you are in the top 4%.
If you make fifty
thousand dollars annually, you are in the top 1%.
Half the world lives
on less than two dollars and fifty cents a day.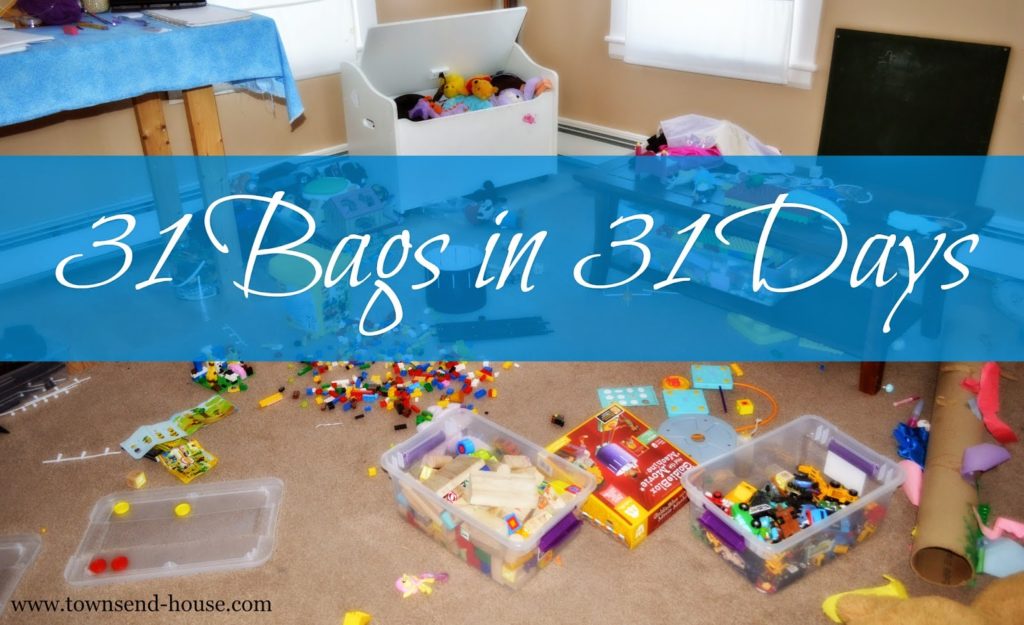 These facts are sobering to me. How can I ever feel need when I do not know
real need?
All of this led me back to my house, and the painful fact
that I cannot seem to get a handle on the stuff we have. We have so much stuff. It seems like I am constantly de-cluttering
and re-organizing stuff. It is a full
time job! No wonder I don't have enough
time for other things, I am constantly moving stuff around!
I decided that I wanted to try and make better use of the
space we have in our home, make better use of the time that I am given every
day. I don't want to be a manager of
stuff.
Since March is around the corner, and with March comes
spring (hopefully!), I decided that I wanted to have a big old de-cluttering of
stuff party! What better way to welcome
spring than with a clean house and less stuff to manage?
Please join me for
31 Bags in 31 Days.
The plan is for me to get rid of one bag of stuff each
day. Now, it doesn't all have to be
trash, in fact I hope that it isn't! I
want to donate a lot of the stuff we have, but I realize a good portion may, in
fact, be junk that needs to be thrown out or recycled.
One bag of stuff a day certainly sounds like a lot, but I am
sure that when I start going through my clothes or books I will easily be able
to find enough stuff. Now, I am planning
on using trash bags, but you could use the plastic grocery bags you get when
getting food each week.
This will all coincide with a huge spring cleaning of my
house. This winter has been long…OK it
is still going strong here in Maine. I
need to freshen up everything and try to make sense of all the books that I
have been reading.
Remember, my word of the year is intentional so I am
trying to be intentional about the things that take up space in my life. Are they really needed? Is it helping me in some way? Is it something that I think is incredibly
beautiful, and therefore brings joy to my life?
Or is it something that just sits taking up space, or a toy that my kids
do not play with, or a book that I never plan to read?
Is this extreme? Kind
of. But, I have to think about how much
space this stuff actually takes up in my life, and how it isn't needed. I don't want it here, and I feel sick
thinking about the stuff that we spend our money on when someone else is unable
to have clean drinking water.
I am not saying that we all need to go into voluntary
poverty, but will getting rid of broken toys or clothes that no longer fit, or
even things we don't use often but store just the same, really cause us to go
into voluntary poverty? Nope, but it
will be a good lesson in realizing how much we have, and how much we don't need
crowding our lives.
Have you thought about
how much you have lately? Is it wearing
on you trying to keep it organized and clean?
Have you thought about releasing some of that stuff to free up space in
your mind and understand the blessings that you have?