I love cooking and eating, and I especially love looking at pictures of food! If you love food as much as I do, please add your food pictures/recipes/food related posts to the linky below. All you have to do is link back to this blog post from your blog. I look forward to seeing what everyone else is eating this week!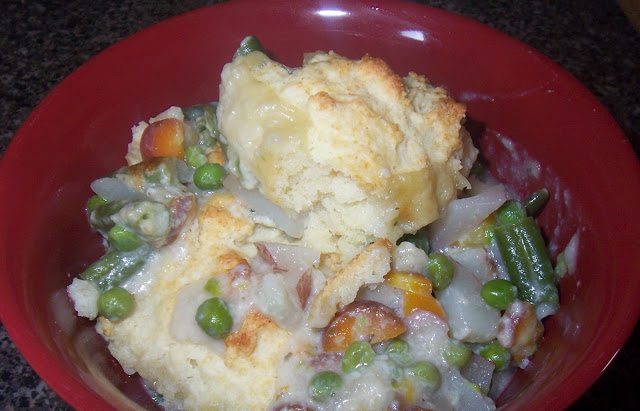 This past week has been quite the spectrum as far as weather goes. It was hotter than anything at the beginning of Labor Day weekend, and then it started raining, then the cold came. I am officially calling fall at our doorstep here in Maine. What better way than to make a veggie pot pie!
Now, I don't really make pot pies. Not because I don't love them, I do, but I just don't ever make them, especially from scratch. I didn't follow a recipe for this, so no real recipe to share. I chopped an onion and some garlic and started to saute in some olive oil. I chopped up some of my purple carrots – which are quite the pretty vegetable; purple outside with orange inside and then a yellow center – and some red potatoes with the skins still on and added them to the pot. I let them saute until they started to get tender. Added seasonings and water – maybe 1/2 cup. Then I added some flour to the mixture to thicken it a bit, and some more water to make a bit of a sauce. Finally I dumped it all in a 9×13 pyrex and made a recipe of drop biscuits and plopped the batter all on the top of the veggie mixture. I baked at 400 degrees until it looked like it was done 🙂 It turned out delicious, and the kids ate it up!
So what are you eating this week?



Linking to Rural Thursday the Mommy Club and Frugal Food Thursday