you can do it too! review and giveaway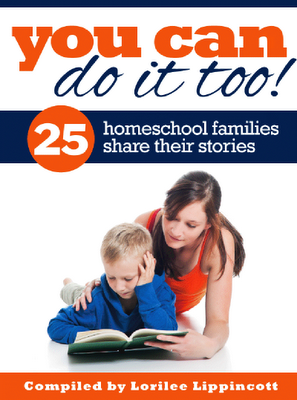 You have probably gathered that this is my first "official" year of homeschooling – since I have said it everyday this week! Maybe this is your first year of homeschooling too. Or maybe you have been thinking about homeschooling your children and want more answers, or perhaps you have been homeschooling for several years, but want to know what else is out there for philosophies and approaches. If any of those descriptions sound like you, than you will most definitely want to read Lorilee Lippincott's new book You Can Do It Too! – 25 Homeschool Families Share Their Story.
You Can Do It Too! – 25 Homeschool Families Share Their Story is about exactly what the title says, 25 families sharing their homeschool story with us. Each contributor was given a set of questions to answer, they answered the ones they felt relevant to their story (and some added extras as well!), and then Lorilee compiled them all into a very neat little package for our benefit.
When I first started thinking about homeschooling (and even today as I have started homeschooling myself), I was interested in what other people do. What does homeschooling look like for other people. In my head it was an old school desk/chair combo with a lot of books, and boxes of office supplies. Perhaps that was because I love office supplies and old school furniture, but more likely it was because I didn't know what else to think of besides "school at home."
I love that this book has so many different ways to look at homeschooling. From a family who spent 3 years traveling on bicycles from Alaska to Argentina to missionaries to homesteaders, and everyone in between. It shows me that my family does not need to fit into one specific "homeschool" category. It is all about the individual attention that we can give our children, which is one of the biggest reasons I decided to homeschool.
I really appreciated reading this book, and plan to go back and look through it as our journey continues. There is so much wisdom, things that worked for someone might not work for us, but there are so many ideas that can be tried and tested. I want my kids to have the best possible education, it is what all parents want, and to be able to have all of the experiences of other families put into this book, well that is extremely helpful for me as someone who is just starting out.
Now for the fun part! Lorilee has given me THREE copies of You Can Do It Too! – 25 Homeschool Families Share Their Story to give to three of my readers. How cool!
I am linking up at Giveaway Day.
I received this book free in order to review on my blog. The opinions are my own.