One of my most favorite events every year is going to the fair. There is something about all of the animals and the delicious food that makes it an amazing experience for me. I have been going to this same fair since I was little, so I think the nostalgia of it all also plays a role.
When Emma was born we started going annually as a family,
after several years off. It was this
year, when Emma was about 4 months old that we started the tradition of taking
pictures of the kids next to the giant pumpkins. I always take Easter and Christmas pictures,
but having these pictures in front of the big pumpkins, as we have added
children and they have grown, it is nice to see the change!
This year was no different.
We had a wonderful time. We
started a bit later than we typically do because we went to church before we
went to the fair.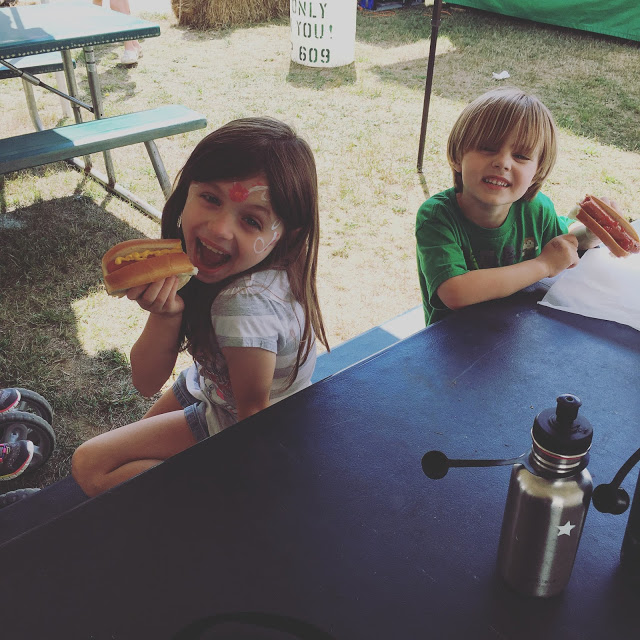 Our fair trip started with lunch. Fair food, while not in the least bit
healthy, is delicious, and something we all look forward to. The kids had hot dogs and we shared French fries
with malt vinegar – does anyone else eat their fries this way?
We continued around looking at the different exhibition
halls, taking a trip back in time with visiting the fair museum as well as
seeing all that the Ancient Ones of Maine had to offer. I also love to see how the one room schools
were set up as well as the homes, especially how the kitchens had open fires
with a little oven built into the wall.
The animals are next.
Emma always wants to take a ride with the horses, and this year was the
second year we saw miniature horses at the fair giving rides to people. I never realized how much weight they could
actually haul!



I love to see how the kids interact with the animals, showing so much love to them all. I think that they definitely inherited that from me, considering Matt does
not want to have the responsibility of farm life – at all. I think I might be wearing him down a bit though!
It was a wonderful day filled with delicious food, lots of
animals, and family, the perfect way to end the summer.
Do you attend any
agricultural fairs in your area? What is
your favorite part?