I want to preface the following post by apologizing on not being here the full 31 days – since I didn't post Friday or Saturday this week!


An interesting thing happened this week – I hit a wall. While I had posts written for the past couple of days, I didn't publish them for whatever reason. They may come up later in the series, they may not ever see the light of day.






Writing about being overwhelmed is pretty easy for me – especially when I am currently in that life stage right now. I think that the problem is when I am trying to give solutions, when there may not be solutions right now for me.


One that I have been concentrating on is changing my thinking, but that is so incredibly difficult to do.



Why is it so difficult?
I have been asking myself this a lot lately – why is is so difficult to change. I think that part of the reason is that I like to control things so much, and when I am not in control of situations, I obviously feel out of control and that leads to more feelings of being overwhelmed.
Recently I have been thinking about our busy schedule coming up through the holiday season, and it has stressed me out before it has even started. That is never a good thing.
What are some ways I can change this?
My husband and I were having a discussion on Saturday about ways that I could overcome some of these overwhelmed feelings, especially when our two older kids will be involved in sports through the winter. I'm not sure we came to any real strategies to change my thinking, but it did push me to want to read some parenting books again.
I think that part of the overwhelm comes from my feelings of "am I doing enough"
Are the kids in enough activities? Are they happy? Are they thriving?
As a parent I tend to prioritize my kids over myself. I think that is true of most parents, but it is in those stressful, very busy times, that I remember what I wrote about self-care last year, and how important it is to remember that if I do not take care of myself, how am I going to take care of anyone else.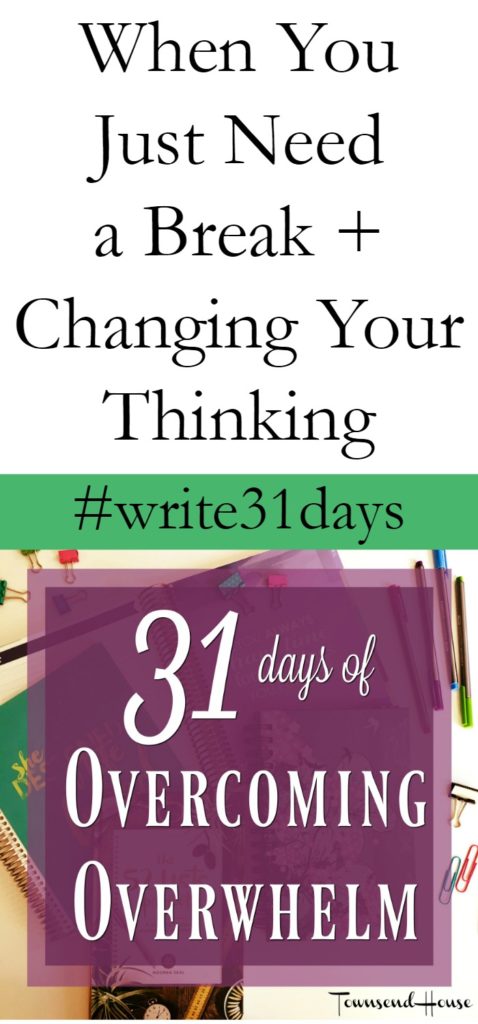 Clearly this post is not a prescriptive post, but I do find that when I am overwhelmed, writing is something that helps.
When I started blogging, everything was a free write for me. Every thought I had seemed to make it down on paper, or in my case the blog. And when I started Townsend House way back when, it continued in a similar fashion.
I would love to say that I have all the answers, but I most certainly do not. And that is what I am trying to convey back to you today.
I needed a break, and I took a break, and it was good to take a step back and re-center myself.
Hopefully going forward, I can keep self-care in my mind, and understand that there are some unique boxes I need to check as an introvert, and remember to check those off my list!
How do you practice self-care when you feel overwhelmed? What if you aren't able to take a step back, and instead have to keep moving with the activities of the day/week/month/season?