I love cookies. I could eat them all day, well until my mouth started to give out from so much sugar 🙂 My favorite cookie, by far, is the sugar cookies my mom makes (and now I make) at Christmas time. You may see a theme going on here with all of my recipes. All from my mom 🙂 This recipe makes TONS of cookies, literally tons. I always make one batch and have plenty to give away and the rest go right in the freezer, because honestly, that is the way you should be eating these cookies, from the freezer. I don't know why I like them better that way, but I am not the only one, my brother is the exact same way. Maybe we are just used to them frozen because when we were younger my mom would do all of her holiday baking and put it all in the big freezer we had in our basement…which Greg and I would take samples of periodically convinced that she wouldn't notice if just. one. more. was missing…hmmmm…Without further ado!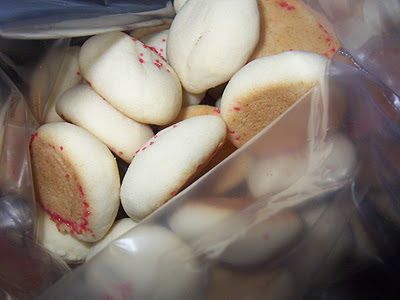 Sugar Cookies
350 degrees for 10 minutes
1 cup butter
1 cup white sugar
1 cup confectioners sugar
2 beaten eggs
1 cup oil
1 teaspoon baking soda
1 teaspoon cream of tarter
1/4 teaspoon salt
5 cups flour
Cream butter & sugars together
Add eggs
Add remaining ingredients except flour
Add flour gradually
Roll small amount of dough into ball with your hands and place on cookie sheet
Sprinkle with colored sugar
Bake at 350 for 10 minutes, or until slightly brown on bottom
These cookies are not for decorating. They are for eating…in large quantities 🙂
Do you have a favorite cookie recipe?