There are affiliate links in this post. If you make a purchase after clicking one of these links I may receive a small commission. Thank you for supporting Townsend House!
I have an immense love of books – I love story. I love to get lost in someone's story, and
because of that I almost always have a running list of books that I want to
read. I don't always have a ton of time to
read, but one of my goals this year is to complete my 100 books read challenge,
and because of that I have made it a priority.

It is amazing what you can accomplish when you make
something a priority (this works for all things, not just reading!). I am spending less time scrolling through
Facebook, and more time pulling up a book on my kindle.
I try to utilize the library app for my local library on my
iPhone for a lot of reading, as well as a subscription to kindle
unlimited. But, when there is a book
that I really want to read, I most often buy it – I am a little impatient when
it comes to reading new books. The
convenience of it being delivered to my phone and kindle on the day it is
released is something I love.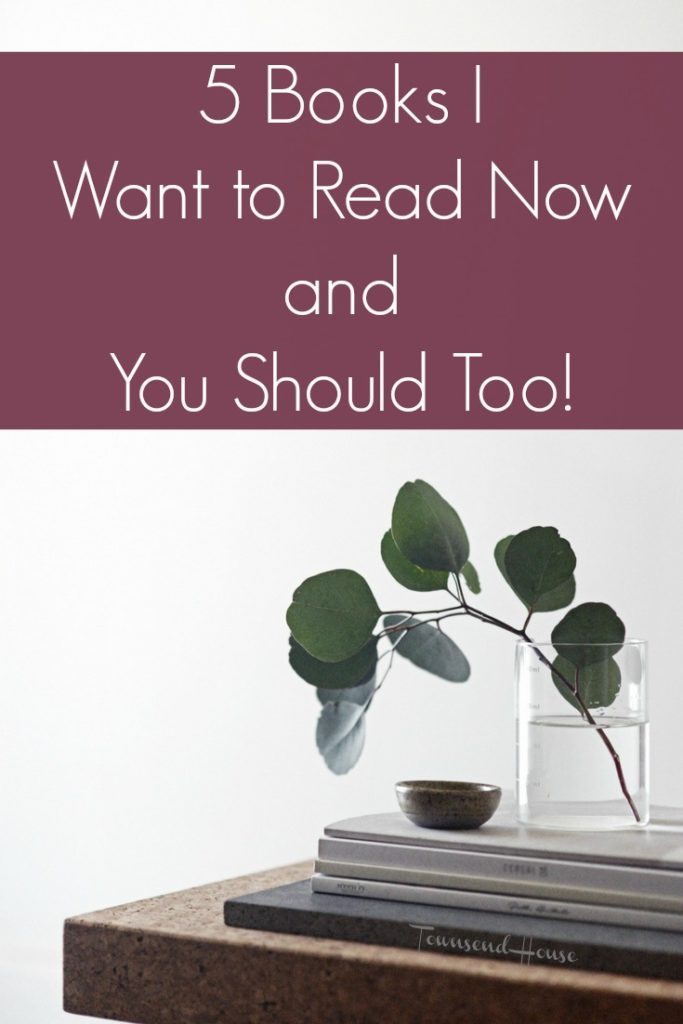 Here are a few books that I am really looking forward to
reading in the next several months – as well as a book that I have already read
before, but love to revisit every spring when the weather starts to be a bit
nicer in Maine.
At Home in the World by Tsh Oxenreider – I have followed Tsh and her blog since about the time she started her first
blog Simple Mom way back when. I have
loved all of the books that she has written, but have definitely been looking
forward to this one. It is a memoir of
her family's trip around the world. The
reason I am most excited about it? The
family travel part.
She traveled with
her three young children (I believe the youngest was 4 at the time). This is something that I dream of doing with
my own family, but have yet to pull the trigger for various reasons. This book releases tomorrow – so very very
excited to sit down and read it. I also
highly recommend her book Notes from a Blue Bike a book about living
intentionally in a chaotic world – awesome book!

Cultivate by Lara Casey – In 201 I read an amazing
book called Make it Happen by a new author I had
never heard of. It was life changing –
showing me I could definitely follow my passions. When I heard that Lara would be releasing a
new book this June, I immediately pre-ordered it without really knowing what it
was about. But, after I read the
description, I knew this would be a book for me.
Women often feel like they have to have it all
together in order to live a meaningful life. Instead they feel inadequate,
overwhelmed, and exhausted as they to figure out how to do it all. Author,
business owner, and mom to three Lara Casey offers sound and grace-filled
advice: "We can't do it all, and do it well. But, we can choose to cultivate
what matters."
This book will be released on June 27th.
Business Boutique by Christy Wright – I recently heard Christy Wright on the Dave Ramsey podcast (getting out of
debt, yes please). Christy's mission is
to equip women the tools they need to do the things they love when it comes to
turning a hobby into a business. I
majored in Business and Economics in college, so I love any type of business
book – especially as a blogger. There
are a lot of "blogger" resources available, but I find sometimes that they
don't speak to me the way classic business books do. This book came out TODAY! So while my kiddos are having their rest time
this afternoon, I will be digging into this book.
Mess in the Moxie by Jen Hatmaker –
I have read several of Jen Hatmakers books in the past couple of years. My favorites have been Interrupted and 7:An Experimental Mutiny Against Excess. I love her stories, they definitely
bring me back to my own youth, and some of the pop culture references she uses
have had me laughing out loud while I am trying to read quietly next to a sleeping babe.
…somehow women have gotten the message that
pain and failure mean they must be doing things wrong, that they messed up the
rules or tricks for a seamless life. As it turns out, every last woman faces
confusion and loss, missteps and catastrophic malfunctions, no matter how much
she is doing "right." Struggle doesn't mean they're weak; it means they're
alive
.
This book will be released August 8th.
My last book is a book that I have read before, but I
believe that the message is so important that I continue to refer back to it
when I need some parental motivation during the year.
Simplicity Parenting
by Kim
Jon Payne and Lisa M. Ross. The title
really does give it away, it is a book about less in order to raise happier, and healthier kids. It talks a lot about the importance of nature
and unstructured play. I think it is a
perfect book to read right as the school year winds down for most kids, and to
give myself permission to not fill summer with a bunch of activities. Instead, I can take a step back and watch my
kids play in mud all day, and know that they are making the same types of
memories that I did so many years ago.
Are
you looking forward to any books that have yet to be released? Do you have a favorite book you revisit year
after year?