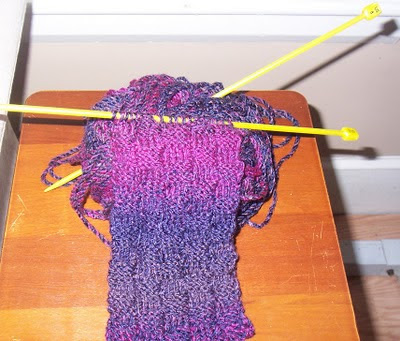 I've been talking about my love of knitting on here for a little while now. It is extremely relaxing to me as a craft. I am not strict about it, if I make a mistake I usually just keep on knitting, and say that it gives the project character 🙂 Or I figure a way to disguise the error as I am going along. I like knitting because I have very little dedicated time to sit and craft, and it is easy to put a project down if, say, Jack has climbed up on the table and is trying to eat Emma's lunch. Not that that happens in our family 🙂 I also love sewing, but find that sitting down to sew something with littles running around isn't the easiest. Either they "help" by pushing the pedal, or see previous comment about Jack and Emma. I am still working on a bag that I started several months ago 🙂
But knitting, knitting is something that can be picked up and put down with ease, and I love that. What I don't love is how damn long it takes for me to finish a project because of the ease of putting it down. Maybe it is just me, maybe most knitters are able to fly through a project. That brings me to my current project, a basketweave scarf for Emma. I decided to use basketweave because it is an easy pattern, and you can kind of do it however you want.
I used a yarn that had two strands of worsted weight twisted together. Great on technicalities right 🙂 And size 8 needles.
Cast on 20 stitches
Row 1 – knit
Row 2 – knit
*Row 3 – k4, p4, k4, p4, k4
Row 4 – p4, k4, p4, k4, p4
Row 5 – repeat row 3
Row 6 – repeat row 4
Row 7 – p4, k4, p4, k4, p4
Row 8 – k4, p4, k4, p4, k4
Row 9 – repeat row 7
Row 10 – repeat row 8
Repeat from * Row 3- Row 10 until your desired length
Knit 2 more rows
bind off and weave in ends
Easy peasy basketweave scarf 🙂 There are a lot of variations you can do with this type of pattern, if you want a wider scarf, add 4 more stitches, or if you want larger squares do 5 stitches instead of 4. The fact that I have worked on this for a few days and only have about 12 inches knit, well, now we know why I start thinking about Christmas in August 🙂