Family Management – How to get everyone on the Same Page
This post contains affiliate links. If you purchase something through one of these links I will receive a small commission at no extra cost to you. Thank you for your support!
Family Management.
What do you think of when you hear that?
For a long time I thought of it as a one person job, mine. I am a mom, and so I believed that it was
my job to manage my family. It was my
responsibility to make sure that everyone does their part during the day, that
we get to all of our appointments *mostly* on time, and that the house is
*relatively* clean.
That is a lot of work for one person.
Over the years I have come to realize that instead of me
managing my family, we need to all be on the same page; my husband, my
children, and myself.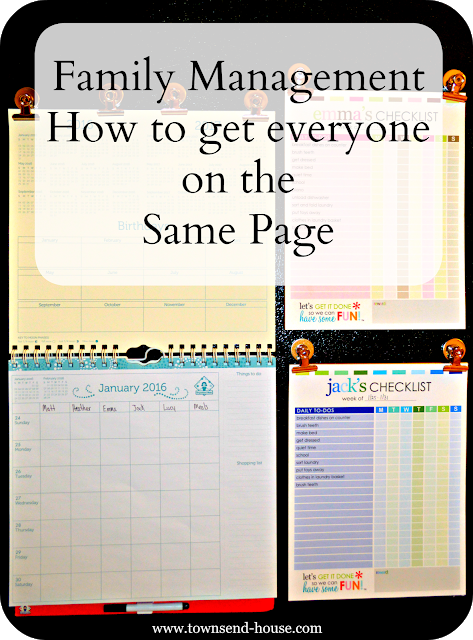 A couple years ago, I felt like my children were too small
to be of much help when it came to family management. But, now that Emma and Jack are a bit older
at 7 and 5, they can be involved a lot more in the day to day
management of the home. Of course I
still have a toddler underfoot, but for some reason it seems much more
manageable than when Emma was that age, and Jack. Maybe because Emma and Jack are older now,
maybe because I have been through toddler-hood twice and know what to expect,
maybe I am more relaxed; whatever it is, I am more prepared this time around.
Family, and home, management, it seems, falls on the
mother's shoulders. And while I embrace
that role, I want to make sure that I incorporate the rest of my family as
well.
Before we get to the how, let us address the why.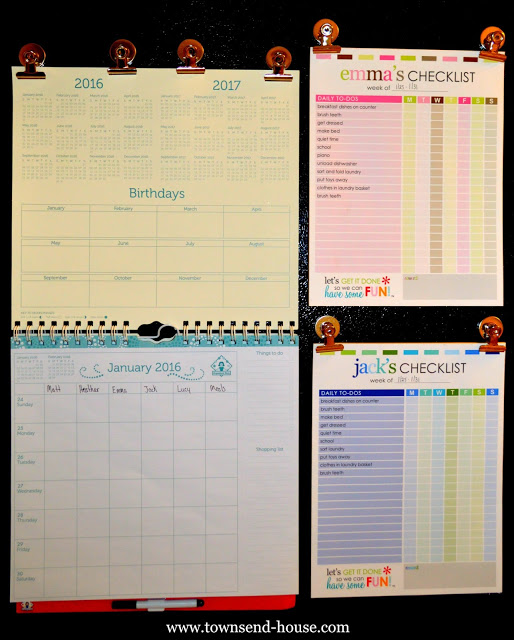 Honestly, I get tired of telling everyone what to do. Going over schedules, making sure we are on
time, getting the house clean, school, all of it can be a bit overwhelming. I have come to realize that it is not helping
my family for me to tell them what to do.
I need to show them how to take responsibility for themselves, and their
schedule. Of course, that is more for my
children than my husband…for the most part!
After I mentioned our busy schedule last week, I had some
questions on how I organized everything.
I know that everyone is different, and what works for me may not work
for you. But, when I was putting
together my home management system, I researched like crazy and tried many
ideas in order to come up with what I currently have.
I absolutely love organizing, and I especially love
checklists. Imagine my delight when my
children decided that they equally loved checklists?! No, seriously, I was incredibly happy that
they wanted to follow a checklist. That
gives me such a relief. If it is written
down, and they can check a box, they do it.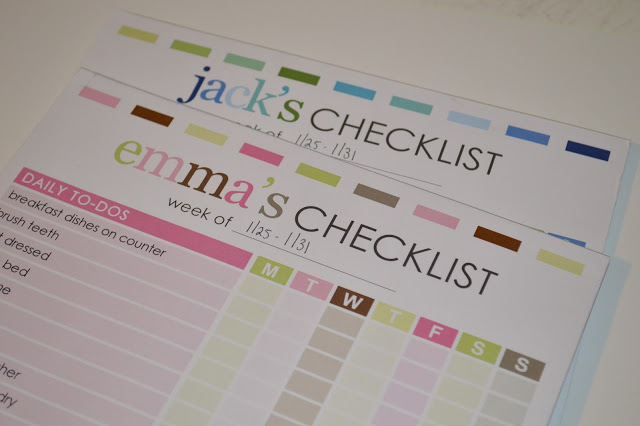 I started out my new checklist idea when we started school
last August. The kids helped me make
checklists for their school. We didn't
use them over the past 2 months because we were on our long homeschool break (and
then sick), but the kids found them a couple weeks ago, and they have been
excited to use them everyday.
Knowing how they love checklists, I decided to look for a
good chore chart for them.
I always loved chore charts growing up. I didn't actually like the chores that went
along with the chore charts, but I loved the chart itself.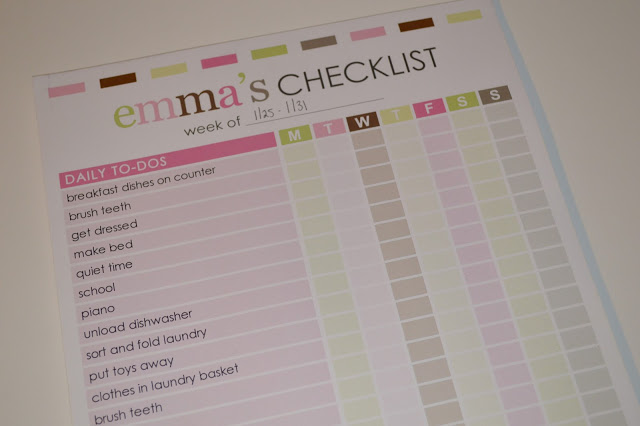 I looked but had trouble finding exactly what I wanted. A lot of the pre-printed and magnetic chore
charts had tons of stuff that I didn't need, and they were missing some items
that I wanted on the list. I was
incredibly happy when I found these custom checklist pages from
the *ErinCondren website.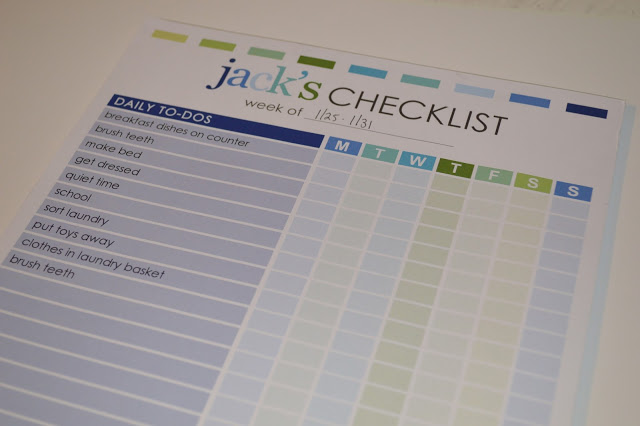 What appealed to me about these specific checklist pages was
that I could have them pre-printed with the tasks I felt were important, while
it allowed for extra space below if there were other items I would need to
include for the week. I also like that the
checklist pages are Monday-Sunday. When
I went to order them in December, they had disappeared from the website and
when I talked to customer service they weren't sure when or if they would have
them in stock again. However, I happened
to check again two weeks ago, and there they were! In stock!
Yay!
This will be the first week that we are using the individual
checklists, but Emma and Jack are so excited about it. I know it seems strange, but they have
actually been talking about how they are going to start their checklists today,
all weekend long.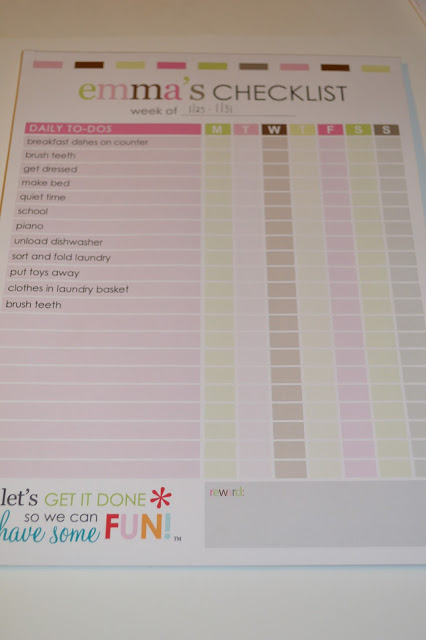 The other part of getting everyone on the same page as far
as family management goes, is a calendar.

Now, I have said before, I love planners. I may actually have too many calendars, but
it keeps me on task, and so I will continue on with it. I also have my home management binder, which
has had a monthly calendar in it in the past in order to keep my husband up to
date on all the appointments, sports practices, and other life events.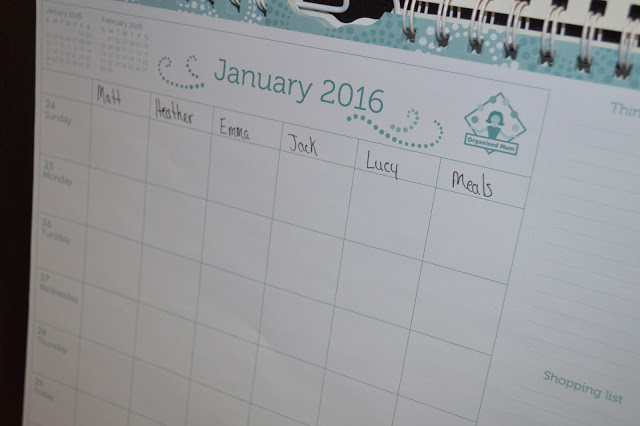 However, I realize that it is very unlikely that my husband
is going to look in the home management binder to see what is on the
calendar. I don't think he is the home
management binder type…
I typically have a wall calendar, but I don't necessarily
put all of our info on it, because the boxes aren't really large enough to fit everything in.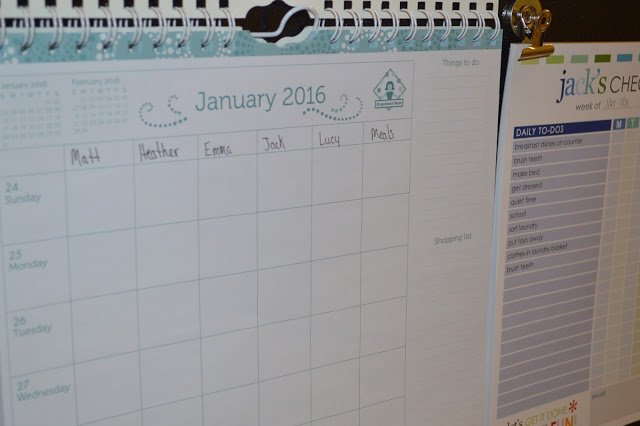 I was excited to find this calendar on Amazon. It was exactly what I was looking for; a vertical
calendar that has a place for everyone's names.
It actually has space for 6 people, but since there are only 5 in my
family currently, I am planning on using the last column for meal
planning. It also has a "things to do"
list and a shopping list, each is perforated and can be detached from the calendar. While I generally have a pad of
paper that I make all of my grocery lists on, this list on the calendar will
come in handy for my husband to write what he needs, or if someone randomly
tells me something on the fly I can write it down here and then transfer it to
my master list for whenever I run errands.
I am pretty excited about this new family management
center. Of course it isn't the entire
management system that I use, but it is what will connect the
rest of the family to what we have going on.
Do your kids like
checklists? How do you manage everyone's
schedules?
*If you sign up for an account at ErinCondren.com through my link you will receive a $10 off coupon code e-mailed to you for you to use on your first purchase.