100 books read. That is what I want to be able to say at the end of 2015. It is kind of a lofty goal. I mean, that is two books a week! I'll let you in on a little secret, I have only read one book so far this year. And it is already the 16th!


I have seen a lot of people put up their reading list for the year, and I thought that was an awesome idea!
Of course, compiling a reading list is not an easy feat.


I thought that I might be able to easily write down 100 books that I wanted to read this year. Writing down 100 books is easy, but figuring out the ones that I want to read this year, not so easy!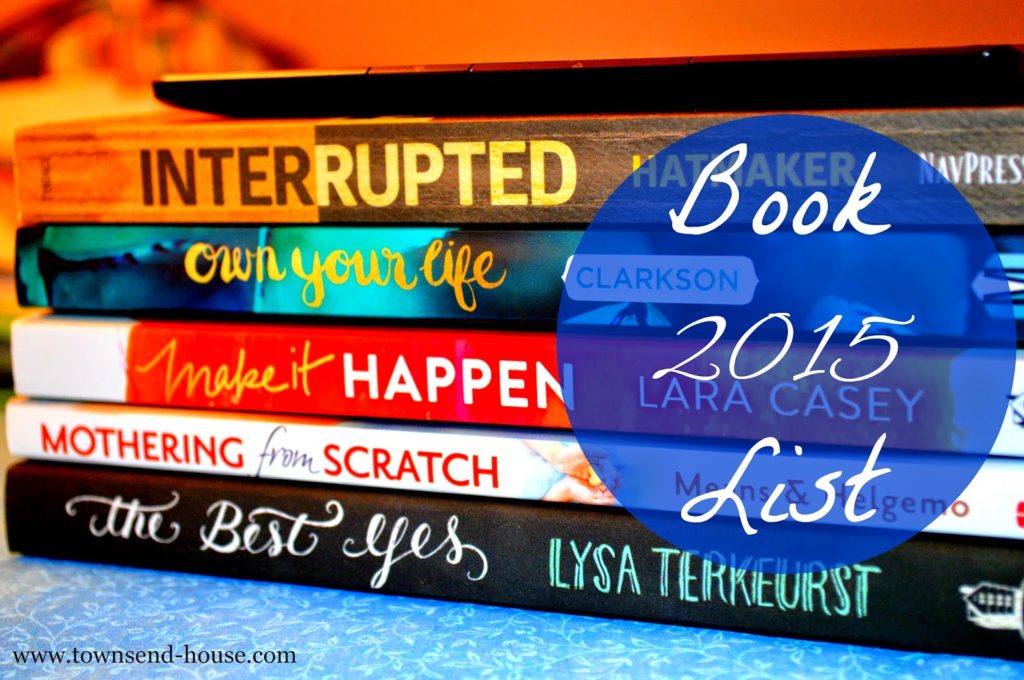 I have come up with a smaller list of books that I want to read though, and have ordered some of them. I hope to use the library to fill in the gaps! Some of these books I own and have never read, some I have read before and want to re-read because they are that good. Here is my *much smaller than 100 books* book list for 2015, in no particular order.


Unglued – Lysa TerKeurst
The Book of Life: A Novel – Deborah Harkness
Dumbing us Down – John Taylor Gatto
Mothering from Scratch – Means & Helgemo
Make it Happen – Lara Casey
The Best Yes – Lysa TerKeurst
Own Your Life – Sally Clarkson
Interrupted – Jen Hatmaker
Bread & Wine – Shauna Niequist
Back in the Day: 101 Things Everyone Used to Know How to Do – Michael Powell
Plenty: Eating Locally on the 100-mile Diet – Smith & Mackinnon
What to Eat – Marion Nestle
A Woman's Guide to Hearing God's Voice – Leighann McCoy
Simplicity Parenting – Kim John Payne
Mission of Motherhood – Sally Clarkson
No Impact Man – Colin Beavan
Mindset for Moms – Jamie Martin
Steady Days – Jamie Martin
7: An Experimental Mutiny Against Excess – Jen Hatmaker
One Thousand Gifts: A Dare to Live Fully Right Where You Are – Ann Voskamp
Harry Potter 1-7
Lord of the Rings
So technically this is only 30 books. But, I feel like it is a really good start! It certainly is heavy on the non-fiction, but that is what I am feeling right now. I am sure I will easily get some fiction reading in.


I also want to reiterate: all books that are over 100 pages that I read with the kiddos will also be included in my 100 books read goal!


What is on your reading list this year?


*None of these books are affiliate links. Amazon affiliates is not available in my state!