I love cooking and eating, and I especially love looking at pictures of food! If you love food as much as I do, please add your food pictures/recipes/food related posts to the linky below. All you have to do is link back to this blog post. I look forward to seeing what everyone else is eating this week!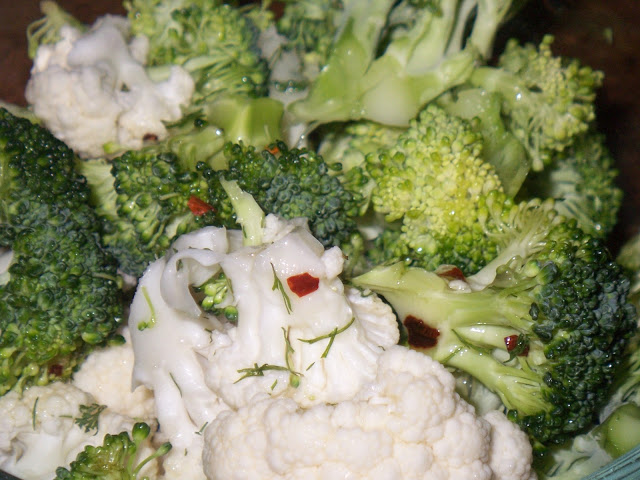 I have been trying to incorporate a lot more raw vegetables into our diets as of late. Obviously, with the juicing and the green smoothies we are getting our fair share, but it is also good to have something to munch on during the day. My recent go to snack is something that my mom used to make. It is raw broccoli and cauliflower that is marinated in a vinaigrette. Although, I don't typically wait long for it to marinate before I start eating it. It is nice because after you dress it you can eat it immediately, and then eat it for the next several days as well.
It is incredibly easy to make. All you need to do is cut fresh broccoli and cauliflower into florets (keep the broccoli stems for juicing if you are juicing!), and then put whatever vinaigrette or italian dressing you prefer over it. I make my own dressings, and what I have been doing recently is using raw apple cider vinegar, extra virgin olive oil, salt, red pepper flakes and dill. I don't measure, and I probably use more vinegar than most people would, but it is delicious!
And the benefits of cruciferous vegetables are outstanding. They have been shown to reduce cancer risk, and also help cardiovascular health. This "salad" is a perfect way to get more of these types of veggies into your diet. It is something that my kids enjoy snacking on as well. They enjoy playing with the "little trees." Any food that my kids think is fun, they tend to eat more of!
Link up what you are eating below!