For when you accomplish more than you Expect – Homeschool
When we started our new homeschool year in August, I wasn't
quite sure what to expect. Sure, I had
all the books; I planned our scope for the year, the projects that I wanted to
work on. I made adjustments knowing we
would take a long homeschool break during the holidays. I guess I wasn't prepared to accomplish more
than I originally expected.
You see, this was the first year we didn't go with our
normal curriculum instructor's guide.
Don't get me wrong, I love the instructor's guide, but there were so
many things I was planning on changing and stretching out, that I didn't think
having the instructor's guide would be a good thing.
We were in a bit of a limbo as far as the scheduling of our
year would go. What did I do? I had my high expectations and we worked
hard, one of the benefits of homeschooling I think.
Yet, we got to the end of February, and when I was sitting
down to do a rough plan for March, I realized that we were essentially
done.
Now, I don't think you are ever really *done* with learning,
but we were done with what I had planned for the year…and we still have a few
months left to go!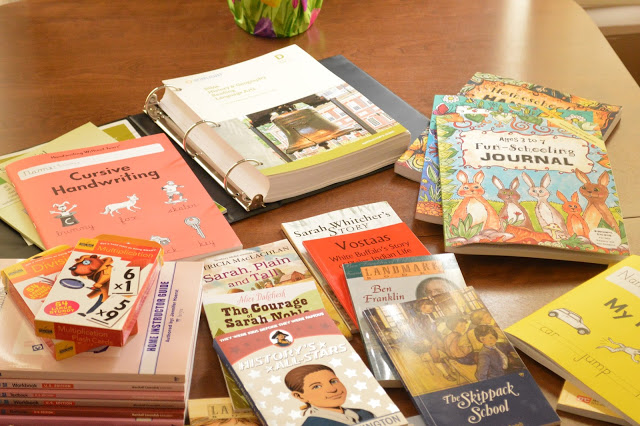 I thought about backing off from school, not necessarily
taking a break, but doing more review, free reading, projects, and less actual
math books and reading/language arts/English curriculum.
That thought process didn't last long for me.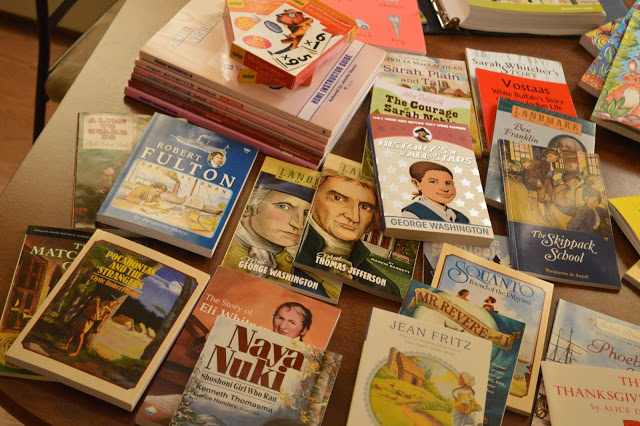 Part of what I love about homeschooling, and more
specifically year 'round homeschooling, is that we can just move on. There is nothing stopping us from starting
the next thing.
With the realization that we could just keep going, I
decided to sit down and look at the catalogs and online for book resources to
continue our year. I talked a little bit
about my plans a couple weeks ago.
We have been using the Fun-Schooling books that each of the
kids got several weeks ago, but I knew that I needed a little bit more to fill
out our time.
I decided to go ahead and place an order for new curriculum.
We are still set with our "core" of history/read-alouds/science,
but I knew that I needed to order new readers for Emma, new handwriting books
for both the kids, new math books. I
didn't want to wait.
This past Saturday the first order of books arrived, and we
started with a whole new set of books yesterday after our little spring break
last week!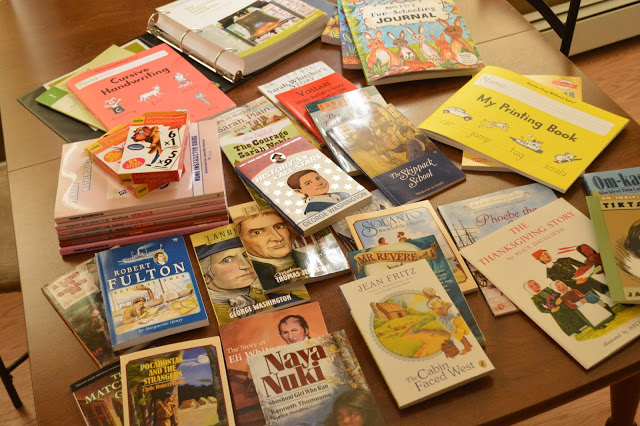 There is nothing like getting new books to breathe life into
your homeschool year, at least that is my experience. Emma and Jack were so excited to do school
yesterday, they moved through everything quickly and efficiently, and we were
done by lunch.
Those are the days that I love, when everyone is in high
spirits, we accomplish a lot in a short amount of time, and we still feel
refreshed at the end of the day.
The whole point of me homeschooling is to work at the kids'
pace, so I shouldn't hold them back when they move faster through work than I
expected, and I shouldn't speed them through concepts to get to the next thing
if they need to spend more time on it.
We did start yesterday with these new books, but I know I
need to sit down and really read through the books to get a good sense of the
direction we are going. And while I
talked about not buying the instructor's guide this year, I did end up
purchasing it with the new readers, because that is where I can get the readers
schedule and some of the questions to go along with the books.
What do you do when
your kids don't follow the normal "schedule?"
Are you always thinking about "the next thing?" What do you do when you accomplish more than you expect to?