Books. Oh, how I love
books. Reading is one of my favorite
activities, so it was no surprise after we decided to homeschool, that we also
decided to use a literature based approach to homeschool with. What does that mean? A lot of books, of course!
After ordering my first curriculum, when it was just Emma, I
thought, "oh, not as many books as I expected."
Now, however, we are on our 6th set of books, and I ran out
of book shelves a couple years ago.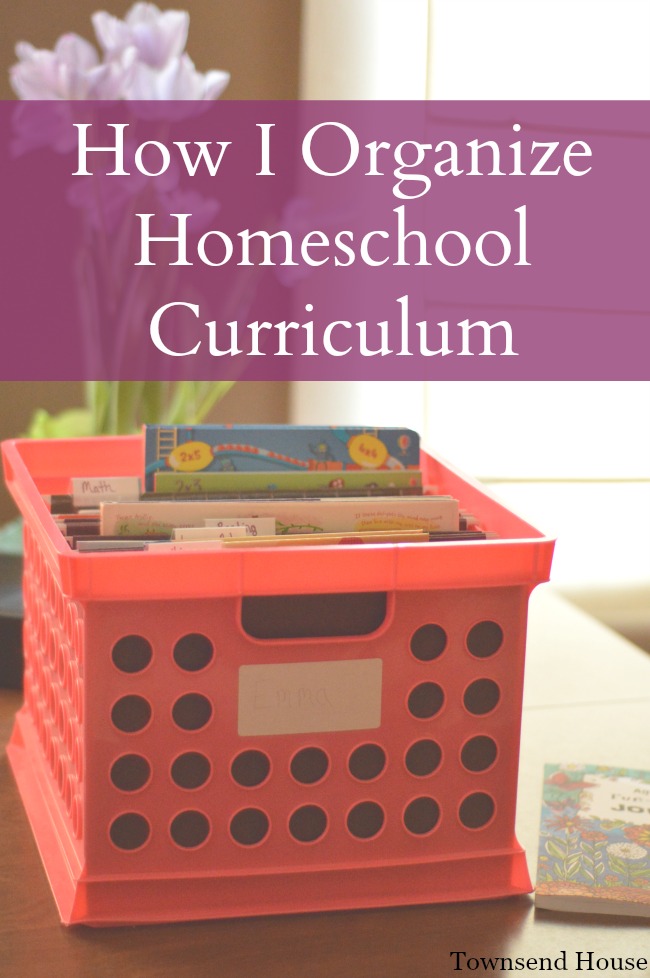 That has meant boxing up some of the books, which is
difficult because I want to have all of those wonderful titles available to my
kids whenever they want, but I also realize that I need to keep some
order. While I am still trying to figure
out where to put all of the kids' books (as well as my own growing library), I
knew I needed to figure out a way to have the current books and curriculum we
are using easily accessible.
I got two milk crates a couple years ago from Target. I have used them in the past to store all the
books in the current level they are using for all different subjects, to also
keep extra notebooks and a pencil case, however, it wasn't doing the kids or me
any good (although it was nice to have all their books in one spot!).
I decided that organizing the milk crates would be
beneficial to all of us (especially me, I can get a bit frazzled when I can't
find a book I need).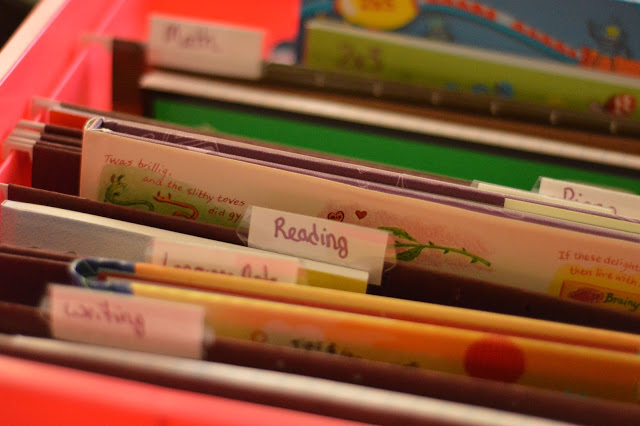 I got out some file folders, and made some labels with all
the different subjects we try to teach on.
Then, depending on the amount of books and size I either put them in a small
file folder, or one of the wide bottom file folders, or I stack them behind the
labeled folder.
What do I keep in each subject's file?
The first thing is the book, workbook, or any special
curriculum we are using specifically for that subject. I do not keep all the books in these milk
crates, although that would be nice, it isn't feasible. Instead, I try to keep what we are using, and
then in the case of Emma's readers, I will keep a few of those also in the
crate, as well as a few "fun" extra reading books in case she is looking for
something new to read.
I then put a notebook in almost every folder. She has a separate notebook for spelling,
language arts, math, science, history.
We don't use all of these notebooks every day, but I like to have
separate ones for each subject so I can keep everything organized. If the kids watch a Bill Nye the Science Guy,
they can take their science notebook and take notes or draw pictures about what
they are learning. If Emma needs extra
space to do her math problems, she can use the notebook pages.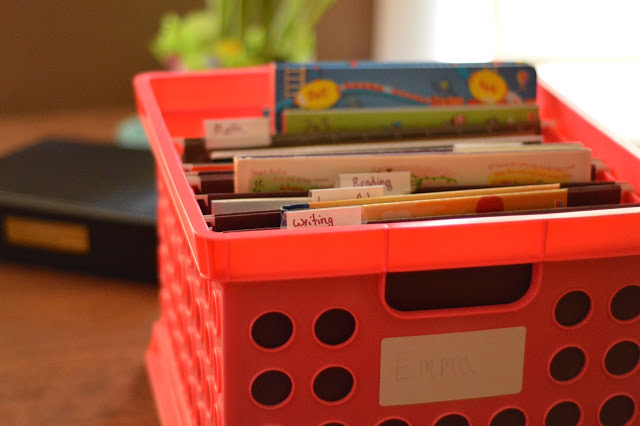 This is a very inexpensive way for me to organize what we
are currently using for books and curriculum.
It makes my life easier when I can go to the milk crate and grab a
teacher's guide, or tell Emma to get her history notebook to take notes. It isn't filled with lots of bells and
whistles, and honestly, besides the milk crates themselves (which I think I got
for $2 each) didn't cost any money because I already had all the file folders
and label tabs for the folders.
As an added bonus, these boxes are portable. We have never gone on a long trip where we
take homeschool supplies with us, but it would be easy to if we wanted to. We have, however, brought them outside when
the weather is nice to do some of our work in the sun. I expect we will do more of that as the days
get warmer.
How do you organize
your school books and supplies? If your
kids go to public school, do the books all stay in the backpack? Or do you have a special place to store them?