There
are affiliate links in this post.

If you
make a purchase after clicking one of these links I may receive a small
commission.

Thank you for supporting
Townsend House!
Last month I shared my recent reads for the month of
January, and I have to say, having that small idea to share the books I read
each month definitely kept me accountable to stay on track for my reading goal
for 2018 – 100 books read.
I am back today with February's reads.

As I have gone through my list, I realize
that I am a huge fan of non-fiction.

In
fact, I think that I more often pick up non-fiction than fiction.

I'm not entirely sure why that is.

Maybe I am in a big self-help phase, or I
really connect with memoirs as of late.
Without further ado, here are my February reads.
Home Grown
– Ben Hewitt.
I had
originally picked this book up because I was planning on taking a homeschool
course with the author and one of my favorite bloggers, Heather Bruggeman, on homeschooling.

Unfortunately, the class didn't pan out, but
the book was really quite wonderful.

It
was a quick read.

I thought there might
be a little more about their version of homeschooling, but there were just
snapshots here and there.

I did really
enjoy it however, and it reminded me why, so many years ago, I wanted to have
my own little homestead to live and work on.
If you are into unconventional you will probably enjoy this book.
Harry Potter and the Order of the Phoenix

– JK Rowling.
This
book was one I was reading with the kids, and it was so much fun.

I don't know how you can go wrong with the
Harry Potter series.

My kids loved it,
and immediately wanted me to start The Half-Blood Prince, but we are taking
a break from the books for a while.
Reading this book aloud with my kids did make them want to start reading
the Harry Potter series themselves, so they both started on book one.

Thankfully I have many versions of it found
about my house…it makes sharing much easier.
TheYear of Less
– Cait
Flanders.
I am a sucker for
books on minimalism and less stuff, however I find that as a mom of three kids,
I often look at the stories of minimalists as unrealistic.

That was not the case with this book.

I loved how she weaved her individual story
into the book, and it didn't make me feel like I was doing something wrong,
instead it was motivating.

It is part of
the reason that I decided to do another 31 Bags in 31 Days Challenge.

What is truly important in your life?

What is weighing you down, financially,
emotionally?

Those are the questions
this book made me think about – definitely recommend.
Reading People
– Anne Bogel.
This books is all about
personality types.

I love anything that
talks about my love of the Myers-Briggs (I am an INFJ by the way), and I also
love the Ennegram (a 4 here – the Individualist, who would have thought?).

I really started getting into personality
types several years ago trying to figure out why I was the way I was.

When I finally realized that being an
introvert really means that I get my energy from quiet and solitude and not
that it means I am an awkward shy person (I'm not shy, awkward, well, that is
debatable), I felt like my life opened up.
Learning the cognitive functions of my Myers-Briggs type really helped
me piece together parts of my life, and kind of gave me permission to feel the
way I felt.
This book is definitely a great introduction to many
different personality types – beyond Myers-Briggs and the Eneagram.

I thought the book was well done, and
definitely showed how even if you know your own personality type, you need to
also understand that others may have completely different types than you, and
you need to react to and interact with them differently, and that is OK.

Definitely recommend if you are interested in
delving deeper into the different personality types.
Do Over
– Jon Acuff
.

I have read one other book by Jon Acuff, Start.

I really liked them both.

Start is about the author's time working his "dream
job" for Dave Ramsey, and Do Over is about when he realized that he was really
an entrepreneur at heart, and left the Dave Ramsey organization.

I love business inspirational books, books
that will actually get me to act on the decisions that I think about
constantly.

Thinking is a big strength
of mine, doing, well, that takes a little more time.

But, books like Do Over really get me into
the frame of mind that I am the only one holding myself back.

If you are wondering where to go next with
your career, or have been contemplating changes but are not quite sure,
definitely pick this book up.

There is a
lot of encouragement to be had.
My last book is Leadership Education – The Phases of Learning – Oliver and Rachel Demille.

I'm not sure if this is the book you should
read first when learning about Thomas Jefferson Education, but it definitely
was helpful.

This was the first book I
read on this type of schooling philosophy.
I know that Jamie Martin, of simplehomeschool.net, follows a lot of
these principals.

I really liked how it
was laid out, each phase of learning with not only the education side of
things, but how it fits into the family as a whole.

I love to read about different education
philosophies, and grab tips from many different schools of thought.

This is a book I had started a while ago on
kindle, and it was kind of hard to read with a lot of interruptions.

I think that if I were going to read it again
I would want it in print form.
The premise of the book is that you want to grow leaders,
and not let them fall into line in the conveyer belt model of schooling.

This book is geared more towards
homeschoolers, but the author really is able to show how any type of education
setting (public, private, or homeschool) can incorporate leadership education
into their days.

This is definitely a
good book to keep on the shelves with many ideas on how to work through each
stage of learning.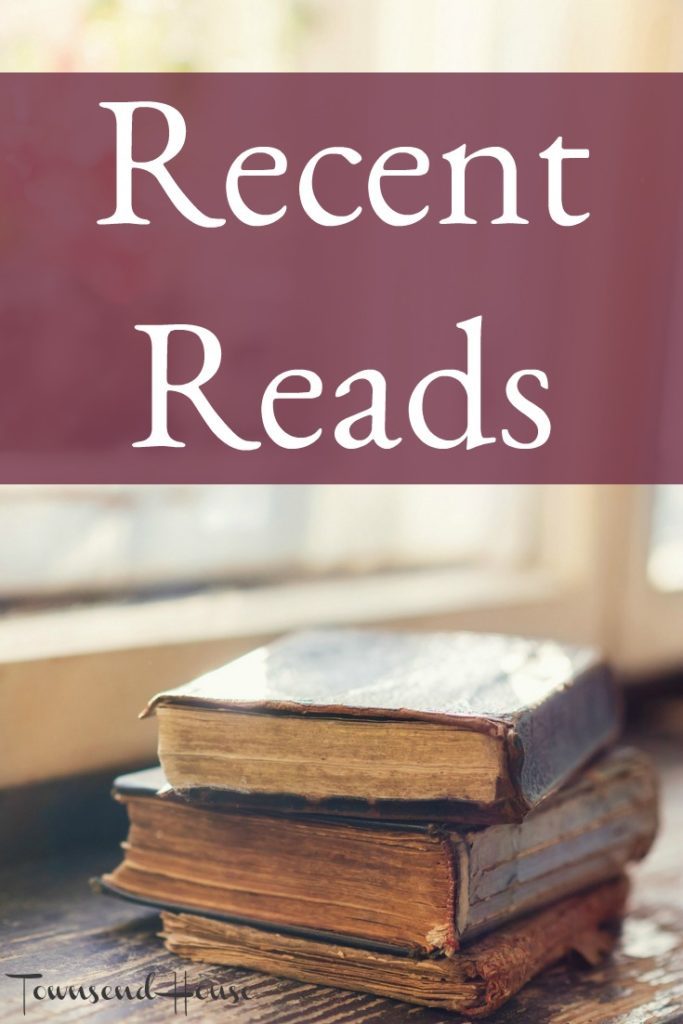 You may be asking yourself why I only have books listed that
I really loved.

Or maybe you do not, but
I am going to tell you.

I finally came
to the realization that there are so many books to read in the world, that it
makes no sense to slog through books that I don't absolutely love.

My time is too precious for that, and so is
yours, so if you pick up a book that I read and don't love it after the first
couple of chapters, put it down and move to something else!
I used to try and get through any book that I started, but
that is not the case anymore.
What
have you been reading lately?

Do you
prefer fiction or non-fiction?