Fresh Vegetable Salad Recipe
As soon as spring arrives (regardless of whether or not there are leaves on the trees or snow is still on the ground) my body starts to crave fresh vegetables. I love all vegetables, and am constantly looking for ways to eat them.


I wrote earlier this year about trying to make salads a main meal every day, and how I do that, but these big salads aren't the only way to get a good dose of veggies into my diet (and my family's diet) every day!


For Easter I made the most delicious quinoa salad. It had lots of fresh chopped veggies, lots of parsley, and a super simple dressing. It was amazing, and I plan to make it often.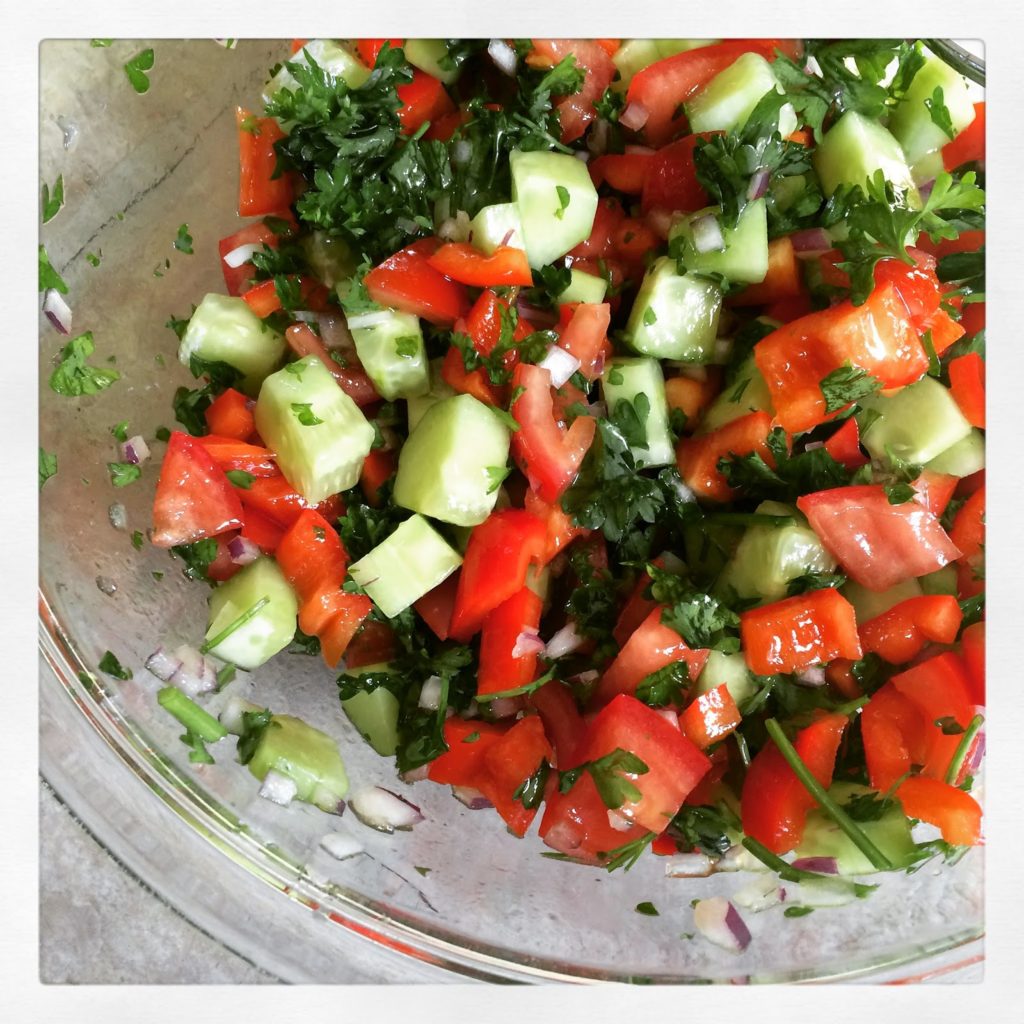 However, my kids are not a huge fan of the quinoa with the vegetables. They like the quinoa and the vegetables, but separately.


Yesterday I decided to make the vegetable portion of the quinoa salad. My kids and I devoured it as a morning snack – odd I know.


Chopped Vegetable Salad


2-3 tomatoes, seeded and chopped
1 large red pepper, seeded and chopped
1 large english cucumber, chopped
1/4 red onion, finely chopped
1 bunch fresh parsley, roughly chopped (curly or flat, whichever you prefer)
juice of 1 lemon
drizzle of extra virgin olive oil
sea salt to taste


Chop all veggies and parsley, put in a large glass bowl. Sprinkle with sea salt and mix together. Put juice of lemon and drizzle of evoo on top of salad and mix again. Enjoy!


*To make this with the quinoa cook 1 1/2 cups rinsed and drained quinoa with 2 2/3 cups water. Let cool to room temperature. Mix with veggies. Make dressing as juice of 2 lemons and 1/4-1/3 cup of evoo. Pour dressing over top and mix altogether.


I love the addition of all the parsley to this dish. Parsley is incredibly fresh tasting, and is so good for you. Parsley is a great source of vitamin K and vitamin C, and it also is a good source of folic acid.


Is your body craving fresh veggies these days? Are you starting to plan your garden?