Plimoth Plantation Resources for Homeschoolers
If you have been reading here at all the past several
months, you know that we are studying US History this year in our
homeschool. We have been talking about
Christopher Columbus and all that entails (in a much more kid appropriate way)
as well as the Native Americans that were here before us, and of course the
Vikings – that is always a fun subject.
We just finished up our study of Jamestown and also the Lost Colony
(which, if you are into this, there was a great special on the history channel last week).
Now, it is November, and November is the perfect time to
start talking about the Pilgrims, and Plimoth Plantation.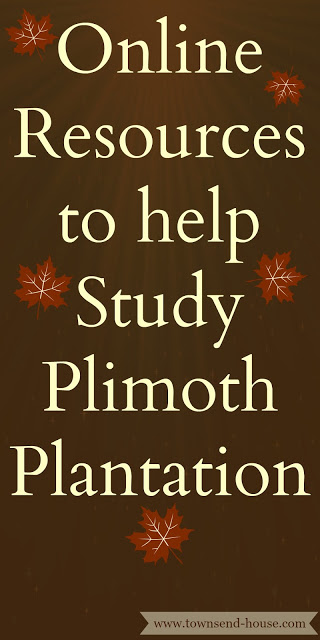 I remember going to Plimoth Plantation when I was in 5th
grade. It was the first big field trip I
went on, it was a couple states away, and it cemented my love for early
American history. I love historical
fiction, and seeing a place talked about in books that I read was the coolest
thing ever to my 9 year old self.
When we started homeschooling, I knew that I would find my
groove when we got to US History, and I was right!
Now, my kids are still too young to really appreciate
Plimoth, so we are waiting for that field trip just a bit longer I
believe. However, Plimoth Plantation has
an amazing array of resources available online to help with homeschooling (or
for anyone that would like more information about Plimoth).
My favorite part is the virtual field trip. There are two videos, one done from the
perspective of the Pilgrims, and one done from the perspective of the Wampanoag. This is also perfect for kids that are at the appropriate age to visit, but live too far away.
There are also coloring pages, recipes, and other stories.
I love how technology has opened up educational materials to
so many people; with the click of a button you are now able to experience a
whole host of historical places. As we move through the school career of the kids, I am excited to have so many resources available.
While we won't be going to Plimoth Plantation this year, we
will still be visiting through their virtual field trip, and I plan to have the
kids make a couple of the recipes as well. It will be the perfect unit study leading up to Thanksgiving this year, and our long homeschooling break.
If your kids are a little bit older, you may also find that the Colonial House program done by PBS would be of interest. It is a little bit strong on the "reality television" aspect of the program, but seeing the different struggles, the rules, and the dynamic of having to build something from scratch is really interesting.
Have you ever used the
online resources available from Plimoth Plantation to work on US History unit
studies? What are you studying right now?