Today I was supposed to post about my project simplify hot spot this week. Well, as you can see by the title of this post, I did not finish my hot spot yet. I need another day. The weather has been so nice, that cleaning up inside the house hasn't been a huge part of my week 🙂 Instead, I will bring you an awesome potato salad recipe.
Last weekend was our first time grilling this year. What I think about when grilling is not what meat is on the grill (I had grilled marinated portabello mushrooms – yum!), instead I think about what salads will be on the side. Last weekend I happened to have the last of our potatoes from our winter CSA, and fresh eggs from the farm – clearly, potato salad was on the menu.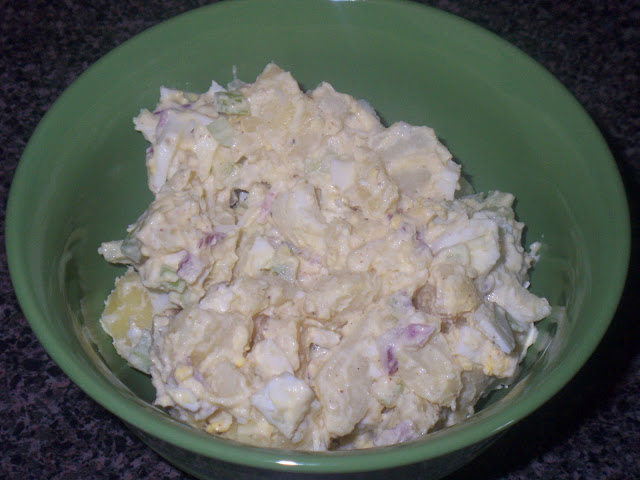 Potato Salad recipe
3 pounds potatoes, peeled and chopped into bite size pieces
4 hard boiled eggs*
1/4 red onion, finely chopped
4 celery stalks, finely chopped
~ 1 Tablespoon tarragon vinegar – or apple cider vinegar
1/2 cup real mayonnaise
1 Tablespoon spicy brown mustard – or whatever you have on hand
salt and pepper
Put potatoes in a pot of cold salted water.
Cook until done.
Pour potatoes in a bowl and sprinkle about 1 Tablespoon tarragon vinegar on hot potatoes, and mix up – my mom has always eyeballed this part – and so have I, but I think around 1 1/2 Tablespoons would be how much I put in.
Cool potatoes and hard boiled eggs in the fridge.
When potatoes and hard boiled eggs are cool, peel eggs and chop into small pieces.
Add celery and onion.
Add mayonnaise, brown mustard, salt and pepper to taste, and mix it all up.
This is the only potato salad recipe that I like. It is what my mom has always made, and it is delicious! Please make sure that you use real mayonnaise, nothing like a low fat alternative. We use Cains mayonnaise, although I'm sure homemade would probably be better for you 🙂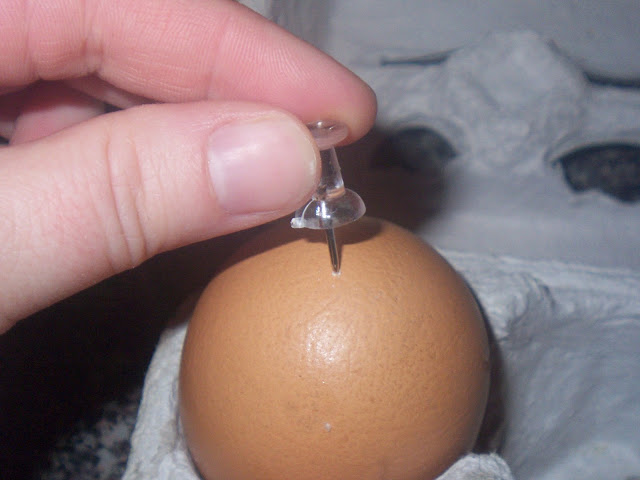 *I recently found out how to hard boil farm fresh eggs, and it isn't waiting a week and a half for them to age enough so the shell peels easily! Instead, before you put them in the water to boil, take a push pin and make a little hole in the large end of the egg. Don't push too hard, or some of the egg white will leak out while cooking, but just to let a little steam get in there and pull the cooked egg away from the shell. Best trick I've learned all year 🙂
I'm linking up at Your Green Resource and also at the Barn Hop! Don't forget to enter to win the new e-book 321 Stop – stop running and start living here.