I love fried rice. Until a couple years ago, I didn't realize it was something I could easily make at home. I think that before I really started cooking a lot from scratch, I just assumed that food I liked to get out at restaurants was off limits in the kitchen. Not anymore. In fact, now I find that while I like to go to a restaurant to have a drink, the food seems to always be lacking.
This recipe for fried rice is great because it can be done with whatever you have available for vegetables. You can add meat, not add meat. Add more seasonings if you want. Lot's of veggies and a little rice, or a lot of rice and a little veggies. Very easy to change up, and since I am one for constant changing of food, this works well for me.
I made fried rice this week because we were going to get our last CSA pickup of the winter (sad!) and needed to make room in my fridge. Although, I guess I could have just done my project simplify earlier in the week…but I didn't think about that.
Fried Rice Recipe
1 1/2 cups soaked brown rice*
1 small cabbage, chopped
1 large onion, chopped
4 carrots, grated
2 cups broccoli
1 1/2 cups peas
1/4 cup + 2 Tablespoons tamari
1 inch freshly grated ginger (optional)
1 teaspoon toasted sesame oil
4-6 beaten eggs
Mongolian Fire Oil for individual bowls to taste
Cook soaked brown rice and set aside.
Chop up the cabbage and onion and grate the carrot. I used my vegetable peeler, since I was already peeling the carrots and didn't feel like getting my box grater out.
Coat the bottom of a very large fry pan with high sides with olive oil.
Saute the cabbage, onion, and carrot with 1/4 cup tamari and ginger until soft.
Add broccoli and peas – mine was frozen. If you use fresh cook the broccoli with the cabbage, onion and carrot, and add fresh peas at the end of the recipe.
Pour veggie mixture in a bowl and set aside.
Scramble the eggs in the pan. Add the toasted sesame oil while you are scrambling the eggs.
When eggs are cooked, add rice and 2 Tablespoons Tamari. Mix until combined.
Add veggies back into pan and mix until combined and warm again.
Serve with the Mongolian Fire Oil – I use a lot – and extra Tamari to taste.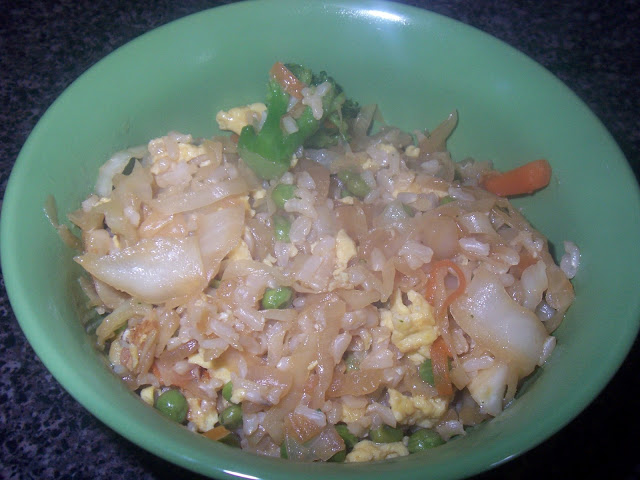 *Have you heard about soaking your grains? I know most people know to soak dry beans before cooking, but do you know why you soak them? Here are a couple articles that you can read to learn about soaking rice. If you don't want to read them, but want to know how to soak rice for this dish, I used 2T raw apple cider vinegar and 4 cups of water. Put in a container with the rice, and let sit overnight, or at least a few hours before you cook rice. Then drain off the water. You don't need to rinse the rice afterwards, the soaking is meant to neutralize the phytic acid in the grain, the water doesn't then have the phytic acid in it.