Did you know? 6 Favorite Features of Teaching Textbooks
This post includes affiliate links. If you click on one of these links and make a subsequent purchase I may receive a commission. Read Disclosure.
If you have been reading here for any length of time, you will know of my love for Teaching Textbooks. However, I bet there are features of Teaching Textbooks that you don't know about yet. Today I am going to share my six favorite features with you!
Features of Teaching Textbooks: Free Tutoring
One of the least known features of Teaching Textbooks is the free tutoring that is available. I believe this is one of the best features, and I have talked about it before. Essentially, if your student goes through a lesson and they continue to have trouble understanding the problem after going through the extra hints and second chances, you can call for tutoring. You would call their customer service line and set up a call with someone at Teaching Textbooks. They will call you and walk you through the concept until you understand where you are going wrong, all for free!
Extra Practice Problems
Both the Pre-Algebra level and the Algebra 1 level have extra practice problems that you can print out to give your student extra practice with different lessons. We used these sheets extensively last year when Emma was doing Algebra 1. And we will continue using them now that Jack is in pre-Algebra this year.
ACT & SAT Practice Problems
The Geometry level gives plenty of practice for the ACT and SAT. Almost every lesson includes some problems that are modeled after problems you will see on the ACT and SAT. Because Teaching Textbooks uses a spiral method, your student will continue to work on these problems throughout the entire Geometry level and become more comfortable with the types of problems they will see when they sit for these exams.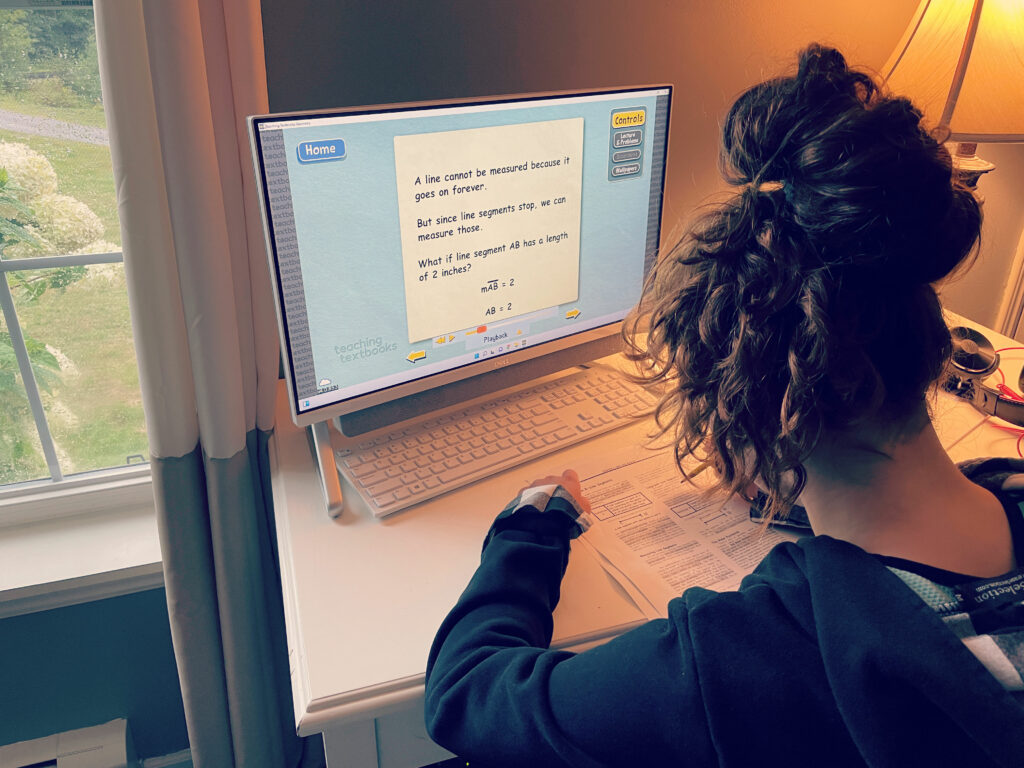 Features of Teaching Textbooks: Offline App Use
One of my favorite features of Teaching Textbooks is the opportunity to work offline. You can work on the app for 6 lessons without connecting to the internet. Why is this? When the app is launched, 6 lessons are automatically downloaded to the device. You do need to make sure that the device you want to use offline has connected to the internet recently though, to make sure that you have your lessons downloaded. This is perfect for on the go use!
When you are in the Teaching Textbooks program it does show an icon which reads "Available Offline." If your lesson shows this wording, it will allow your student to work without connecting to the internet. Make sure you connect to the internet after you have worked on your lesson in order for the grades to update in the Parent Portal.
Hybrid Offline Usage
Another way to use Teaching Textbooks offline is to print out the lessons and do a more hybrid approach to learning. Your student can watch the lesson on the app, then work the problems on the paper you printed out. Then, after they have finished with the problems, they can enter the answers into the computer for instant grading. Or, if it is something they have struggled with, go back through with a second chance to get the correct answer.
Last year, when we were car-schooling A LOT, this was the best approach for my daughter doing Algebra. It allowed her the ability to complete her math while we were on the go, and still was able to take advantage of the easy grading (for mom).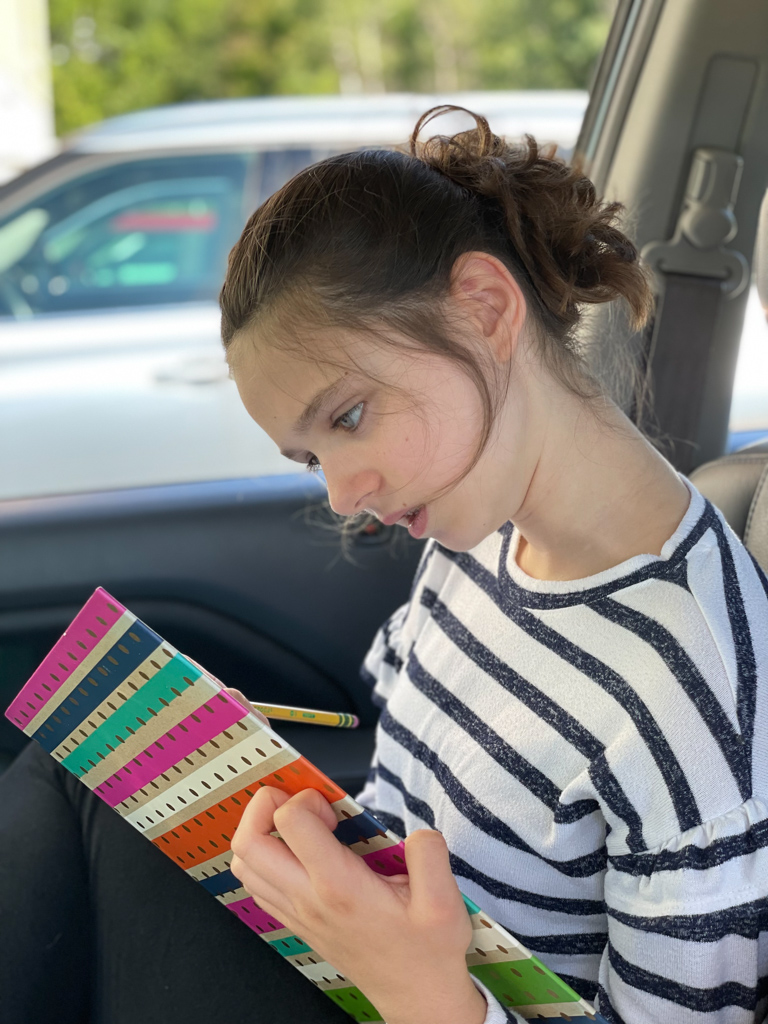 This hybrid approach worked so well that she continued to use it throughout the rest of the year last year, and we are continuing that approach this year. I love how versatile Teaching Textbooks is in that we can make it work exactly how we need it to for our family.
To do this, you would login to your parent portal. Then you would go to "view answer key and ebook," and choose the level your student is currently using. At that point you will see Table of Contents, Answer Key, and Lessons and can print as you need to.
Features of Teaching Textbooks: Scratchpad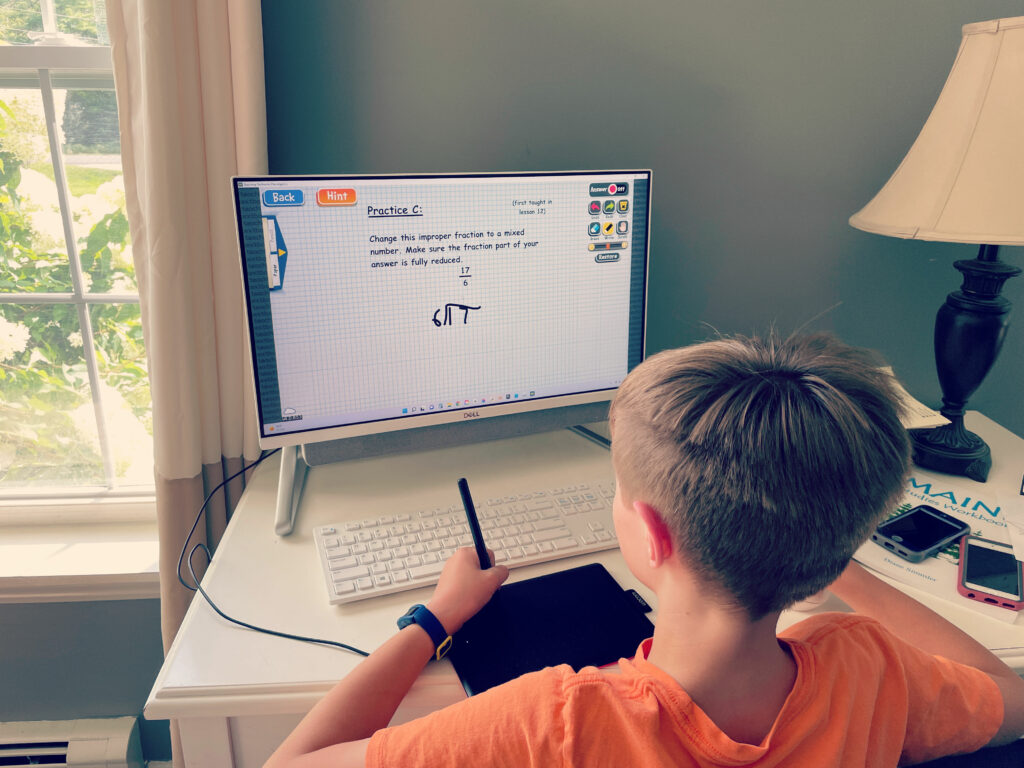 The last feature of Teaching Textbooks you may not know about is the scratchpad. This is one of my all time favorite additions to the Teaching Textbooks program. The biggest reason I love the scratchpad? My son is a lefty, and he really hates to write on paper with a pencil. The scratchpad gives him the opportunity to work through all of the problems without having to use a pencil and paper at all. He is actually the complete opposite of my oldest who loves all things paper and pencil.
Jack uses his wacom drawing tablet to do all of his work right on the computer in front of him. He has the ability to undo steps if he made a mistake. Or he can completely start from the beginning of a problem again. You can also answer the problem right from the scratchpad. There is no need to go back and forth between the scratchpad and the lesson.
Some of the other scratchpad features are:
You can zoom in and out of the scratchpad
Change the scratchpad paper
You can also change the pencil color and thickness
How does Teaching Textbooks Cultivate Simplicity?
The bottom line is that the student can be completely independent with this math program. It has worked extremely well for us over the years. Some of these more "unknown" features are the biggest reasons we continue to use Teaching Textbooks after all this time! I know that when my kids are using Teaching Textbooks, they are learning, and they are making the progress that they need to make.
Did you know all of these features of Teaching Textbooks? Which is your favorite?