I love cooking and eating, and I especially love looking at pictures of food! If you love food as much as I do, please add your food pictures/recipes/food related posts to the linky below. All you have to do is link back to this blog post from your blog. I look forward to seeing what everyone else is eating this week!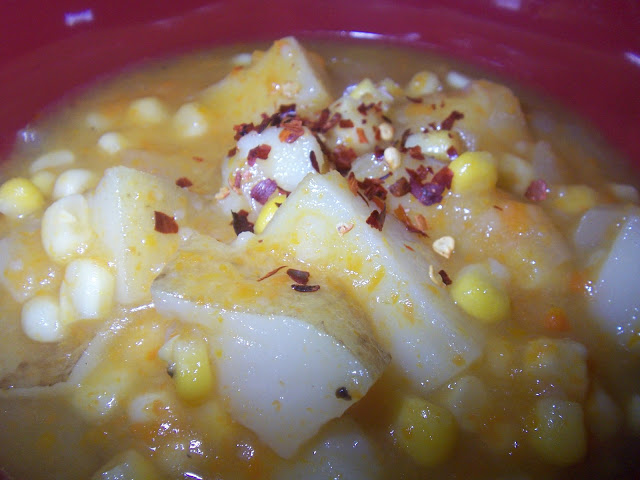 This is my first soup of the season. I have been looking forward to soup for the past few weeks since it has cooled off considerably. However, the kids and I being sick the past couple weeks really pushed my need for soup to the forefront of my mind. The soup I made is my take on corn chowder. I feel like it is probably a lot healthier. It doesn't have bacon, and there is just a dash of milk added when you serve it at the end – if you want.
Corn Chowder
6 cups vegetable stock
4 medium potatoes, diced
1 medium yellow onion, chopped
1 lb sweet corn, fresh or frozen
salt and pepper to taste
cream if desired
Saute onion in a little extra virgin olive oil and salt and pepper until they start to become translucent, add corn and cook for a couple minutes. Add vegetable stock and potatoes. Cook until potatoes are tender. Taste and add more salt and pepper if needed. When serving put a teaspoon of cream or milk in and stir. Mine is obviously with my trademark red pepper flakes!
This is a super simple soup meal, and it can be completely vegan by omitting the cream. It is a delicious filling soup too. Serve with some biscuits, and it will warm you up on a cold fall day.
What are you cooking up this week? Please leave a link below!