I love cooking
and eating, and I especially love looking at pictures of food! If you
love food as much as I do, please add your food pictures/recipes/food related
posts to the linky below. All you have to do is link back to this blog
post. I look forward to seeing what everyone else is eating this
week!
I
am sorry there was no link up last week!
I was taking full advantage of the sun – and also attempting "screen
free week." I am happy to say
that the what I am eating pinterest board has taken off! Lots of repins from the recipes I have
featured!
This
week I am eating a lot of salads.
Actually, most weeks I am eating a lot of salads these days. Towards the end of winter, my body starts
craving the fresh greens again. There
haven't been a lot of greens available locally yet, but the farmers markets are
just opening, and I know there is spinach and baby lettuce mix available.
What
I really want to talk about though is salad dressing. I have
started using nut based and non-oil based dressings. At first I was definitely leery of it. I am a big evoo and vinegar dressing kind of
gal. But, this sounded good. And so I started out by doing research on
different recipes, and then decided to make it my own.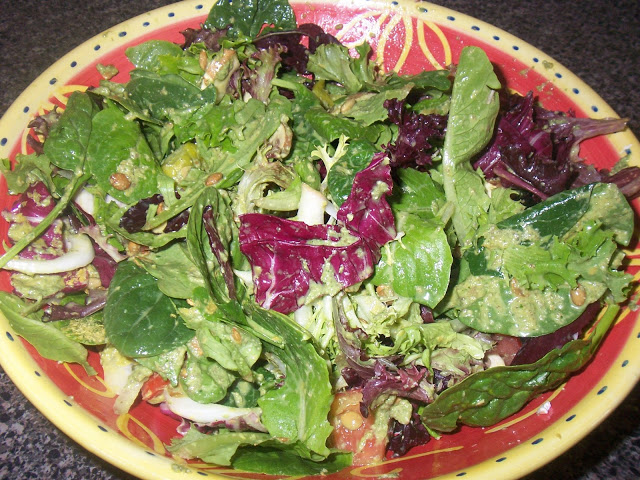 This post includes affiliate links. If you click on one of these links and make a subsequent purchase I may receive a commission. Read Disclosure.
Salad Dressing ~
yields about 1 quart
Juice of 1 lemon ~ 2
Tablespoons
2 Tablespoons raw
apple cider vinegar
2 garlic cloves or 1
teaspoon garlic powder
Put all ingredients in
a blender, and blend until smooth. I have also used fresh cilantro instead of parsley, and even dried dill. I think the parsley gives it a nice flavor, but feel free to change it up to whatever herbs you like. I use a lot of parsley, but it is because parsley is so good for you! Plus, I figure it might help with the garlic I put in the dressing 🙂
Because
I didn't have a link up last week, I am featuring posts from 2 weeks ago.
What are you eating this week? Have you ever tried "whole food" dressings without oil added? Link up your food related posts below!