31 Days is a project hosted by Nesting Place. Essentially it is picking a topic to write about every day for the month of October. You can find more about the 31 Days project here.
I have been thinking for a few weeks now on what I should do for the 31 Days project. There are so many subjects that I am passionate about these days, and that I thought I could actually write about for 31 days straight. Should it be from scratch cooking? Well, I try to do that as it is, and that is probably a good goal to have since October is also unprocessed month over here. I also thought about green living, or simplifying my life, or no TV for a month. But, after thinking of all of those things, I realized that my month should be about intentional living.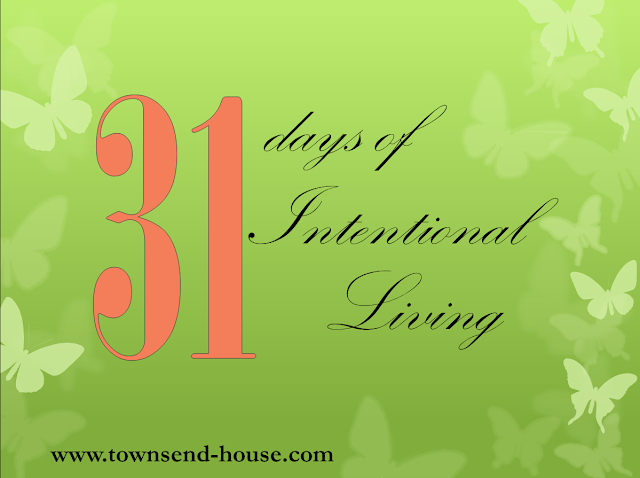 Intentional Living can be used in many different contexts. It can relate to personal journeys, ethics or religion, to name a few. Intentional meaning done with purpose and living meaning active or thriving. How I define intentional living is to actively live with purpose. But where to start?
When I was thinking about subjects for these 31 Days, and I listed them out, I realized that they are all part of my description of "intentional living." I want to have less technology in my life (I know, ironic, coming from a blogger), I want to be cooking all of my meals from scratch. I want the "green" life, I want to reduce the waste that we have. All of these things scream "intentional living" to me.
So, for the next 31 days, I will be trying to bring you my version of intentional living. The steps I am taking, the challenges I am having, the good and the bad. I hope that you join me!
What is your version of intentional living? What steps would you take to be more intentional about your own life?