When you think of being overwhelmed, do you immediately
re-access your priorities? Probably not. The entire definition of overwhelm is "bury
or drown beneath a large mass." That
doesn't scream priority to me. No, that
would scream not a priority at all – run away quickly.
However, I think that there is definitely something to be
said for re-evaluating your priorities when you are overwhelmed.
There are so many things that I want to do. OK, honestly I want to do all the
things. I do. All the things sound awesome, and I don't know
why I can't seem to manage to do all the things…but I can't. I need to recognize that. Why don't I recognize that? And why do I continue to add more to
all.the.things? Isn't the definition of
all…all. So there shouldn't be any more
to add. But, I do find more…regularly.
It is time to re-evaluate those priorities.
I obviously have some non-negotiables. I am a mom, that isn't going to change. I also homeschool my kids, that isn't going
to change either.
There are obviously places that I can make changes
though. Take my blog for instance. I have been blogging at Townsend House since
the beginning of 2011, and I try to blog fairly regularly. In fact I had been doing pretty well for
quite some time – 3-4 blog posts a week.
I love blogging, it is relaxing for me, to share myself with the
world. However, it is also
stressful. There are deadlines, there
are self-imposed bars to clear before a post can go live, and when one of those
bars is not met, I feel defeated. Goals
that I want to accomplish, but know they are not realistic at this point in my
life.
I had to step back from the blog a bit. I was spending too much time concentrating on
everything blog related…there is a lot to think about when you have a blog, and
it isn't all fun stuff, unfortunately.
When I backed off my blog, I felt better emotionally and
physically, gaining time to spend with my family, but I still had that little
voice in the back of my head say "why aren't you blogging?!" That little voice is hard to ignore, but I
have had to put her in her place a few times over the past several months. And I have felt better for it.
Take a few minutes right now and jot down your priorities,
and then write down your obligations.
I'm sure that you have some matches in there. Those are the first items that you should be
listing on your list of priorities. Then
you can look at everything else and figure out whether those obligations should
also be priorities. Or perhaps some of
your priorities are actually obligations, and they can be cut from your
list.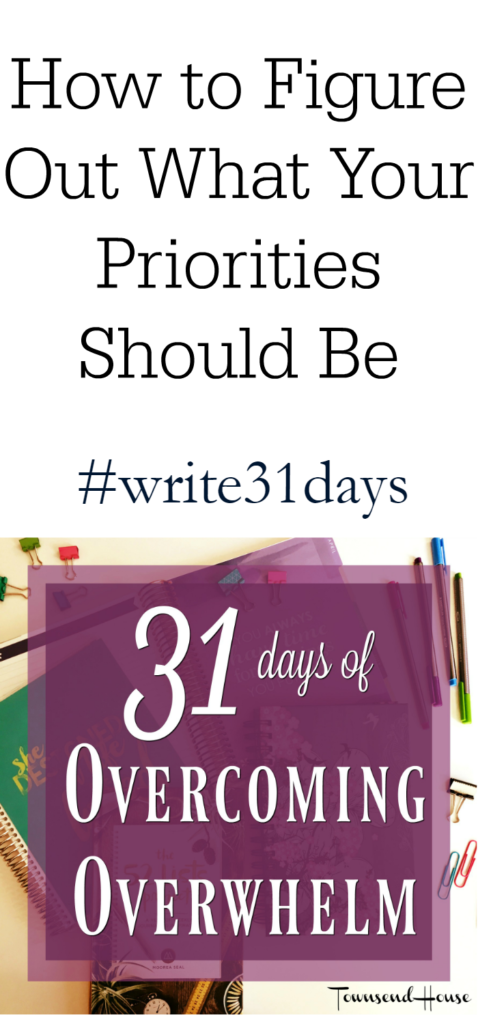 Just because you cut something from your list of priorities
does not mean that it will be gone and forgotten. There are always new seasons in life, and new
seasons mean shifts in priorities. I am
slowly learning that as I age…apparently I have a steep learning curve here.
It is not easy to change your priorities around. But, what if you could only choose three
things, and do those three things well?
What would they be? When you look
at your list through that lens, are you able to find something that can be
removed?
How often do you re-evaluate
your priorities? Are there some items
that you would like to take off your obligation list?