I have talked a lot about morning routines here at
Townsend House. I wasn't always a
morning person, but several years ago, after drowning under so much stress from
being a mom of a two year old and a newborn baby while healing from a cesarean, I met my limit. I needed a
change, and a morning routine was what it was.
I would love to say that it is so easy to make the change to
have a morning routine; that is not the case.
It is a struggle. And, even if
you start out with a stellar morning routine, that doesn't mean it won't be
interrupted at some point.
That is the point I am at currently. My morning routine is no longer working. And to me that is a complete nightmare. I worked so hard to get to a point where I
could have a great morning routine. A
routine that I knew well, I would have plenty of time for all of my MIT (most
important tasks), and even drink a cup of hot coffee – always a bonus in my
world.
What is really happening?
I have no morning routine at all right now. Instead I have an almost two year old who has
been getting one new tooth every two weeks for the past 5 months…incredibly
slowly. And that means that on average I
am up about 5 times a night…every night.



To say I am sleep deprived is probably an understatement.
Gone are my early morning planning sessions and time to get
ready for the day before my kids up, and welcome back times of waking up TO my
children instead of FOR my children.
When I wake up to my children, I am already overwhelmed in
the day. And that is never a good way
for me to start. I set the mood in our
home, and when I am overwhelmed and stressed, the rest of the house is
overwhelmed and stressed.
Since I can't seem to sneak out of bed without my children
waking up and immediately needing me (mostly Lucy), I need to have other
strategies for my morning.
I am almost always awake before everyone else, whether or
not I can get out of bed. That doesn't
mean that I can't try to accomplish SOME things on my morning to-do list.
Of course I am not drinking coffee in bed, although if the
Jetsons want to hook me up with some sort of opening in my wall where I need
only press a button and out comes the coffee that would be wonderful.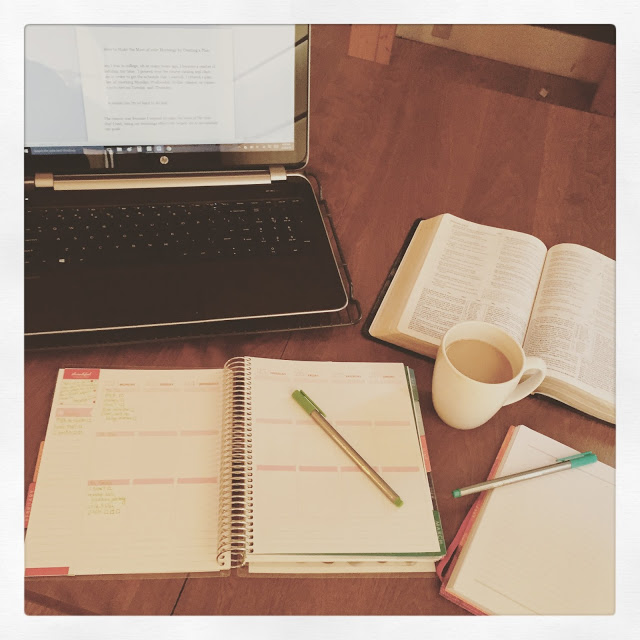 My morning time has always been Bible reading, journaling,
coffee, planning for my day.
Thankfully I can still read my Bible in bed. Or some other book of my choosing. I enjoy encouraging words in the morning,
something to set my mind on the right path, and to help me remember to keep a
level head (did I mention I haven't always been a morning person?). When I don't get enough sleep, I tend to be a
bear, and that isn't any way to start the day.
It is honestly about the little changes that you can make in
order to make life run more smoothly.
I read somewhere that it takes 21 days to create a habit,
and that once you have that habit, it frees up brain space for another task,
because it has become engrained in you.

What I have done is try to look at the items that I need to
accomplish (and would like to do before my children wake up) and have a back-up
plan for when I can't get out of bed before them.
I have noticed while doing these things, that has helped me
quite a bit as well.
Also, I have to allow myself grace. I just happen to be in a season of restless
babes that need me. That isn't a bad
thing, and I need to make sure that I don't think of it as a bad thing. I love my children, and I don't want them to
feel like they have done something wrong by needing me first thing in the
morning. I want to be the light they see
in the world, and adjusting my own expectations is part of that journey.
When can I have a Morning Time?
While I may not be waking up earlier than my children every
day of the week, I do aim to do it at least a couple times each week. Those tend to be weekend days when I know
that Matt will be home to help the kids if they wake up super early.
On those early mornings, I try to get as much stuff done for
the entire week as I can. Since I know that I will not have regular
time in the morning daily, I tend to group things like my writing. While I still write every day, it may not be
as long or as in depth as I would like.
Instead I will take time to write out a bunch of topics that I want to
write about, so that when I have the time to write, I can pick what speaks most
to me.
Do you have a good
morning routine? What do you do when you
are in a season of less routine and more fly-by-the-seat-of-your-pants?