How to Make the Most of your Mornings by Creating a Plan
When I was in college, oh so many years ago, I became a
master of scheduling my time. I poured
over the course catalog and class times in order to get the schedule that I
wanted, I created a plan. Either all
morning Monday/Wednesday/Friday classes; or classes that only met on Tuesday
and Thursday.
Why would I try so hard to do this?
The reason was because I wanted to make the most of the time
that I had. Using my mornings effectively helped me to accomplish my goals.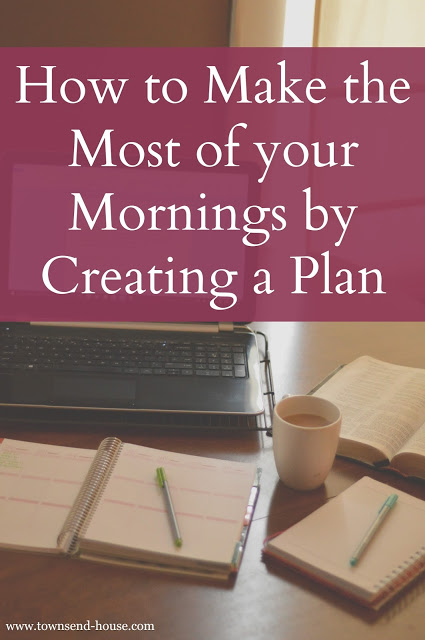 If I knew that I had four classes that I needed to take, why
wouldn't I try to complete all of my classes by noon MWF? My friends were always amazed at how much "free"
time I seemed to have because I loaded all my classes into the mornings,
instead of having an 8am class, a 2:30 class and a 4pm class.
The difference between my friends and I was that I had a
plan that worked for me.
As I have gotten older, married, and now have three little
ones, the desire to have a good plan in place never went away, but the
variables changed quite a bit, obviously.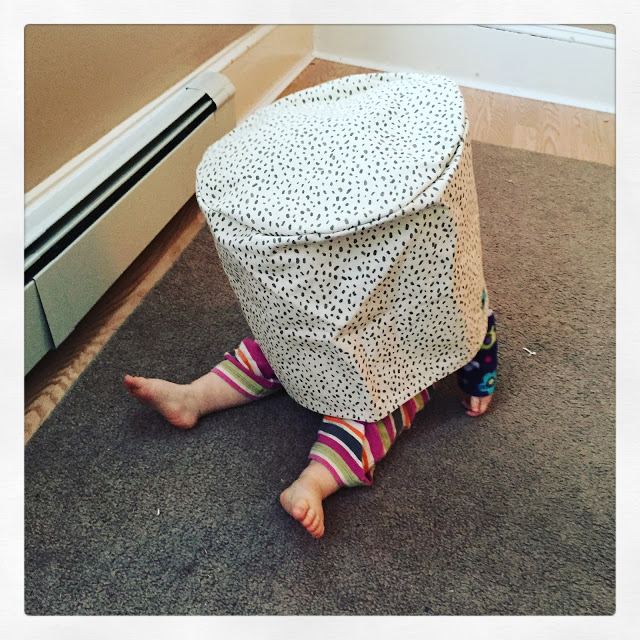 When I had my second child, I went through a period of time
where I couldn't get a handle on anything. It was all so overwhelming; a toddler and a
newborn can do that to a person! I didn't
have a schedule, my kids refused to be put on one, so instead I started a
rhythm, but it was still difficult for me to get anything done with all of life's
little emergencies.
Instead of making things happen, I was letting things happen to me.
That isn't a great way to go about life, and you certainly
won't be able to accomplish anything if you are going that direction. Of course, being in the new baby years, there
is always a lot of room for change, and you have to go with what is given to
you for a large portion of that time, and that is OK.
However, I realized that I needed to attack my days with the
same precision that I exhibited when I was in college, albeit with a lot more
variables.
I started waking up early.
I wasn't always a morning person, far from it. I remember growing up, my window faced the
East and the sun would stream in every.single.morning. Living in Maine, it was quite the early
sunrise in the summer. That, coupled
with my mom, who never seemed to sleep, getting ready early, and I was always
woken up, not by my choosing.
I'm still very crabby if someone else wakes me up in the morning, which is why I made the decision to wake up earlier than everyone else.
If I have the determination to get up early, I feel like I can
accomplish a lot during the day.
What helps me? Having
a plan.
My kids are extremely early risers. When I see parents talking about dragging
their kids out of bed for school, I envy them.
My oldest daughter, Emma, has always gotten up super early. Most days she is up by 6am and ready for the
day. That means that if I am going to
get up before her, I need to be up super early.
I start my days around 4:30 or 5am, knowing that if I don't
get up that early, one of my children will be the thing that wakes me up, and
then I am not a happy camper.
I do not want my day
to happen to me, I want to make my day happen.
I realized that having a plan was the key. Knowing that when I wake up, I will go
downstairs, start the coffee pot, brush my teeth and then sit down to read my
Bible, journal, and plan out my day – that routine has made my mornings more
effective, even if my kids are getting up early.
I don't want you to think that this goes smoothly, far from
it. Take this morning for instance. I got up at 5am, I came downstairs, made my
coffee, brushed my teeth, and at 5:15 Lucy woke up.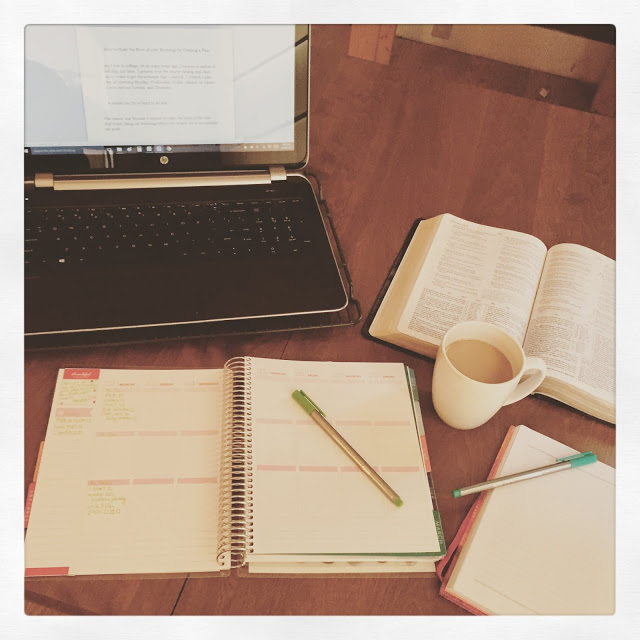 It used to be incredibly frustrating to me. How is it possible that I put so much work
into having a great morning routine, actually get up early, and then right when
I am ready to be productive, the baby wakes up, or one of the kids needs to use
the bathroom and then wants breakfast?

Having those interruptions was difficult for a long time, but I realized I
needed to change my thinking. I need to
make my plan work, even when there are interruptions. My life is not only my life, I have four
other people every day that I am with, and who impact every part of it.
Changing my thinking
was the key.
Lucy woke up, and I had done just about zero things on my
morning to-do list. But I, of course,
went upstairs, nursed her, and got her settled again. While I was doing that, I read my Bible on my
phone. Not exactly the way I like to
read my Bible (I have an entire set up that includes multiple journals and
pretty pens), but I was still able to get my Bible reading done, while I was
settling Lucy back down.
Having a plan in place, and then having a back-up plan when
the first plan doesn't work is what has helped me.
I can't get frustrated because I have three kids that need
me in the morning, when all I want to do is drink hot coffee. Instead, I need to joyfully greet the day
(and my family). It doesn't always
happen that way, but often it will, and those are the best days for me.
Creating a morning plan was hard. I have so many things that I want to get done, it can be overwhelming, so I had to simplify.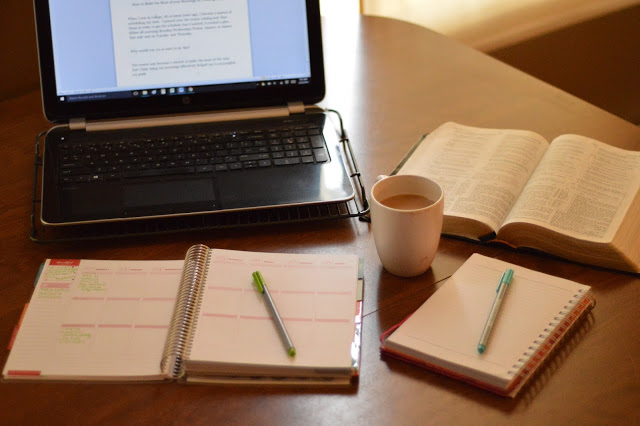 On a good day I am able to get a lot done, but on most days
I have to scale it back.
My morning plan goes something like this –
Wake up, start coffee, brush teeth, read Bible, drink coffee,
create before I consume.
That small routine is able to start my morning right, and
can be done even if there are a lot of interruptions. Of course I have a lot that I need and want
to accomplish in the morning, but being realistic about what I am able to do
helped with the disappointment when I am unable to check those items off the to-do list first thing in the morning.
Do you attack your
mornings with a plan? Have you attempted
a routine but outside factors throw you off?
Can you simplify?