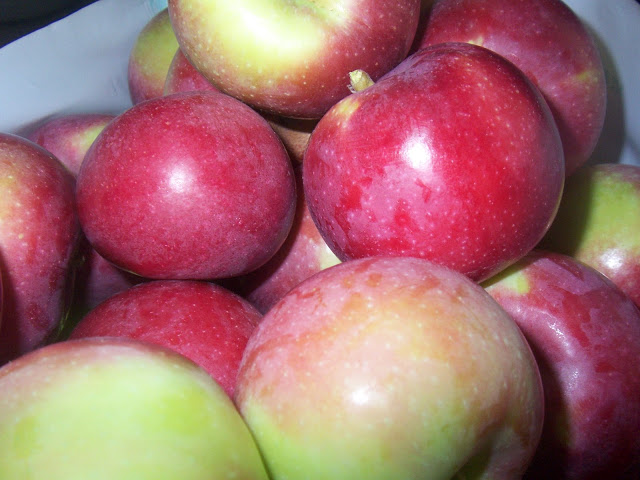 Well, this weekend we finally were able to get out apple picking. I was really concerned that we would be late. Typically, in Maine, you can pick right through the middle of October. The past couple of years though, the season has started and ended earlier. Luckily, we were not late, not by any means. There were tons of low hanging apples for the kids to pick. In fact, we were able to pick a bushel of apples in about 15 minutes 🙂
I wasn't sure how many apples we would want to pick, but decided to pay $35 for two 1/2 bushel bags that we could then fill as much as we wanted. I am pretty good at packing the apples into the bag so they are very over filled, but not falling out. I think we ended up with around 50 pounds or so of apples, so I was happy with that price.
Now, this week will be all about figuring out what to do with these apples. We will definitely be making some apple jelly and apple butter, and most likely apple sauce. However, I am not sure what else we should do with the apples. I am not big on apple pie, so I don't think I want to make apple pie filling…although the rest of my family would probably be happy! I was thinking about attempting to dry some apple rings, but I don't have a dehydrator, and I don't know how that would work. Does anyone have any experience using a regular electric oven to dry apple rings?
So, please, let me know what I should do with all of these apples?! We will go and pick again towards the end of the season. Those apples tend to store better for us than the earlier season ones. We like to have fresh apples available all winter, and I find that doing the pick your own is so much more economical for the amount of fruit we eat.
Have you gone apple picking yet?
Linking up at the Barn Hop, Backyard Farming Connection, Rural Thursday and Your Green Resource